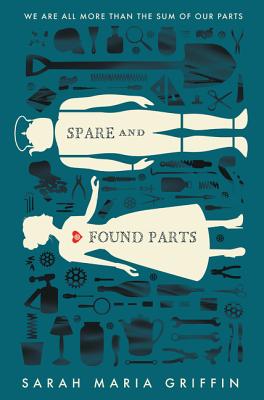 Spare and Found Parts
Hardcover

* Individual store prices may vary.
Other Editions of This Title:
Digital Audiobook (10/3/2016)
Compact Disc (10/4/2016)
Compact Disc (10/4/2016)
Description
Nell Crane has never held a boy's hand. 
In a city devastated by an epidemic, where survivors are all missing parts—an arm, a leg, an eye—Nell has always been an outsider. Her father is the famed scientist who created the biomechanical limbs that everyone now uses. But she's the only one with her machinery on the inside: her heart. Since the childhood operation, she has ticked. Like a clock, like a bomb. And as her community rebuilds, everyone is expected to contribute to the society's good . . . but how can Nell live up to her father's revolutionary ideas when she has none of her own? 
Then she finds a lost mannequin's hand while salvaging on the beach, and inspiration strikes. Can Nell build her own companion in a world that fears advanced technology? The deeper she sinks into this plan, the more she learns about her city—and her father, who is hiding secret experiments of his own. 
Sarah Maria Griffin's haunting literary debut will entrance fans of Patrick Ness's Chaos Walking series, Paolo Bacigalupi's Ship Breaker, and Emily St. John Mandel's Station Eleven.
Praise For Spare and Found Parts…
"Sarah's gorgeous language draws you into her frighteningly believable near-future. This story is a dark and fierce thing, but one that also has much to say about hope and human ingenuity."
— Joseph Fink, author of Welcome to Night Vale

"Griffin explores the ethical quandaries of progress, love, class, and ambition in language as ornate as the characters' decorated prostheses...the plot is compelling, full of secrets, blackmail, and betrayals that resolve at just the right moment...this poetic, Frankenstein-esque tale forms a page-turning whole."
— Kirkus Reviews

"Griffin's richly descriptive writing exquisitely evokes a dark, dank, dystopian world destroyed by humans' obsession with computers. ...Griffin's strength lies in her ability to perfectly convey the mood and tone of her Burton-esque world."
— School Library Journal

"Part Pinocchio, part Frankenstein's monster, Nell's construction allows the story authentic depths of horror and moral disquiet. The author's unusual prose is lush enough to provide thorough world-building and spare enough to carry the main character's emotions without overstatement."
— Horn Book Magazine

"Lovely...a quietly effective cautionary tale about a world still reeling from past mistakes. The steady ticking of Nell's heart provides a drumbeat for her aching loneliness, her grief over the death of her mother, and her quest...to understand what it means to be alive."
— Publishers Weekly

"Griffin is pretty crafty as she builds her world, mostly using dialogue to establish the backstory of the plague and its current effects. ... A twist ending … brings all the disparate elements together in fine form."
— Bulletin of the Center for Children's Books
Greenwillow Books, 9780062408884, 416pp.
Publication Date: October 4, 2016
About the Author
Sarah Maria Griffin lives in Dublin, Ireland, in a small red brick house by the sea, with her husband and cat. She writes about monsters, growing up, and everything those two things have in common. This is her first novel. You can visit her at www.sarahgriff.com.