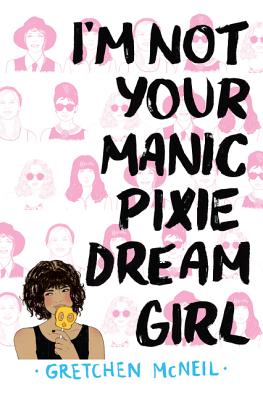 I'm Not Your Manic Pixie Dream Girl
Hardcover

* Individual store prices may vary.
Description
From acclaimed author Gretchen McNeil comes her first realistic contemporary romance—perfect for fans of Kody Keplinger's The Duff and Morgan Matson's Since You've Been Gone.
Beatrice Maria Estrella Giovannini has life all figured out. She's starting senior year at the top of her class, she's a shoo-in for a scholarship to M.I.T., and she's got a new boyfriend she's crazy about. The only problem: All through high school Bea and her best friends Spencer and Gabe have been the targets of horrific bullying.
So Bea uses her math skills to come up with The Formula, a 100% mathematically guaranteed path to social happiness in high school. Now Gabe is on his way to becoming Student Body President, and Spencer is finally getting his art noticed. But when her boyfriend Jesse dumps her for Toile, the quirky new girl at school, Bea realizes it's time to use The Formula for herself. She'll be reinvented as the eccentric and lovable Trixie—a quintessential manic pixie dream girl—in order to win Jesse back and beat new-girl Toile at her own game.
Unfortunately, being a manic pixie dream girl isn't all it's cracked up to be, and "Trixie" is causing unexpected consequences for her friends. As The Formula begins to break down, can Bea find a way to reclaim her true identity and fix everything she's messed up? Or will the casualties of her manic pixie experiment go far deeper than she could possibly imagine?
Praise For I'm Not Your Manic Pixie Dream Girl…
"A quintessential thinking gal's love story." — Kirkus Reviews
"McNeil...toys with the conventions, expectations, and trajectory of a classic romantic comedy to examine stereotypes and the identities we project." — Publishers Weekly
"A smart and addictive read! Beatrice is real and flawed and always worth rooting for." — Julie Murphy, #1 New York Times bestselling author of Dumplin'
"A touch of romance with lots of teen angst will make this title a hit with young adult readers" — Voice of Youth Advocates (VOYA)
"High-energy silliness with a soupçon of genuine heart, this will please fans of the rom-com." — Bulletin of the Center for Children's Books
"This witty romance-a mashup of Mean Girls and Meg Cabot's How to Be Popular (2006)-oozes rom-com appeal." — Booklist
"Fans of contemporary novels, particularly Rainbow Rowell's Fangirl, will find this offering very satisfying." — School Library Journal
Praise for GET DIRTY: "Fans of the first book will appreciate the fast pace and light tone" — Booklist
Praise for GET EVEN: "GET EVEN expertly mixes suspense and snark, proving once again that Gretchen McNeil is a master of the teen thriller." — Heather Cocks and Jessica Morgan, Founders of Go Fug Yourself
Praise for GET EVEN: "Don't get mad, get reading this wild ride filled with twists and turns, revenge and romance, suspense and Shakespeare. I can't wait to see what Gretchen McNeil comes up with next." — Elizabeth Eulberg, author of Revenge of the Girl with the Great Personality
Praise for GET EVEN: "Get Even is an edge-of-your-seat, sink-your-teeth-into-it mystery filled with vivd, intriguing characters and set against the ruthless landscape of a modern high school. I'm dying for the next book!" — Katie Alender, author of the Bad Girls Don't Die series
Praise for GET EVEN: "A compelling contemporary thriller" — Kirkus Reviews
Praise for GET EVEN: "The suspense that McNeil (Ten) builds should keep readers curious to discover what happens next." — Publishers Weekly
Praise for GET EVEN: "Will engage readers." — Romantic Times
Praise for 3:59: "McNeil's movie-quick setup speed and humorously inventive language...make her a very welcoming author who succeeds at injecting fresh verve into some stalwart sci-fi concepts." — Booklist
Praise for 3:59: "This book is scientifically action-packed, complete with monsters and drama. Teens who are fans of the ever-popular Dr. Who television series will love this book." — Voice of Youth Advocates (VOYA)
Praise for TEN: "A breathless read." — Kirkus Reviews
Praise for TEN: "In the esteemed tradition of teen horror fiction, TEN hits all the high notes: a stormy night, illicit liaisons, cut phone lines, suspicious disappearances, double-crosses, secret histories, and plenty of twists." — Booklist
Praise for TEN: "Agatha Christie meets Gossip Girl in McNeil's throwback to old-school thrillers." — Publishers Weekly
Praise for TEN: "A quick-paced thriller full of half-facts and red herrings that take readers through the twists and turns of a deadly weekend." — School Library Journal
Praise for TEN: "Gretchen McNeil's TEN is my new number one! I jumped at every creaking floorboard in my house and on the page. This is sure to be a teen thriller classic!" — Nancy Holder, Bram Stoker Award winning author of THE SCREAMING SEASON
Praise for TEN: "TEN is a real page turner! Gretchen McNeil knows how to plot a thriller: Her setup is flawless and the suspense kept me on the edge of my seat." — Christopher Pike, #1 New York Times bestselling author of the THIRST series and REMEMBER ME
Praise for POSSESS: "A fantastic YA debut …. the humor and occasional twists will keep fans of the genre hooked and wanting to finish this book in one sitting." — School Library Journal
Praise for POSSESS: "McNeil strikes a fine balance between outright scares and sarcastic humor…[a] light, entertaining read." — ALA Booklist
Praise for POSSESS: "With demons, secrets, and a butt-kicking heroine, POSSESS is a whole lotta dark and twisted fun!" — Kimberly Derting, author of the Body Finder series
Praise for POSSESS: "A dark, unique, and intelligent novel with frightening twists around every corner that left me breathless." — Courtney Allison Moulton, author of ANGELFIRE
Balzer + Bray, 9780062409119, 352pp.
Publication Date: October 18, 2016
About the Author
Gretchen McNeil is a trained opera singer, former circus performer and voice-over artist, and current writer. She is the author of several YA suspense novels, including Get Even, Get Dirty, 3:59, Possess, and the award-winning Ten (now a Lifetime movie). She is also the author of the YA comedy I'm Not Your Manic Pixie Dream Girl and the horror/comedy novels #MurderTrending, #MurderFunding, and #NoEscape. You can visit her online at www.gretchenmcneil.com.
or
Not Currently Available for Direct Purchase