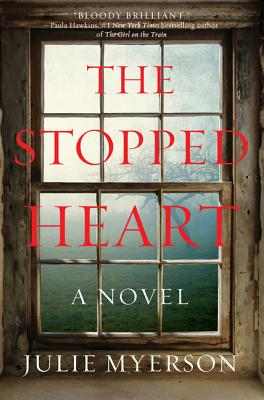 The Stopped Heart (Paperback)
A Novel
Harper Perennial, 9780062409324, 512pp.
Publication Date: March 29, 2016
Other Editions of This Title:
Compact Disc (3/29/2016)
Compact Disc (3/29/2016)
Pre-Recorded Audio Player (4/1/2016)
Paperback, Large Print (3/29/2016)
* Individual store prices may vary.
Description
"Bloody brilliant."—Paula Hawkins, #1 New York Times bestselling author of The Girl on the Train
Internationally bestselling author Julie Myerson's beautifully written, yet deeply chilling, novel of psychological suspense explores the tragedies—past and present—haunting a picturesque country cottage.
Mary Coles and her husband, Graham, have just moved to a cottage on the edge of a small village. The house hasn't been lived in for years, but they are drawn to its original features and surprisingly large garden, which stretches down into a beautiful apple orchard. It's idyllic, remote, picturesque: exactly what they need to put the horror of the past behind them.

One hundred and fifty years earlier, a huge oak tree was felled in front of the cottage during a raging storm. Beneath it lies a young man with a shock of red hair, presumed dead—surely no one could survive such an accident. But the red-haired man is alive, and after a brief convalescence is taken in by the family living in the cottage and put to work in the fields. The children all love him, but the eldest daughter, Eliza, has her reservations. There's something about the red-haired man that sits ill with her. A presence. An evil.

Back in the present, weeks after moving to the cottage and still drowning beneath the weight of insurmountable grief, Mary Coles starts to sense there's something in the house. Children's whispers, footsteps from above, half-caught glimpses of figures in the garden. A young man with a shock of red hair wandering through the orchard.

Has Mary's grief turned to madness? Or have the events that took place so long ago finally come back to haunt her…?
About the Author
Julie Myerson is the author of nine novels, including the internationally bestselling Something Might Happen, and three works of nonfiction. As a critic and columnist, she has written for many newspapers including The Guardian, Financial Times, Harper's Bazaar, and the New York Times.
Praise For The Stopped Heart: A Novel…
"Can't remember who…drew my attention to the new Julie Myerson, but whomever it was, thank you. It's bloody brilliant."
— Paula Hawkins, #1 New York Times bestselling author of The Girl on the Train

"Increasingly gripping…. What Myerson writes about so well: that eerie sense when something is both familiar and unfamiliar."
— Katharine Weber, New York Times Book Review

"Gripping parallel narrative."
— New York Times Book Review, Editor's Choice

"On the first page, it's clear that something indescribably horrific has happened…. This novel is impossible to put down; it will be read compulsively to learn the what of what has happened, if not the why. A stunner."
— Booklist (starred review)

"Just as frightening as Edgar Allan Poe…. Scary, suspenseful, and the most intriguing novel yet. This new thriller by Julie Myerson is incredible."
— San Francisco Book Review

"Myerson twines a delightfully twisted tale, exposing the dark underbelly of love and the gaping, raw wounds of grief… By turns terrifying and heartbreaking; an enthralling spine-chiller."
— Kirkus Reviews

"In this hair-raiser, Mary Coles moves to a country cottage that seems too good to be true…and it turns out, she's right. Goose-bumps ensue."
— Cosmopolitan

"Beautifully written and cleverly told…. An extraordinarily potent experience and not for the faint-hearted."
— The Guardian

"The story is heart wrenching, unremittingly grisly…. A thriller and…a page-turner…. The Stopped Heart exposes the flesh of the lives cut in half, the pain and loves of the past, and why they are no less real than the present."
— Independent (UK)

"Myerson evokes mystery and madness, with glimpses into devastating events, the full extent of which are slowly and skillfully uncovered."
— Vogue (UK)

"This novel is beautifully written and cleverly told. And it's almost completely terrifying…. Edge-of-your-seat suspense…. It's the sort of book you cannot put down."
— The Guardian (UK)