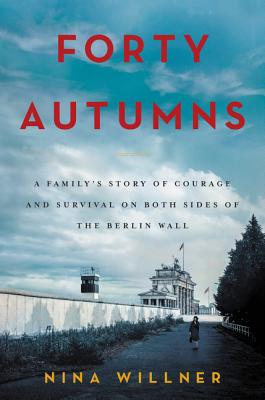 Forty Autumns
A Family's Story of Courage and Survival on Both Sides of the Berlin Wall
Hardcover

* Individual store prices may vary.
Other Editions of This Title:
Digital Audiobook (10/3/2016)
Paperback (8/15/2017)
Paperback, Large Print (10/4/2016)
Compact Disc (10/4/2016)
MP3 CD (10/4/2016)
Compact Disc (10/4/2016)
Description
In this illuminating and deeply moving memoir, a former American military intelligence officer goes beyond traditional Cold War espionage tales to tell the true story of her family—of five women separated by the Iron Curtain for more than forty years, and their miraculous reunion after the fall of the Berlin Wall.
Forty Autumns makes visceral the pain and longing of one family forced to live apart in a world divided by two. At twenty, Hanna escaped from East to West Germany. But the price of freedom—leaving behind her parents, eight siblings, and family home—was heartbreaking. Uprooted, Hanna eventually moved to America, where she settled down with her husband and had children of her own.
Growing up near Washington, D.C., Hanna's daughter, Nina Willner became the first female Army Intelligence Officer to lead sensitive intelligence operations in East Berlin at the height of the Cold War. Though only a few miles separated American Nina and her German relatives—grandmother Oma, Aunt Heidi, and cousin, Cordula, a member of the East German Olympic training team—a bitter political war kept them apart.
In Forty Autumns, Nina recounts her family's story—five ordinary lives buffeted by circumstances beyond their control. She takes us deep into the tumultuous and terrifying world of East Germany under Communist rule, revealing both the cruel reality her relatives endured and her own experiences as an intelligence officer, running secret operations behind the Berlin Wall that put her life at risk.
A personal look at a tenuous era that divided a city and a nation, and continues to haunt us, Forty Autumns is an intimate and beautifully written story of courage, resilience, and love—of five women whose spirits could not be broken, and who fought to preserve what matters most: family.
Forty Autumns is illustrated with dozens of black-and-white and color photographs.
Praise For Forty Autumns: A Family's Story of Courage and Survival on Both Sides of the Berlin Wall…
"An excellent and intriguing account of the impact of the Cold War on families and their lives on either side of the Berlin Wall."
— Library Journal (starred review)

"Willner's epic memoir traverses three generations of mothers, recounting the tragedy, estrangement, and overwhelming courage of a family torn apart…. Her interrogative and unabashed voice explores the painful intersection of national duty and familial responsibilities…. A thrilling and relevant read for historians and casual readers alike."
— Publishers Weekly

Thoughtful and informative, Willner's book not only offers a personal view of the traumatic effects of German partition. It also celebrates the enduring resilience of the human spirit. A poignant and engrossing, occasionally harrowing, family memoir."
— Kirkus Reviews

[A] moving account of one family's life under tyranny… Willner's sensitive and well-written account causes us to reflect on what is really important to us and how we would react in a similar situation."
— BookPage

"This book is kind, honest, incredibly well-written, and important, a testament to humanity and courage."
— LitHub

"[A] meticulous and compassionate family memoir… Charting the twists and turns of politics in communist East Germany over more than four decades, it shows how currents of repression and reform affected individual lives."
— Chicago Tribune

"Forty Autumns is both an informative and timely read. In this increasingly tumultuous modern era when borders, both theoretical and physical, have once again become the front lines of critical issues such as immigration reform, pervasive prejudice and terrorism, stories like Willner's are especially important."
— BookReporter

"Even if you well know the story of the East German sequester, you will be drawn to [Willner's] family story of living through the worst of times."
— Manhattan Book Review

"A poignant parable of hope and, at times, a harrowing ghost story."
— Christian Science Monitor
William Morrow, 9780062410313, 416pp.
Publication Date: October 4, 2016
About the Author
Nina Willner is a former U.S. Army intelligence officer who served in Berlin during the Cold War. Following a career in intelligence, Nina worked in Moscow, Minsk, and Prague promoting human rights, children's causes, and the rule of law for the U.S. government, nonprofit organizations, and a variety of charities. She currently lives in Istanbul, Turkey. Forty Autumns is her first book.
or
Not Currently Available for Direct Purchase