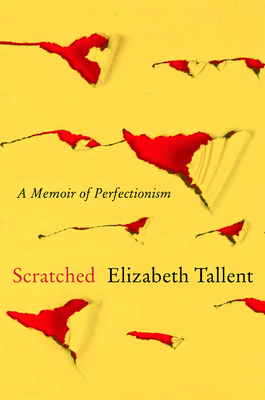 Scratched
A Memoir of Perfectionism
Hardcover

* Individual store prices may vary.
Other Editions of This Title:
Digital Audiobook (2/24/2020)
Paperback (2/23/2021)
Compact Disc (2/25/2020)
MP3 CD (2/25/2020)
Description
"Reading Scratched gave me the feeling of standing very close to a blazing fire. It is that brilliant, that intense, and one of the finest explorations I know of what it means to be a woman and an artist."—Sigrid Nunez, author of The Friend and Winner of the National Book Award for Fiction
In this bold and brilliant memoir, the acclaimed author of the novel Museum Pieces and the collection Mendocino Fire explores the ferocious desire for perfection which has shaped her writing life as well as her rich, dramatic, and constantly surprising personal life.

In the decade between age twenty-seven and thirty-seven, Elizabeth Tallent published five literary books with Knopf, her short stories appeared in The New Yorker, and she secured a coveted teaching job at Stanford University. But this extraordinary start to her career was followed by twenty-two years of silence. She wrote —or rather published— nothing at all. Why? Scratched is the remarkable response to that question.
Elizabeth's story begins in a hospital in mid-1950s suburban Washington, D.C., when her mother refuses to hold her newborn daughter, shocking behavior that baffles the nurses. Imagining her mother's perfectionist ideal at this critical moment, Elizabeth moves back and forth in time, juxtaposing moments in the past with the present in this innovative and spellbinding narrative.
She traces her journey from her early years in which she perceived herself as "the child whose flaws let disaster into an otherwise perfect family," to her adulthood, when perfectionism came to affect everything. As she toggles between teaching at Stanford in Palo Alto and the Mendocino coast where she lives, raises her son Gabriel, and pursues an important psychoanalysis, Elizabeth grapples with the ferocious desire for perfection which has shaped her personal life and writing life. Eventually, she finds love and acceptance in the most unlikely place, and finally accepts an "as is" relationship with herself and others.
Her final triumph is the writing of this extraordinary memoir, filled with wit, humor, and heart—a brave book that repeatedly searches for the emotional truth beneath the conventional surface of existence.
Praise For Scratched: A Memoir of Perfectionism…
"Honest and moving."

— Psychology Today

"A singular and haunting memoir…The book approaches the mysteries, gaps and obstacles in Tallent's own story with the same psychological precision and elliptical motivation she applies to her fictional characters…Elizabeth Tallent's gift has never been in doubt…She has written a subtle and idiosyncratic account that tries to elucidate her decades-long writer's block even as she recognizes that—as with so much in anyone's life—she cannot fully grasp it. I'm not sure I've ever read a memoir quite like this, one that spills its many dark secrets with so little self-pity, so much acuity and such a deliberate lack of authorial certitude."

— Daphne Merkin, New York Times Book Review

"[Scratched is] a harrowing story of overcoming perfectionism, leavened by [Tallent's] dry wit and precise, poetic use of language. . . . This book is a record of Tallent's struggle to show her scratches and to believe, as her young son tells her one day after spilling a glass of milk, 'Everybody makes mistakes.'"
— Associated Press

"Fascinating…The passages in Scratched that deal with writer's block will have the effect of quicksand on anyone who's struggled to express herself on paper. You sink under, horrified and enthralled… Scratched proceeds on strong sentences, sleek with a hard, dark lacquer…There is a sadomasochism, then, to the reading and writing of [it], and Tallent is never so alluring as when she's parsing her own prison."
— The New Yorker.com, Page-Turner

"Ms. Tallent's exploration of perfectionism is an exploration of living as a writer and living as a woman…But as she turns perfectionism over, studying its facets, its idiosyncrasies, it becomes clear that this disorder stems from something more universal than writing or womanhood: the loss of love…Her writing is beautiful and precise, full of flashing insights and bracing honesty."
— Elizabeth Winkler, Wall Street Journal

"Scratched is a brave and complex memoir…Tallent brings an intellectual rigor to her memoir that recalls Kathryn Harrison and Dani Shapiro. She is capable of beautiful precision…The lesson, which also applies to this book, is that there's beauty and value in imperfection, too."
— Heller McAlpin, Washington Post

"Chaotic, tumbling, and beautiful prose. . . . Scratched is a pure and consuming pleasure. Its messiness feels both defiant and intentional, a middle finger raised to perfectionism. . . . Tallent's juxtaposition of style and structure with subject matter is her memoir's big victory. It's also refreshing to read…Reading it reminded me how exhilarating disorderly writing can be… Scratched is a performance of, and appeal for, urgency. It's a call I hope other writers will be able to heed."
— Lily Meyer, NPR.org

"A profound new memoir, Tallent takes readers deep into her own internal high-pressure chambers of self-loathing and not-enough-ness — feelings that can goad creativity, but also ultimately shut it down…A tentative embrace of creating something contradictory and new is finally what this oddly enthralling memoir embodies."
— Maureen Corrigan, NPR

"Tallent published four lauded books in the 1980s and 1990s, but this is not a memoir about that; readers meet her again as a Stanford professor and the divorced mother of her young son, grasping for the root of her perfectionism and its stunting effects on her writing. Tallent's personal literary endeavor contains many wildly evocative passages and breathtaking sentences, making it a must-read for lovers of writers' memoirs."
— Booklist

"Reading Scratched gave me the feeling of standing very close to a blazing fire. It is that brilliant, that intense, and one of the finest explorations I know of what it means to be a woman and an artist."
— Sigrid Nunez, author of The Friend and Winner of the National Book Award for Fiction
Harper, 9780062410375, 240pp.
Publication Date: February 25, 2020
About the Author
Elizabeth Tallent, author of a novel and four story collections, has appeared in The Threepenny Review, The Paris Review, The New Yorker, Tin House, and ZYZZYVA as well as in the Best American Short Stories, Best American Essays, O. Henry Prize, and Pushcart Prize award anthologies. She teaches in Stanford's Creative Writing Program and lives with her wife, an antiques dealer, on the Mendocino Coast.
Coverage from NPR
or
Not Currently Available for Direct Purchase