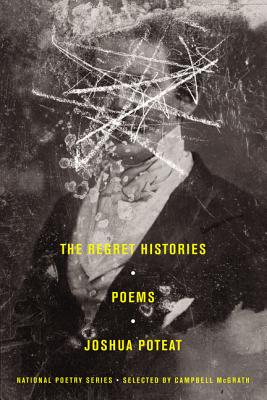 The Regret Histories
Poems
Paperback

* Individual store prices may vary.
Description
This powerful and provocative new installment of poetry is a recipient of the 2014 National Poetry Series Prize, as chosen by Campbell McGrath.
The National Poetry Series's long tradition of promoting exceptional poetry from lesser-known poets delivers another outstanding collection of poetry by Joshua Poteat.

Through an investigation of the haunted spaces where history collides with the modern southern American landscape, The Regret Histories explores themes of ruin and nostalgia, our relationship to a collective past, and the extraordinary indifference of time to memory.

For thirty years, the National Poetry Series has discovered many new and emerging voices and has been instrumental in launching the careers of poets and writers such as Billy Collins, Mark Doty, Denis Johnson, Marie Howe, and Sherod Santos.
Praise For The Regret Histories: Poems…
"Joshua Poteat's Richmond is at once local and universal, sorrowful and redemptive, a landscape to set beside Paterson and Spoon River on the bookshelf and in the literary imagination."
— Campbell McGrath, award-winning poet and author of In the Kingdom of the Sea Monkeys

"In Joshua Poteat's The Regret Histories, we perceive History and Nature observing us with a disregard that unsettles our humanity. But, as Poteat's poems insist, the cyclical emptiness... will soon be refilled, if only by drips, with the obstinate weight of our hope and humanity."
— Dario Robleto, Smithsonian Artist Fellow and 2016 State of Texas Artist Laureate

"The Regret Histories is nothing less than a book of wisdom…Joshua Poteat has written a book that will last not only because it is singular in its voice and originality, but because it bears truth, burdened and alive."
— Katie Ford, author of Blood Lyrics

"Poteat imbeds in his language the task of memory at work. These poems act as a kind of echolocation, an attempt to conceive of a single life against the din of lives that came before and those to follow."
— Rick Alverson, director of Entertainment and The Comedy

"The Regret Histories tenderly and honestly—yet without consolation—locates its urgent personal grief and regret within the ongoing and haunting injustices and inequalities that constitute the history and cultural landscape of America itself."
— Kathleen Graber, author of The Eternal City, a finalist for the Poetry National Book Award
Harper Perennial, 9780062412232, 112pp.
Publication Date: September 8, 2015
About the Author
Joshua Poteat is the author of two full-length collections, Illustrating the Machine That Makes the World, published in the VQR Poetry Series, and Ornithologies, winner of the Anhinga Prize for Poetry, as well as three chapbooks, Meditations, which received the National Chapbook Award from the Poetry Society of America, For the Animal from Diagram/New Michigan Press, and The Scenery of Farewell from Diode. He lives in Richmond, Virginia.