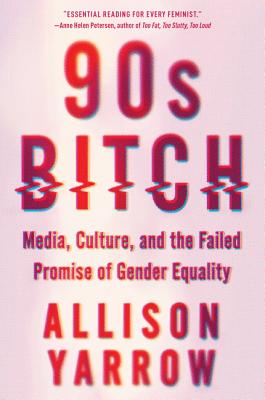 90s Bitch (Paperback)
Media, Culture, and the Failed Promise of Gender Equality
Harper Perennial, 9780062412348, 416pp.
Publication Date: June 19, 2018
Other Editions of This Title:
Digital Audiobook (6/18/2018)
MP3 CD (6/19/2018)
Compact Disc (6/19/2018)
Compact Disc (6/19/2018)
* Individual store prices may vary.
Description
To understand how we got here, we have to rewind the VHS tape. 90s Bitch tells the real story of women and girls in the 1990s, exploring how they were maligned by the media, vilified by popular culture, and objectified in the marketplace. Trailblazing women like Hillary Clinton, Anita Hill, Marcia Clark, and Roseanne Barr were undermined. Newsmakers like Monica Lewinsky, Tonya Harding, and Lorena Bobbitt were shamed and misunderstood. The advent of the 24-hour news cycle reinforced society's deeply entrenched sexism. Meanwhile, marketers hijacked feminism and poisoned girlhood for a generation of young women.
Today, there are echoes of 90s "bitchification" nearly everywhere we look. To understand why, we must revisit and interrogate the 1990s—a decade in which female empowerment was twisted into objectification, exploitation, and subjugation.
Yarrow's thoughtful, juicy, and timely examination is a must-read for anyone trying to understand 21st century sexism and end it for the next generation.
About the Author
Allison Yarrow is an award-winning journalist and National Magazine Award finalist whose work has appeared in the New York Times, the Washington Post, Vox, and many others. She was a 2017 TED resident and is a 2018 grantee of the International Women's Media Foundation. She produced the Vice documentary "Misconception," and has appeared on the Today show, MSNBC, NPR and more. Allison was raised in Macon, Georgia and lives in Brooklyn, New York.
Praise For 90s Bitch: Media, Culture, and the Failed Promise of Gender Equality…
"Allison Yarrow is a feminist and a muckraker in the tradition of Betty Friedan, Naomi Klein, and bell hooks. Her enthralling new book, 90s Bitch, takes a long overdue sledgehammer (and, when needed, a scalpel) to the misogynistic myths that cloud our view of that troubling decade. Like all great cultural historians, she examines every sordid cranny of our culture—its sexual mores, its pop culture and rampant consumerism—so as to lay bare the marching orders issued by the patriarchy: that women should shut up and put out, sell out, sell themselves short, and most of all obey. Yarrow's prose is brilliant, her insights are razor-sharp, and her moral aim is essential. If America is ever going to recover from the Trumpian tailspin wrought by masculine insecurity, we need feminists like Allison Yarrow keeping us all honest."
— Steve Almond, author of Bad Stories: What the Hell Just Happened to Our Country

"90s Bitch is a book we need right now. Allsion Yarrow takes the full measure of misogyny in America -- then and now -- and she KO's it like the champion she is. This is a trilling read, smart and lyrical and -- above all -- necessary.  The book would be on my recommended reading-list at any time, but during the Trump era it should be mandatory. "
— Darin Strauss, NBCC-winning author of Half A Life

"Brava for this ambitious, confident, and brilliantly original explication de Bitch."
— Wednesday Martin, #1 New York Times best-selling author of Primates of Park Avenue

"Amidst the revelations of #MeToo, it's sometimes easy to forget that we're in the midst of a feminist backlash. The best way to prevent that backlash from expanding and overtaking the movement is to study and learn from the (very recent) past. Which is precisely why '90s Bitch is essential reading for every feminist — a wakeup call for those who don't remember how rapidly society at large embraced the postfeminist moment, and a punch in the stomach to those who remember it."
— Anne Helen Petersen, author of Too Fat, Too Slutty, Too Loud

"Smartly written, much of this cultural critique of women in media/politics/television/music and more still rings true today."
— Book Riot

"An important read about gender politics."
— HelloGiggle

"90s Bitch reminds us that we're not experiencing anything new. There's already a blueprint for our moment."
— Bitch Media

"Yarrow is a skillful scene setter."
— The Los Angeles Review of Books

BREAKING: Women are regularly vilified by the media simply for existing! Sadly, this isn't anything new. In '90s Bitch, Allison Yarrow takes you back to the era of Anita Hill and Monica Lewinsky and Tonya Harding and examines how the media fueled America's sexism.
— Bustle