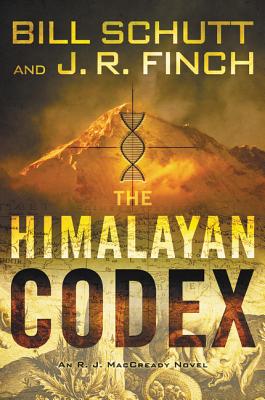 The Himalayan Codex (Hardcover)
An R. J. MacCready Novel
William Morrow, 9780062412553, 400pp.
Publication Date: June 6, 2017
* Individual store prices may vary.
Description
"Looks like Schutt and Finch are filling the void left by the passing of Michael Crichton."--James Cameron, director/writer/explorer
In the wake of World War II, zoologist and adventurer Captain R. J. MacCready is sent to the frozen mountain valleys of Tibet to find a creature of legend that may hold the secret to humankind's evolutionary future—or the key to its extinction—in this explosive follow-up to Hell's Gate.
It is 1946, and the world is beginning to rebuild from the ashes of the devastating war. Marked by the perilous discoveries he encountered in the wilds of Brazil, Captain R. J. MacCready has a new assignment on the other side of the globe—a mission that may help him put the jungle's horrors behind him. He is headed for the Himalayas, to examine some recently discovered mammoth bones.
Arriving in Asia, Mac learns the bones are only a cover story. He's really there to investigate an ancient codex allegedly written by Pliny the Elder, a fascinating text filled with explosive secrets. The Roman naturalist claimed to have discovered a new race of humans, a divergent species that inspired the myth of the Yeti and is rumored to have the ability to accelerate the process of evolution. If Pliny's assertions are true, this seemingly supernatural ability holds unlimited potential benefits—and unlimited potential for destruction.
Charged with uncovering more about this miracle species, Mac sets off into the remote mountain valleys of Tibet, using the codex as his guide. But the freezing climate and treacherous terrain are only the beginning of the dangers facing him. He must also contend with the brutal Chinese army and a species of native creature even the Yeti seem to fear. The deeper he plunges into the unknown, the more certain it appears that Mac and the associates who join his odyssey may not make it out alive.
Combining plausible science, history, and action-packed thrills, The Himalayan Codex is a page-turning adventure sure to enthrall fans of James Rollins, Michael Crichton, Dan Brown, and Douglas Preston and Lincoln Child.
About the Author
Bill Schutt is a vertebrate zoologist and author. He is a research associate in residence at the American Museum of Natural History and a professor of biology at LIU Post. Bill's first book,
Dark Banquet: Blood and the Curious Lives of Blood-Feeding Creatures
, was critically acclaimed by E. O. Wilson and the
New York Times
. His next nonfiction work will explore the natural history of cannibalism. Bill lives with his wife and son on the East End of Long Island, and he is currently working on a sequel to
Hell's Gate
with J. R. Finch.
J. R. Finch is a painter, history buff, and cave explorer. He lives in New York City with three cats.
Praise For The Himalayan Codex: An R. J. MacCready Novel…
"Looks like Schutt and Finch are filling the void left by the passing of Michael Crichton."
— James Cameron, director/writer/explorer

"Schutt and Finch provide a textbook example of how to make the fantastic easy to buy into with their superior second Crichton-esque thriller featuring field zoologist R. J. MacCready."
— Publishers Weekly (starred review)

"Bill Schutt and J.R. Finch are two of the best adventure writers to hit the scene in a long time. They blend action and science into a read that opens the door to much, much more. My kind of book!"
— Clive Cussler, #1 New York Times bestselling author

"Looks like Schutt and Finch are filling the void left by the passing of Michael Crichton."

— James Cameron, director/writer/explorer

"Hell's Gate has everything I love in a book: rip-roaring action, strange-but-authentic science, and characters that pop right off the page. An adventure that harkens to the glory days of H. Rider Haggard and H.G. Wells. Warning: Do NOT miss this debut!"
— James Rollins, #1 New York Times bestselling author on Hell's Gate

"This one pushes the envelope to the edge and beyond, with tension and imagination that crackles from the first page. A terrific story, terrifically told. So take a walk on the perilous side, if you dare."
— Steve Berry, New York Times bestselling author of The 14th Colony on Hell's Gate

"Just think Indiana Jones. For that matter, this yarn evokes more than a few reminders of Stephen King, Joseph Conrad, and Bram Stoker's Dracula. Fast-moving fun for thriller readers who enjoy a bit of horror and seeing bad guys get what's coming to them."
— Kirkus Reviews (starred review) on Hell's Gate

"The authors adeptly balance science and suspense, and a detailed afterword lays out how much of the story line is based in history. Michael Crichton fans will be pleased that the ending leaves room for a sequel."
— Publishers Weekly (starred review) on Hell's Gate