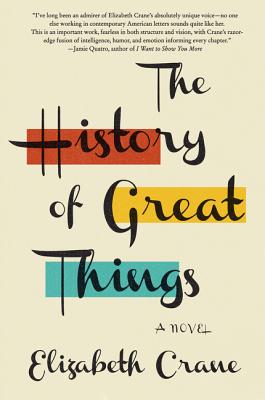 The History of Great Things
A Novel
Paperback

* Individual store prices may vary.
Description
A witty and irresistible story of a mother and daughter regarding each other through the looking glass of time, grief, and forgiveness.
In two beautifully counterpoised narratives, two women—mother and daughter—try to make sense of their own lives by revisiting what they know about each other. The History of Great Things tells the entwined stories of Lois, a daughter of the Depression Midwest who came to New York to transform herself into an opera star, and her daughter, Elizabeth, an aspiring writer who came of age in the 1970s and '80s in the forbidding shadow of her often-absent, always larger-than-life mother. In a tour de force of storytelling and human empathy, Elizabeth chronicles the events of her mother's life, and in turn Lois recounts her daughter's story—pulling back the curtain on lifelong secrets, challenging and interrupting each other, defending their own behavior, brandishing or swallowing their pride, and, ultimately, coming to understand each other in a way that feels both extraordinary and universal.
The History of Great Things is a novel about a mother and daughter who are intimately connected and not connected enough; it will make readers laugh and cry and wonder how we become the adults we always knew we should—even if we're not always adults our parents understand.
Praise For The History of Great Things: A Novel…
"The novel flows smoothly, and readers game for offbeat narrative approaches will be well rewarded. . . . So much like the relationship they're borne of, Crane's deeply realized mother-daughter inventions are therapeutic and ruthless, heartfelt and crushing. A lovely exercise in the wild, soothing wonders of imagination."
— Booklist (starred review)

"Poignant and hilarious...Crane writes about the relationship between a deceased mother and her daughter as they tell each other's stories to understand each other."
— Michele Filgate, Los Angeles Times

"Imagine sitting at a leisurely dinner with two intelligent women, a mother and daughter....The format may be experimental, but the emotions the book will stir in readers are moving and heartbreakingly familiar."
— Library Journal

"Elizabeth Crane's latest novel, The History of Great Things, is a poignant dual narrative featuring a mother and daughter whose disparate paths ultimately prevent them from ever truly understanding each other. . . . Alternating between laugh-out-loud humor and heart-rending melancholy, Crane gives us a mother and daughter who never quite grasp each other's life stories, but who find truth through unconditional love."
— Bookpage

"Ultimately, The History of Great Things is a story of perception, one well worth reading. It serves as a reminder that what truly matters to each of us is not what actually happens, but how we remember it."
— The Rumpus.com

"Cowritten, in a sense, by a daughter and her absent mother (who speaks from beyond the grave), this is an important work, fearless in both structure and vision, with Crane's razor-edge fusion of intelligence, humor, and emotion informing every chapter. Get ready, world: this one's going to be huge."
— Jamie Quatro, author of I Want to Show You More

"I cannot remember the last time I simultaneously cried and laughed as hard as I did while reading Elizabeth Crane's glorious, tender knockout of a novel, The History of Great Things. Wait, yes I can. It was the last time I spoke to my mom about life."
— Amber Tamblyn, author of Dark Sparkler

"Like everything Elizabeth Crane writes, The History of Great Things is wonderful fun to read-smart, insightful, and witty-but it will break your heart, too. It stares down the poignant question so many daughters want to ask: How well did my mother really know me?"
— Pamela Erens, author of Eleven Hours and The Virgins
Harper Perennial, 9780062412676, 288pp.
Publication Date: April 5, 2016
About the Author
Elizabeth Crane is the author of the novel We Only Know So Much and three collections of short stories. Her stories have been featured on NPR's Selected Shorts. She is a recipient of the Chicago Public Library 21st Century Award, and her work has been adapted for the stage by Chicago's Steppenwolf Theatre Company. A feature film adaptation of We Only Know So Much will be released in 2016.
or
Not Currently Available for Direct Purchase