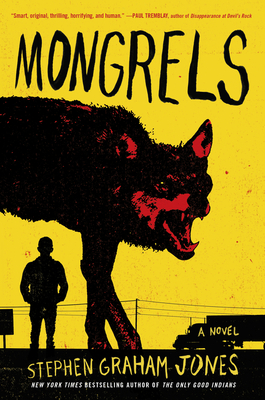 Mongrels (Paperback)
A Novel
William Morrow Paperbacks, 9780062412706, 320pp.
Publication Date: January 24, 2017
Other Editions of This Title:
Digital Audiobook (5/9/2016)
Hardcover (5/10/2016)
Compact Disc (5/10/2016)
Compact Disc (5/10/2016)
MP3 CD (5/10/2016)
* Individual store prices may vary.
Description
NOMINATED FOR THE SHIRLEY JACKSON AWARD • NOMINATED FOR THE BRAM STOKER AWARD
NAMED ONE OF THE BEST BOOKS OF 2016 BY TOR.COM AND BOOK RIOT
A spellbinding and darkly humorous coming-of-age story about an unusual boy, whose family lives on the fringe of society and struggles to survive in a hostile world that shuns and fears them.
He was born an outsider, like the rest of his family. Poor yet resilient, he lives in the shadows with his aunt Libby and uncle Darren, folk who stubbornly make their way in a society that does not understand or want them. They are mongrels, mixed blood, neither this nor that. The boy at the center of Mongrels must decide if he belongs on the road with his aunt and uncle, or if he fits with the people on the other side of the tracks.
For ten years, he and his family have lived a life of late-night exits and narrow escapes—always on the move across the South to stay one step ahead of the law. But the time is drawing near when Darren and Libby will finally know if their nephew is like them or not. And the close calls they've been running from for so long are catching up fast now. Everything is about to change.
A compelling and fascinating journey, Mongrels alternates between past and present to create an unforgettable portrait of a boy trying to understand his family and his place in a complex and unforgiving world. A smart and innovative story— funny, bloody, raw, and real—told in a rhythmic voice full of heart, Mongrels is a deeply moving, sometimes grisly, novel that illuminates the challenges and tender joys of a life beyond the ordinary in a bold and imaginative new way.
About the Author
Stephen Graham Jones is the author of fifteen novels and six story collections. He has received numerous awards, including the NEA Literature Fellowship in fiction, the Texas Institute of Letters Jesse H. Jones Award for Best Work of Fiction, the Independent Publisher Book Award for Multicultural Fiction, and the This Is Horror Award, as well as making Bloody Disgusting's Top Ten Horror Novels of the Year. Stephen was raised in West Texas. He now lives in Boulder, Colorado, with his wife and children.
Praise For Mongrels: A Novel…
"Mongrels isn't just a coming-of-age story or a horror story. It looks at the world through a disturbing, uncomfortable lens, and offers up a brutal mythology of werewolves. I've never seen anything quite like it and I won't forget it anytime soon."
— Carrie Vaughn, New York Times bestselling author of the Kitty Norville series

"With lupine tongue tucked well into cheek, Mongrels is at once an adolescent romp through the tangled woods of family history and a rich compendium of werewolf lore old and new."
— Christopher Buehlman, author of Those Across the River and The Lesser Dead

"Lyrical...The narrator's voice is heartfelt and absorbing...an often moving portrait of a family struggling to survive."
— Publishers Weekly

"A love letter to the American South...Jones' portrayals of rural American ring true in many ways. Horror enthusiasts will also dig the graphic mythology...A Holden Caulfield analogue dropped into an old horror movie with a soundtrack by Warren Zevon."
— Kirkus Reviews

"Mongrels exists somewhere in the borderlands of literary and genre fiction, full of horror and humor and heart, at once a nightmarish road trip and a moving story about a broken family leashed together by their fierce love and loyalty. A bloody great read."
— Benjamin Percy, author of The Dead Lands, Red Moon, and The Wilding

"Stephen Graham Jones is as powerful as the monsters herein."
— Josh Malerman, author of Bird Box

"Mongrels left me speechless. Or breathless. Certainly without my dew claw. I mean, it's so smart, original, thrilling, horrifying, and human."
— Paul Tremblay, author of A Head Full of Ghosts and Disappearance at Devil's Rock

"A gory monster coming-of-age tale that makes love triangles with sparkling vampires seem like trivial concerns...A thoughtful, entertaining novel with rich details, well-drawn characters, and, if you'll forgive the phrase, plenty of bite."
— Los Angeles Times

"Mongrels makes a meal fit for any werewolf: meaty, surprisingly sweet of heart, and immensely satisfying...As real as anything you'd find in S.E. Hinton's The Outsiders. Only wiht more teeth."
— Tor.com

"You ever read a book and know from the first page that it's going to be something special?...SGJ's words are reasonable enough to convert the biggest skeptic into a believer. He'll have you howling at the moon and digging through the trash in no time."
— LitReactor

"Hilarious, painful, fascinating, and satisfying...Will easily be remembered as one of the most unique and unforgettable werewolf tales ever written. It's both a postmodern deconstruction and a wild love letter to a classic creature of legend, told in a way that only Stephen Graham Jones can tell"
— New York Journal of Books