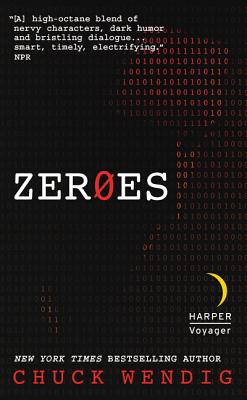 Zeroes
Mass Market

* Individual store prices may vary.
Other Editions of This Title:
Digital Audiobook (1/25/2016)
Hardcover (8/18/2015)
Description
An exhilarating thrill-ride through the underbelly of cyber espionage in the vein of David Ignatius's The Director and the television series Leverage, CSI: Cyber, and Person of Interest, which follows five iconoclastic hackers who are coerced into serving the U.S. government.
An Anonymous-style rabble rouser, an Arab spring hactivist, a black-hat hacker, an old-school cipherpunk, and an online troll are each offered a choice: go to prison or help protect the United States, putting their brains and skills to work for the government for one year.
But being a white-hat doesn't always mean you work for the good guys. The would-be cyberspies discover that behind the scenes lurks a sinister NSA program, an artificial intelligence code-named Typhon, that has origins and an evolution both dangerous and disturbing. And if it's not brought down, will soon be uncontrollable.
Can the hackers escape their federal watchers and confront Typhon and its mysterious creator? And what does the government really want them to do? If they decide to turn the tables, will their own secrets be exposed—and their lives erased like lines of bad code?
Combining the scientific-based, propulsive narrative style of Michael Crichton with the eerie atmosphere and conspiracy themes of The X-Files and the imaginative, speculative edge of Neal Stephenson and William Gibson, Zer0es explores our deep-seated fears about government surveillance and hacking in an inventive fast-paced novel sure to earn Chuck Wendig the widespread acclaim he deserves.
Praise For Zeroes…
"This taut thriller will reinforce your paranoia about big government, big data, and that big, nerdy barista who just seems to know too much." — Wall Street Journal
"[A] high-octane blend of nervy characters, dark humor and bristling dialogue... smart, timely, electrifying." — NPR
"Highly cinematic." — Library Journal
"With complex characters and feverishly paced action, ZEROES is a sci-fi thriller that won't stop blowing your mind until the last page. ... It left me rooting for the hackers!" — Daniel H. Wilson, bestselling author of Robopocalypse
"ZERØES turns ones and zeroes into pure gold - Wendig hacks the action thriller." — Scott Sigler, New York Times bestselling author
"A sci-fi surveillance thriller with a twisted heart of creepy horror. It grabs you by the throat on page one, and never lets go." — Ramez Naam, author of The Nexus Trilogy
"A Matrix-y bit of old-school cyberpunk updated to meet the frightening technology of the modern age...An ambitious, bleeding-edge piece of speculative fiction that combines hacker lore, wet-wired horror, and contemporary paranoia in a propulsive adventure that's bound to keep readers on their toes." — Kirkus Reviews
"Wendig wields the tools of suspense and tension with skill. His large cast of characters is entertaining, the moments of horror are sharp and chilling, and the story races to a breathless conclusion." — Publishers Weekly
"Wendig's second novel is a splendidly profane slice of urban fantasy--hard, dark and fast. Slick one-liners and laugh-out-loud descriptions pepper the prose, macking Blackbirds a black comedy that even the Grim Reaper could smile at." — Financial Times
"Wendig writes hard and fast and this is a slick noirish thriller." — The Independent, on Blackbirds
"A gleefully dark, twisted road trip for everyone who thought Fight Club was too warm and fuzzy. I loved it, and will be seeking professional help as soon as Chuck lets me out of his basement." — James Moran, Dr. Who writer, on Blackbirds
"ZEROES is a very powerful development of the idea of science as magic, with a cast of unwitting sorcerors' apprentices. It asks a lot of real-world questions, both moral and practical.... It might make you nostalgic for Mr. Gibson's "Neuromancer": Life was so much simpler back in the '80s." — Wall Street Journal
Harper Voyager, 9780062413178, 496pp.
Publication Date: May 31, 2016
About the Author
Chuck Wendig is the author of the Miriam Black thrillers (which begin with Blackbirds) and numerous other works across books, comics, games, and more. A finalist for the John W. Campbell Award for Best New Writer and the cowriter of the Emmy-nominated digital narrative Collapsus, he is also known for his popular blog, terribleminds.com. He lives in Pennsylvania with his family.
or
Not Currently Available for Direct Purchase