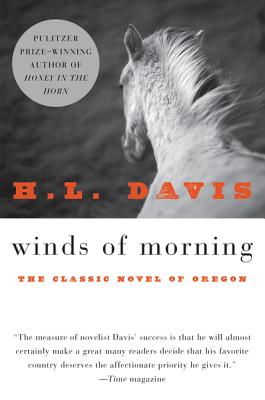 Winds of Morning
A Novel
Paperback

* Individual store prices may vary.
Description
A stirring, provocative novel of the American Northwest in the 1920s, written with the same buoyant vigor, the sharp characterization, and the pungent wisdom that captivated readers of H.L. Davis' great Pulitzer Prize winning novel, Honey In The Horn
H.L. Davis' captivating novel is narrated by Amos Clarke who recounts back to thirty years when he was barely twenty and was a hot-headed young sheriff's assistant. For Amos, it is one experience that stands out the most for him during his time spent as a sheriff's deputy.
While delivering a summons, Amos stumbles upon a shooting that at first appears to be accidental. Busick, a ranch hand, has killed an old Indian. Amos takes Busick into custody. An open-and-shut case of manslaughter, Busick is tried and gets off. But when Busick decides to give up his rights to a small patch of grazing land, the sheriff instructs Amos to round up Busick's horses and lead them up to public pasture with the help of Hendricks, an old man who was looking after them.
As Amos and Hendricks head north with the horses, they find themselves on the hunt for a murderer when a wealthy rancher who was married to one of Hendricks' daughters is shot dead. Their search for a killer proves to be an epiphany for both men—and for Amos, this fascinating journey will forever change him.
William Morrow Paperbacks, 9780062413185, 352pp.
Publication Date: October 20, 2015
About the Author
Oregon's only Pulitzer Prize winner for literature, H. L. Davis was born in 1894. His first novel was Honey in the Horn, for which he received the Harper Prize for the best first novel of 1935. Over the next ten years, he published four novels, a collection of short stories, and a number of shorter pieces, including movie scripts. His fourth novel, Winds of Morning, was highly acclaimed and became a selection of the Book-of-the-Month Club. He died in 1960.