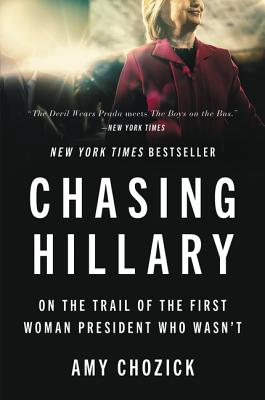 Chasing Hillary
On the Trail of the First Woman President Who Wasn't
Paperback

* Individual store prices may vary.
Other Editions of This Title:
Digital Audiobook (4/23/2018)
Hardcover (4/24/2018)
MP3 CD (4/24/2018)
Compact Disc (4/24/2018)
Compact Disc (4/24/2018)
Description
New York Times Bestseller
Now in paperback, the dishy, rollicking, and deeply personal story of what really happened in the 2016 election and since, as seen through the eyes of the New York Times reporter who gave eight years of her life to covering the First Woman President who wasn't.
"The Devil Wears Prada meets The Boys on the Bus."—New York Times

For nearly a decade, award-winning New York Times journalist Amy Chozick chronicled Hillary Clinton's pursuit of the presidency. Chozick's assignments, covering Clinton's imploding 2008 campaign and then her front-row seat to the 2016 election on "The Hillary Beat," set off a years-long journey in which the author's formative twenties and thirties became, both personally and professionally, intrinsically intertwined with Clinton's presidential ambitions. As Mrs. Clinton tried, and twice failed, to shatter "that highest, hardest glass ceiling," Chozick was herself trying, with various fits and starts, to scale the highest echelons of American journalism.
In this rollicking, hilarious narrative, Chozick takes us through the high- (and low-) lights of the most noxious and dramatic presidential race in American history. Chozick's candor and clear-eyed perspective—from her seat on the Hillary bus and reporting from inside the campaign's Brooklyn headquarters to her run-ins with Donald J. Trump—provide fresh intrigue and insights into the story we thought we all knew. This is the real story of what happened, with the kind of dishy, inside details that repeatedly surprise and enlighten.  
But Chasing Hillary is also the unusually personal and moving memoir of how Chozick came to understand Clinton not as an unknowable enigma and political animal, but as a complete, complex person full of contradictions and forged in the crucible of political battles that had long predated Chozick's years covering her. And as Chozick gets engaged, married, buys an apartment, climbs the professional ladder, and inquires about freezing her eggs so she can have children after the 2016 campaign, she dives deeper into decisions Mrs. Clinton had made at similar points in her early career. In the process, Chozick develops an intimate understanding of what drives Clinton, how she accomplished what no woman had before, and why she ultimately failed.
Clinton's shocking defeat would mark the end of the almost imperial hold she'd had on Chozick for most of her professional life. But the results also make Chozick question everything she'd worked so hard for in the first place. Illuminating, poignant, laugh-out-loud funny, Chasing Hillary is a campaign book unlike any other that reads like a fast-moving political novel.
Praise For Chasing Hillary: On the Trail of the First Woman President Who Wasn't…
"Chozick's own funny, wicked and wacky side is on full display, with well-drawn sketches of everyone from fresh-faced campaign interns to the candidates themselves. With her lively voice and eye for detail, Chasing Hillary is an enjoyable read, like The Devil Wears Prada meets The Boys on the Bus."
— New York Times

"[Chasing Hillary is] a sort-of 'Bridget Jones's Diary' meets 'What it Takes' coming-of-age rom-com set on the campaign trail, with a tragic twist at the end (spoiler alert: Clinton lost)."
— New York Magazine

"Perhaps we should see [the election] now as a funeral for how politics used to be done. Almost nobody, including Chozick, saw it coming. But her book captures the horrors of the journey. It is worth its price in stilettoed prose. Her future as a writer is strawberry-coloured."
— Financial Times

"The book promises to read like a rapidly paced political novel, a memoir converging with one of the most controversial and notable political figures of our time."
— Entertainment Weekly

"[Chasing Hillary] stands to do to Clinton and her campaign what Joshua Green's Devil's Bargain did to the president and Steve Bannon—deliver a highly readable and essential chronicle of the election that just was and likely will always be with us."
— American Conservative

"Poignant, insightful…perceptive, pithy and surprising."
— Washington Post

"Chasing Hillary [is] so wickedly readable: like Michael Wolff's Fire and Fury, it's a nonfiction novel."
— The Guardian

"Amy Chozick's memoir of covering Hillary Clinton for the New York Times gives you a first-row seat on the past two elections—and an important reality check about how we interpret news from the campaign trail. Come for the politics; stay for the anecdotes about a young journalist juggling ambition, exhaustion and, well, life…. Chozick has my vote for best political memoir of the year."
— Glamour

"[A] funny, raw and female take on the campaign memoir."
— People

"Because in stirring together the two women's striving in a long, neurotic game of hide and seek, what you arrive at is the lopsided but right-seeming conclusion that if only Hillary Clinton were a little more like Amy Chozick, maybe she'd be president right now."
— Weekly Standard

"Almost Famous meets Game Change."
— Axios

"Amy Chozick has written a breathtaking, page-turning masterpiece that pretends to be about Hillary Clinton's defiant presidential run. But Chasing Hillary is also—for the brilliant Chozick—a deeply personal story.  Wait till you get the gory, insider details of the bloodiest political battle in recent memory.  A must read!"
— Mary Karr

"Amy Chozick sweeps us along on a ten-year chase after the most famous and elusive woman in modern politics. At the bittersweet end, she captures Hillary, and America, and the traveling press, and some part of herself."
— David Maraniss

"This insanely readable book manages to bring humor and a fresh inside perspective to the saddest event in history. The details alone are sure to drive Democrats to fisticuffs, or whatever we do when the kale runs out."
— Gary Shteyngart, New York Times bestselling author of Little Failure
Harper Paperbacks, 9780062413604, 400pp.
Publication Date: February 12, 2019
About the Author
Amy Chozick is a writer-at-large for the New York Times. Originally from San Antonio, Texas, she lives in New York with her husband and son.