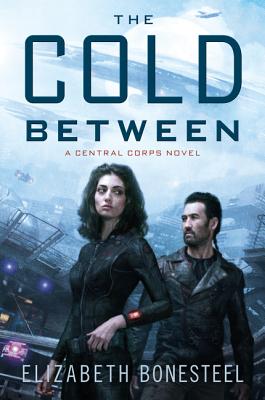 The Cold Between (Paperback)
A Central Corps Novel
Harper Voyager, 9780062413659, 528pp.
Publication Date: March 8, 2016
Other Editions of This Title:
Digital Audiobook (3/7/2016)
Compact Disc (4/20/2016)
Compact Disc (3/8/2016)
* Individual store prices may vary.
Description
From debut author Elizabeth Bonesteel, The Cold Between is the start to a stellar military science fiction series that combines hints of mystery and romance with action and adventure in the tradition of Elizabeth Moon, Linnea Sinclair, and Lois McMaster Bujold.
When her crewmate, Danny, is murdered on the colony of Volhynia, Central Corps chief engineer, Commander Elena Shaw, is shocked to learn the main suspect is her lover, Treiko Zajec. She knows Trey is innocent—he was with her when Danny was killed. So who is the real killer and why are the cops framing an innocent man?
Retracing Danny's last hours, they discover that his death may be tied to a mystery from the past: the explosion of a Central Corps starship at a wormhole near Volhynia. For twenty-five years, the Central Gov has been lying about the tragedy, even willing to go to war with the outlaw PSI to protect their secrets.
With the authorities closing in, Elena and Trey head to the wormhole, certain they'll find answers on the other side. But the truth that awaits them is far more terrifying than they ever imagined . . . a conspiracy deep within Central Gov that threatens all of human civilization throughout the inhabited reaches of the galaxy—and beyond.
About the Author
Elizabeth Bonesteel began making up stories at the age of five, in an attempt to battle insomnia. Thanks to a family connection to the space program, she has been reading science fiction since she was a child. She currently works as a software engineer and lives in central Massachusetts with her husband, daughter, and various cats. 
Praise For The Cold Between: A Central Corps Novel…
Bonesteel's space opera debut, the first in the Central Corps series, expertly revitalizes familiar plot elements…Bonesteel keeps the plot moving briskly…The headlong action will attract readers, but they'll find themselves paying more attention to the characters' convincing and satisfying emotional relationships."
— Publishers Weekly on THE COLD BETWEEN

"Bonesteel introduces readers to her world of outer space travel and galactic politics. While the story is futuristic and held on spaceships that deliver goods and services to settled colonies, the emotions and the mystery surrounding the murder of one of the crew is still current and relatable."
— RT Magazine on THE COLD BETWEEN

"Bonesteel's novel more than satisfies with Elena and Trey's story."
— Library Journal (starred review) on THE COLD BETWEEN

"The Cold Between is Elizabeth Bonesteel's debut novel, which is surprising. In this taut, space-based science fiction mystery, she does great things with character, plot, and story that belies her debut status."
— SFF World on THE COLD BETWEEN

"Surprising, convincing character development makes this series worth following."
— Publishers Weekly on REMNANTS OF TRUST

"Bonesteel's debut sets the stakes impressively high…Overall, this is a highly entertaining tale and a promising start to a new series."
— Booklist

"Elizabeth Bonesteel's debut The Cold Between joins the ranks of 'debuts that surprised me with their accomplishments.' … a welcome addition to the space opera genre."
— Tor.com on THE COLD BETWEEN

"A powerful blend of military sci-fi and vintage crime noir, Elizabeth Bonesteel's debut [is] a shifting stellar landscape that finds humanity stretching its limbs into a frontier still full of risk and mystery... a firm foundation for this exciting new trilogy."
— BookPage
or
Not Currently Available for Direct Purchase