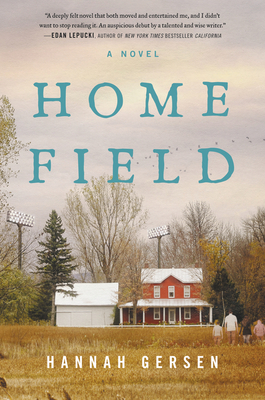 Home Field
A Novel
Paperback

* Individual store prices may vary.
Other Editions of This Title:
Digital Audiobook (7/25/2016)
MP3 CD (7/26/2016)
Compact Disc (7/26/2016)
Compact Disc (7/26/2016)
Description
The heart of Friday Night Lights meets the emotional resonance and nostalgia of My So-Called Life in this moving debut novel about tradition, family, love, and football.
As the high school football coach in his small, rural Maryland town, Dean is a hero who reorganized the athletic program and brought the state championship to the community. When he married Nicole, the beloved town sweetheart, he seemed to have it all—until his troubled wife committed suicide. Now, everything Dean thought he knew is thrown off kilter as Nicole's death forces him to re-evaluate all of his relationships, including those with his team and his three children.
Dean's eleven-year old son, Robbie, is withdrawing at home and running away from school. Bry, who is only eight, is struggling to understand his mother's untimely death and his place in the family. Eighteen-year-old Stephanie, a freshman at Swarthmore, is torn between her new identity as a rebellious and sophisticated college student, her responsibility towards her brothers, and reeling from missing her mother. As Dean struggles to continue to lead his team to victory in light of his overwhelming personal loss, he must fix his fractured family—and himself. When a new family emergency arises, Dean discovers that he'll never view the world in the same way again.
Transporting readers to the heart of small town America, Home Field is an unforgettable, poignant story about the pull of the past and the power of forgiveness.
Praise For Home Field: A Novel…
"This is a deeply felt novel that both moved and entertained me, and I didn't want to stop reading it. An auspicious debut by a talented and wise writer." — Edan Lepucki, author of New York Times bestseller California
"Gersen's characters are so full, so gently flawed, and so deeply human that it's nearly impossible to resist falling into their world, with all its sorrow and all its subtle joy. A moving all-American family saga; fiction's answer to Friday Night Lights." — Kirkus Reviews
"[An] elegant first novel...Gersen's writing walks a lyrical tightrope...[and] uncovers the unflinching truths in families that wound us and somehow, miraculously, save us." — Robin Antalek, author of The Grown Ups and The Summer We Fell Apart
"This is Friday Night Lights on the mid-Atlantic but one degree deeper...A tender, touching, unfogettable read...You won't put this book down until everyone in Home Field has made it safely home." — Jessica Anya Blau, author of The Trouble with Lexie
William Morrow Paperbacks, 9780062413741, 432pp.
Publication Date: July 26, 2016
About the Author
Hannah Gersen was born in Maine and grew up in western Maryland. She is a staff writer for The Millions, and her writing has been published in the New York Times, Granta, and The Southern Review, among others. Home Field is her first novel. She lives in Brooklyn with her family.
Aside from a pure and genuine love of the game, what do you think Dean gets out of his team that he doesn't get from his home life?
The author sets the story in 1996. How does this choice affect the tone and atmosphere of the novel? How did it affect your reading?
Both Stephanie and her brothers have an episode with their mother's clothing after her death. What do the differences in their responses mean to you? How are they using the clothes to cope with their loss?
Do you think Dean made the right choice in stepping down from his position? Why or why not?
Do you think Stephanie made the right choice in going to college right away? Why or why not?
Do you think Dean and Laura end up together? Why or why not?
A particularly evocative memory Stephanie has of her mother involves stopping by the
side of the road to eat a peach. Why is this image so powerful? What does it signify?
Another very evocative memory is of Nicole being unable to cut a lemon and Stephanie pulling over to the side of the road to cry. Why do you think this is such a successful illustration of depression? How does it complement the moment with the peach?
Do you relate to Stephanie's experience in her first months of college? Why or why not?
One of the most heartbreaking moments in the book is when Jessica's mom is speaking with Dean and unwittingly begins talking about Nicole, referring to her as "that sweet woman." Why is this moment so powerful? What is the author trying to show us?
What are some of the leitmotifs the author employs in her writing and how do they work to advance the themes of the novel?