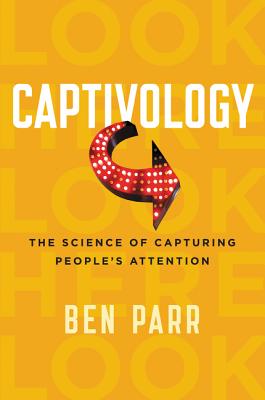 Captivology (Paperback)
The Science of Capturing People's Attention
HarperOne, 9780062414885, 256pp.
Publication Date: October 18, 2016
* Individual store prices may vary.
About the Author
Ben Parr is an award-winning journalist, entrepreneur, investor, and expert on attention. He is the cofounder and managing partner of DominateFund, a venture capital firm; was coeditor and editor-at-large of Mashable; and served as columnist for CNET. Parr was named one of the top ten tech journalists in the world by Say Media and named to the Forbes "30 Under 30." He lives in San Francisco.
Praise For Captivology: The Science of Capturing People's Attention…
"Parr gets it: To succeed in a world where attention is scarce, captivating audiences at every level is a skill that everyone needs. Captivology will show you how to capture other people's attention, whether you are teacher, entrepreneur, musician, or simply a dreamer with a big idea."
— Adam Braun, New York Times bestselling author of The Promise of a Pencil

"The Internet has made it easier to communicate but also more challenging to be heard. Ben Parr's Captivology applies recent discoveries in psychology and neuroscience to the attention economy so that anyone can rise over the crowd and stand out."
— Craig Newmark, founder, Craigslist

"Filled with useful tips, practical advice and case studies, Captivology is a book everyone in the attention business should buy. (By the way, that's YOU. Every. One. Of. Us.)"
— Sree Sreenivasan, Chief Digital Officer, The Metropolitan Museum of Art and professor of digital media, Columbia Journalism School

"Captivology is a brilliant investigation of how one can make a mark in this world by commanding the attention of others (not easy in this incredibly fluid culture) and how we can build on that initial impression to make something tangible and lasting."
— Donal Logue, actor, producer, and director