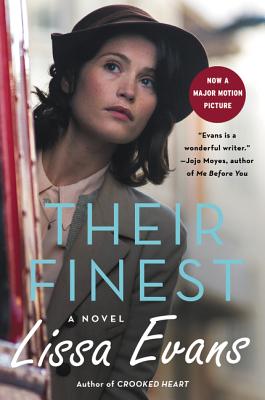 Their Finest (Paperback)
A Novel
Harper Perennial, 9780062414915, 464pp.
Publication Date: February 14, 2017
Other Editions of This Title:
Digital Audiobook (2/13/2017)
Compact Disc (2/14/2017)
Paperback, Large Print (4/19/2017)
MP3 CD (2/14/2017)
Compact Disc (2/14/2017)
* Individual store prices may vary.
Description
From the author of the acclaimed Crooked Heart comes another "smart, funny, ingenious, revealing tale of London life during the Second World War" (The Independent)—longlisted for the Orange Prize upon its original publication in England.
It is 1940. France has fallen, and only a narrow strip of sea lies between Great Britain and invasion. The war could go either way and everyone must do their bit. Young copy writer Catrin Cole is drafted into the Ministry of Information to help "write women" into propaganda films—something that the men aren't very good at.

She is quickly seconded to the Ministry's latest endeavor: a heart-warming tale of bravery and rescue at Dunkirk. It's all completely fabricated, of course, but what does that matter when the nation's morale is at stake? Since call-up has stripped the industry of its brightest and best, it is the callow, the jaded and the utterly unsuitable who must make up the numbers: Ambrose Hilliard, third most popular British film-star of 1924; Edith Beadmore, Madame Tussauds wardrobe assistant turned costumier; and Arthur Frith, whose peacetime job as a catering manager has not really prepared him for his sudden, unexpected elevation to Special Military Advisor.

Now in a serious world, in a nation under siege, they must all swallow their mutual distaste, ill-will, and mistrust to unite for the common good, for King and Country, and—in one case—for better or worse....
"Evans displays a fine eye for detail and for the absurdities involved in filming. She also brilliantly evokes the disruption and dangers of wartime London. This funny, heart-warming and beautifully crafted novel is a must-read."—Daily Mail (London)

About the Author
Lissa Evans has written books for both adults and children, including Their Finest Hour and a Half, which was longlisted for the Orange Prize. Crooked Heart was also longlisted for the Baileys Women's Prize for Fiction (formerly known as the Orange Prize); it is her first novel to be published in the US. Evans lives in London with her family.
Praise For Their Finest: A Novel…
"A wry, semi-sweet tale."
— Washington Post

"The period details evoking London during the Blitz are masterfully done."
— Library Journal

"A beautifully written, minutely observed and researched, evocative and very funny tale."
— <i>Guardian</i>, London

"This is a comic novel, but far warmer in tone and broader in scope than that label would suggest....Gloriously observed...Hilliard is a wonderful creation—and Evans's recreated propaganda scripts are a total joy. Delicious."
— Times (London)

"I try not to say, 'If there's one novel you should read this summer..' but Crooked Heart tempts me to say it."
— Scott Simon, NPR, on Crooked Heart

"Glorious. I loved every line of this book."
— Paula Hawkins, author of The Girl on the Train, on Crooked Heart

"In 'Crooked Heart,' Lissa Evans's absorbing and atmospheric comic novel, another quietly heroic orphan joins the canon….This is a wonderfully old-fashioned Dickensian novel, with satisfying plot twists….Both darkly funny and deeply touching….It's a crooked journey, straight to the heart."
— New York Times Book Review on Crooked Heart

"Beautifully written, minutely observed and researched, evocative and very funny tale."
— Guardian (London)

"[Evans] displays a fine eye for detail and for the absurdities involved in filming. She also brilliantly evokes the disruption and dangers of wartime London. This funny, heart-warming and beautifully crafted novel is a must-read."
— Daily Mail (London)