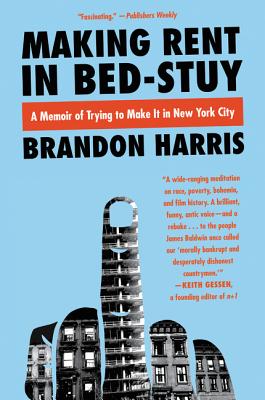 Making Rent in Bed-Stuy
A Memoir of Trying to Make It in New York City
Paperback

* Individual store prices may vary.
Other Editions of This Title:
Digital Audiobook (6/5/2017)
Compact Disc (6/6/2017)
Compact Disc (6/6/2017)
Description
A young African American millennial filmmaker's funny, sometimes painful, true-life coming-of-age story of trying to make it in New York City—a chronicle of poverty and wealth, creativity and commerce, struggle and insecurity, and the economic and cultural forces intertwined with "the serious, life-threatening process" of gentrification.
Making Rent in Bed-Stuy explores the history and sociocultural importance of Bedford-Stuyvesant, Brooklyn's largest historically black community, through the lens of a coming-of-age young American negro artist living at the dawn of an era in which urban class warfare is politely referred to as gentrification. Bookended by accounts of two different breakups, from a roommate and a lover, both who come from the white American elite, the book oscillates between chapters of urban bildungsroman and a historical examination of some of Bed-Stuy's most salient aesthetic and political legacies.
Filled with personal stories and a vibrant cast of iconoclastic characters— friends and acquaintances such as Spike Lee; Lena Dunham; and Paul MacCleod, who made a living charging $5 for a tour of his extensive Elvis collection—Making Rent in Bed-Stuy poignantly captures what happens when youthful idealism clashes head-on with adult reality.
Melding in-depth reportage and personal narrative that investigates the disappointments and ironies of the Obama era, the book describes Brandon Harris's radicalization, and the things he lost, and gained, along the way.
Praise For Making Rent in Bed-Stuy: A Memoir of Trying to Make It in New York City…
"A melancholic, lyrical new memoir… Harris's memoir has a pleasing specificity." — The New Yorker
"Making Rent in Bed-Stuy from Amistad should be required reading for every single young person living in a gentrifying neighborhood." — Vogue
"A searing debut memoir…With its stinging truths and inventive language, Making Rent in Bed-Stuy stands as a monument to what is lost when New York's low-rent underdog outer borough becomes just another county of kings." — New York Times Book Review
"Fascinating… This memoir provides hard-won insights into the divided loyalties of middle-class African-Americans, and a convincing description of a 21st-century New York City where only the rich can thrive." — Publishers Weekly
"A thought-provoking examination of the millennial black experience in the first decade of the 21st century." — Kirkus Reviews
"[Harris's] wide-ranging meditation on race and class, film and literature, black history and crime reportage carves out its own space in American letters." — Los Angeles Review of Books
"Brandon Harris's first book is a wide-ranging meditation on race, poverty, bohemia, and film history. It's the introduction to American letters of a brilliant, funny, antic voice-and a rebuke, in a form newly discovered, to the people James Baldwin once called our 'morally bankrupt and desperately dishonest countrymen.'" — Keith Gessen, a founding editor of n+1 and the author of All the Sad Young Literary Men
"There were passages that made me burst out laughing, paragraphs that made me want to scream, and pages that made me want to take Brandon by the collar and simply shake him to his senses. Clever and powerful. Everybody interested in discovering how Millennials are living will find Making Rent in Bed-Stuy fascinating." — Julianne Malveaux, economist and author of Are We Better Off? Race, Obama, and Public Policy Julianne Malveaux, economist and author of Are We Better Off? Race, Obama, and Public Policy Julianne Malveaux, economist and author of Are We Better Off? Race, Obama, and Public Policy Julianne Malveaux, economist and author of Are We Better Off? Race, Obama, and Public Policy
Amistad, 9780062415646, 320pp.
Publication Date: June 6, 2017
About the Author
Brandon Harris, originally from Cincinnati, Ohio, has worked in the world of American independent film as a critic and programmer, producer and director, screenwriter and educator. His writings about cinema, politics, culture, and the intersections between them have appeared in The New Yorker, The New Republic, Guardian, VICE, Daily Beast, Variety, n+1, New Inquiry, Brooklyn Rail, In These Times, Hammer to Nail, and Filmmaker magazine, where he is a contributing editor.
or
Not Currently Available for Direct Purchase