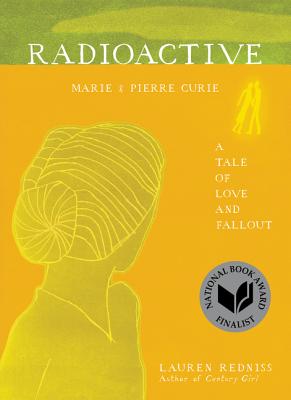 Radioactive (Paperback)
Marie & Pierre Curie: A Tale of Love and Fallout
Dey Street Books, 9780062416162, 208pp.
Publication Date: August 4, 2015
Other Editions of This Title:
Hardcover (12/21/2010)
* Individual store prices may vary.
Description
A National Book Award finalist, the mesmerizing, landmark illustrated biography Radioactive is finally available in a stunning paperback edition. Through words and her own gorgeously crafted illustrations, artist and journalist Lauren Redniss tells the story of Marie Curie, née Marya Sklodowska, and her working and romantic relationship with Pierre Curie, including their discovery of two new scientific elements with startling properties—as well as the tragic car accident that killed Pierre, Marie's two Nobel Prizes, and her scandalous affair with a married scientist. And Radioactive looks beyond the contours of Marie's life, surveying the changes wrought by the Curies' discoveries—nuclear weapons, radiation in medical treatment, and nuclear energy as a possible energy source—to create an eerie, wondrous, and moving evocation of one of history's most intriguing figures.
About the Author
Lauren Redniss is the author of Century Girl: 100 years in the Life of Doris Eaton Travis, Last Living Star of the Ziegfeld Follies and Radioactive: Marie & Pierre Curie, A Tale of Love and Fallout, a finalist for the 2011 National Book Award for non fiction. Her writing and drawing has appeared in numerous publications including the New York Times, which nominated her work for the Pulitzer Prize. She was a fellow at the Cullman Center for Scholars & Writers at the New York Public Library in 2008-2009 and became a New York Institute for the Humanities fellow in 2010. Beginning in 2012, she will be artist-in-residence at the American Museum of Natural History. She teaches at Parsons the New School for Design in New York City.
Praise For Radioactive: Marie & Pierre Curie: A Tale of Love and Fallout…
"[An] excellent new book."
— Robert Krulwich, NPR

"[A] sumptuously illustrated visual biography….Radioactive is an incisive look at science's greatest partnership."
— Vogue

"One of the most beautiful books-as-object that I've ever seen."
— Elizabeth Gilbert, author of Eat, Pray, Love

"[Radioactive is] a deeply unusual and forceful thing to have in your hands. Ms. Redniss's text is long, literate and supple…Her drawings are both vivid and ethereal…Radioactive is serious science and brisk storytelling. The word 'luminous' is a critic's cliché, to be avoided at all costs, but it fits."
— New York Times

"Radioactive is quite unlike any book I have ever read—part history, part love story, part art work and all parts sheer imaginative genius."
— Malcolm Gladwell

"Absolutely dazzling. Lauren Redniss has created a book that is both vibrant history and a work of art. Like radium itself, Radioactive glows with energy."
— Richard Rhodes, author of The Making of the Atomic Bomb, winner of the Pulitzer Prize

"Radioactive offer innumerable wonders. Colors suddenly bloom into tremendous feeling, history contracts into a pair of elongated figures locked in an embrace, then expands again in an explosive rush of words. In this wholly original book about passion and discovery Lauren Redniss has invented her own unique form."
— Nicole Krauss, author of The History of Love