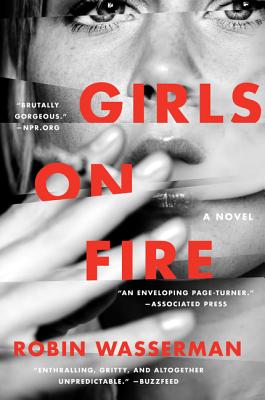 Girls on Fire
A Novel
Paperback

* Individual store prices may vary.
Other Editions of This Title:
Digital Audiobook (5/16/2016)
Hardcover (5/17/2016)
MP3 CD (5/17/2016)
Compact Disc (5/17/2016)
Compact Disc (5/17/2016)
Description
On Halloween, 1991, a popular high school basketball star ventures into the woods near Battle Creek, Pennsylvania, and disappears. Three days later, he's found with a bullet in his head and a gun in his hand—a discovery that sends tremors through this conservative community, already unnerved by growing rumors of Satanic worship in the region.
In the wake of this incident, bright but lonely Hannah Dexter is befriended by Lacey Champlain, a dark-eyed, Cobain-worshiping bad influence in lip gloss and Doc Martens. The charismatic, seductive Lacey forges a fast, intimate bond with the impressionable Dex, making her over in her own image and unleashing a fierce defiance that neither girl expected. But as Lacey gradually lures Dex away from her safe life into a feverish spiral of obsession, rebellion, and ever greater risk, an unwelcome figure appears on the horizon—and Lacey's secret history collides with Dex's worst nightmare.
By turns a shocking story of love and violence and an addictive portrait of the intoxication of female friendship, set against the unsettled backdrop of a town gripped by moral panic, Girls on Fire is an unflinching and unforgettable snapshot of girlhood: girls lost and found, girls strong and weak, girls who burn bright and brighter—and some who flicker away.
Praise For Girls on Fire: A Novel…
"An enveloping page-turner." — Associated Press
"Explores the line where close female friendships can blur into obsession and self-obliteration….At the heart of the dark story is an intoxicating and all-consuming friendship between two teenage girls." — New York Times
"An enthralling, gritty, and altogether unpredictable read that holds nothing back.... You will be utterly riveted." — BuzzFeed
"Like lightning in a bottle, Robin Wasserman's GIRLS ON FIRE captures girlhood friendship in all its shattering intensity. A captivating, terrifying novel, and one you won't forget." — Megan Abbott
"A perfectly constructed literary novel… nearly impossible to put down…Wasserman does so many things right... it's hard to count them all…. Girls on Fire is an inferno - it's brutally gorgeous, and you know it could explode anytime, but you can't turn away, even for a second." — Michael Schaub, NPR.org
"'She was making fun of me, or she wasn't. She was like me, or she wasn't,' says Hannah, spidey senses already tingling, after her first extended hang-out with Lacey. It's one of several sharp, spot-on lines about the frailty of teen friendships that Wasserman employs throughout the book.... [Wasserman proves her] own black-magic mettle by conjuring up an era where ill-informed paranoia (and just plain ding-dongness) turned some of the quietest corners of America into fear factories, full of deep-rooted distrust and misspent rage." — Brian Raferty, Wired
"A dark, propulsive fever-dream of youth and friendship. I wanted to grab these girls and shake them, sing them lullabies, stop them—but all I could do was keep reading them, relentlessly enthralled by the heat-seeking missile of Robin Wasserman's fearless imagination." — Leslie Jamison, author of THE EMPATHY EXAMS and THE GIN CLOSET
"As intense as adolescence and as dark as a dream.... Girls on Fire is a mystery and a tangled love triangle and a sharp, ruthless thriller, and it's satisfying and troubling on all these levels." — Briallen Hopper, Los Angeles Review of Books
"Deliciously digestible.... [Girls on Fire has] an undeniably dark, voyeuristic appeal: we get to watch universal emotions manifest with extreme outward ferocity." — Keziah Weir, Elle
"Part murder mystery, part love story, this page-turner explores the dark side of the all-consuming friendship between a wide-eyed good girl and a grunge-worshipping rebel." — Cosmopolitan
"A little bit 'Heathers' with a 90s Nirvana vibe. You'll want it in your tote for your first summer beach trip." — Skimm Reads Book Pick
"The book is refreshing in its agility—the second you think you've got it pegged, it gives you the slip and heads in an entirely new direction…This is Wasserman's first novel for adults, and it's clear that years of writing dark young adult fiction have sharpened her ability to bring high school's spiny underbelly into sharp relief… This book captures the cathartic mess of it all with artful prose that is chock full of fervent sensuality. Girls on Fire is a brilliant tale of love and betrayal between friends—complete with a can't-look-away climax that will make your hair stand on end." — Barnes & Noble Reads
"An intense whirlwind of love, violence, and obsession in a small town." — Redbook
"The kind of book I wanted to tear through, but found so intense that I needed to take breathers. It captures the darkest side of girlhood in a way no other book or movie I've come across has. " — Rookie
"A book so wonderful, so terrible, so nightmarishly compelling that I hardly knew what to say when I finished. Wasserman has wrapped up a love story inside a murder mystery, a promise and a testament inside a confession—and has a title ever been truer? The reader comes away singed." — Kelly Link, author of GET IN TROUBLE and MAGIC FOR BEGINNERS
"This spellbinding story sent literal shivers up and down our spines." — Refinery 29
"Thrilling.... [an] intriguing mix of dark literary sophistication and unadulterated teenaged angst…impressive storytelling abilities and flights of dazzling lyrical prose." — Shane Sexton, Daily News
"Robin Wasserman may be known for her YA novels, but her foray into the adult genre is well worth your time." — InStyle
"A book that crackles with the kind of energy that only teenagers can conjure.... It is about being nowhere and feeling like you're going nowhere, and, maybe most importantly, it is about society's fear of teenage girls.... All of these themes are explored through a Lynchian lens, a skewed take on small town America in all its hypocritical glory." — Jason Diamond, Lit Hub
"A chilling mix-tape of love, girl crushes, secrets, and revenge… Read it on vacation; read it on the train; read it at the beach; read it at a campfire just about to burn out—but don't miss it." — Ploughshares
"This is not a novel you'll put down after you pick it up, so clear some time. And it's not a novel you'll ever forget after you've read it—don't say you weren't warned. Wasserman is a brilliant writer, and GIRLS ON FIRE is a gorgeous gift of a novel." — Laura Kasischke, author of IN A PERFECT WORLD and THE RAISING
"Excellent.... drives to its savage, surprising and unnerving conclusion." — Miami Hearld
"Wasserman masterfully shows the all-consuming nature of adolescent relationships, in which the line between love and hate is a thin one indeed. The girls' ultimate act is one that's shocking, perverse, and frighteningly believable-and it will either bind them together forever or entirely break them apart." — Examiner.com
"[Cranks] the emotional intensity higher and higher while pushing events into truly shocking, subversive territory. Much like her young protagonists, Wasserman takes things shockingly far, creating an irresistible hybrid between coming-of-age stories and Gone Girl-esque psychological thrillers." — Shelf Awareness
"The story unfolds as a maddening tease, with shocking events waiting around every corner-and an ending that will leave readers stunned." — Booklist
"Successful YA novelist Wasserman makes her adult debut with this edgy portrayal of a passionate, obsessive female friendship set in the grunge era." — BookPage, "9 Women to Watch in 2016"
"With its narrative witchcraft, conjures up the ghost of the decade [the 90s] to full effect." — Flavorwire
Harper Perennial, 9780062417145, 400pp.
Publication Date: February 14, 2017
About the Author
Robin Wasserman is a graduate of Harvard University and the author of several successful novels for young adults. A recent recipient of a MacDowell fellowship, she lives in Brooklyn, New York. Girls on Fire is her first novel for adults.
or
Not Currently Available for Direct Purchase