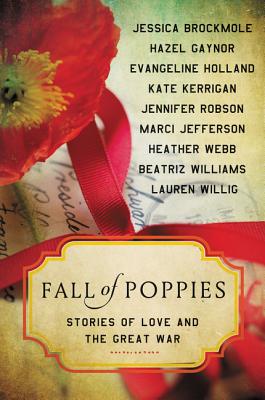 Fall of Poppies
Stories of Love and the Great War
Paperback

* Individual store prices may vary.
Description
Top voices in historical fiction deliver an unforgettable collection of short stories set in the aftermath of World War I—featuring bestselling authors such as Hazel Gaynor, Jennifer Robson, Beatriz Williams, and Lauren Willig and edited by Heather Webb.
On the eleventh hour of the eleventh day of the eleventh month...
November 11, 1918. After four long, dark years of fighting, the Great War ends at last, and the world is forever changed. For soldiers, loved ones, and survivors the years ahead stretch with new promise, even as their hearts are marked by all those who have been lost.
As families come back together, lovers reunite, and strangers take solace in each other, everyone has a story to tell.
In this moving anthology, nine authors share stories of love, strength, and renewal as hope takes root in a fall of poppies.
Featuring:
Jessica Brockmole
Hazel Gaynor
Evangeline Holland
Marci Jefferson
Kate Kerrigan
Jennifer Robson
Beatriz Williams
Lauren Willig
Heather Webb 
Praise For Fall of Poppies: Stories of Love and the Great War…
Praise for Jennifer Robson's After the War is Over: "A glorious journey from grief to celebration. Once I started reading, I couldn't put this novel down. The story is engaging, memorable and beautifully imagined." — Jeanne Mackin, author of The Beautiful American
Praise for Hazel Gaynor's A Memory of Violets: "Gaynor once again brings history to life. With intriguing characters and a deeply absorbing story, her latest is a fascinating examination of one city's rich history and the often forgotten people who lived in it." — Booklist
Praise for Beatriz Williams A Hundred Summers: "[A] fast-paced love story." — O, The Oprah Magazine
"You'll be drawn into this story of obsession and passion."-- on Heather Webb's Rodin's Lover — Cosmopolitan Magazine
From Marci Jefferson's moody tale of a courageous young girl seeking to avenge her family's honor... to Hazel Gaynor's incandescent confluence of births and deaths...and including tales by Kate Kerrigan, Beatriz Williams, and Lauren Willig, this collection offers an atmospheric homage to one of history's most emotionally devastating episodes. — Booklist
"With so many established and beloved names included, this title will be easy to suggest to the existing fan base of a particular writer as well as anyone looking for historical fiction with elements of intrigue and romance." — Library Journal
William Morrow Paperbacks, 9780062418548, 368pp.
Publication Date: March 1, 2016
About the Author
Heather Webb is the award-winning and USA Today bestselling author of The Last Ship Home, The Phantom's Apprentice, Rodin's Lover, and Becoming Josephine. Heather is also a freelance editor, and teaches craft courses at a local college. Her novels have been translated into more than a dozen languages, worldwide. She lives in Connecticut with her family and one feisty rabbit. 

Hazel Gaynor is the award-winning New York Times and USA Today bestselling author of A Memory of Violets and The Girl Who Came Home, for which she received the 2015 Romantic Novelists' Association Historical Romantic Novel of the Year award. Her third novel, The Girl from The Savoy, was an Irish Times and Globe and Mail bestseller, and was shortlisted for the 2016 Irish Book Awards Popular Fiction Book of the Year. Her most recent novel, The Lighthouse Keeper's Daughter, was a USA Today and Irish Times bestseller, and was shortlisted for the 2019 Historical Writers' Association Gold Crown Award. Hazel's work has been translated into fourteen languages. She lives in Ireland with her husband and two children.
Beatriz Williams is the bestselling author of thirteen novels, including Her Last Flight, The Summer Wives, and The Golden Hour, as well as All the Ways We Said Goodbye, cowritten with Lauren Willig and Karen White. A native of Seattle, she graduated from Stanford University and earned an MBA in finance from Columbia University. She lives with her husband and four children near the Connecticut shore, where she divides her time between writing and laundry.
Jennifer Robson is the Globe & Mail and Toronto Star number-one bestselling author of six novels, among them The Gown and Somewhere in France. She holds a doctorate in British history from the University of Oxford and lives in Toronto, Canada, with her husband and children.
Kate Kerrigan is the author of three previous novels. She lives in Ireland with her husband and their two sons.
Evangeline Holland 
is the founder and editor of www.EdwardianPromenade.com, the number one blog for lovers of World War I, the Gilded Age, and Belle Époque France with nearly forty thousand unique viewers a month. In addition, she blogs at www.ModernBellesofHistory.com. Her fiction includes AN IDEAL DUCHESS and its sequel, crafted in the tradition of Edith Warton.
Lauren Willig is the New York Times and USA Today bestselling author of twenty novels, including The Summer Country, The Ashford Affair, and The English Wife. She lives in New York City with her husband and family.