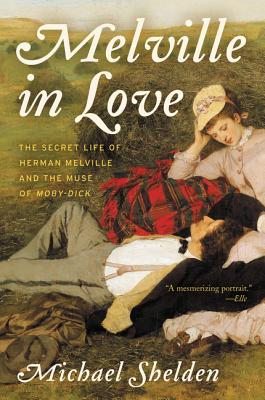 Melville in Love
The Secret Life of Herman Melville and the Muse of Moby-Dick
Paperback

* Individual store prices may vary.
Other Editions of This Title:
MP3 CD (6/15/2016)
Hardcover (6/7/2016)
Compact Disc (6/15/2016)
Description
A new account of Herman Melville and the writing of Moby-Dick, written by a Pulitzer  Prize finalist in Biography and based on fresh archival research, which reveals that the anarchic spirit animating Melville's canonical work was inspired by his great love affair with a shockingly unconventional married woman.
Herman Melville's epic novel, Moby-Dick, was a spectacular failure when it was published in 1851, effectively ending its author's rise to literary fame. Because he was neglected by academics for so long, and because he made little effort to preserve his legacy, we know very little about Melville, and even less about what he called his "wicked book." Scholars still puzzle over what drove Melville to invent Captain Ahab's mad pursuit of the great white whale.
In Melville in Love Pulitzer Prize-finalist Michael Shelden sheds light on this literary mystery to tell a story of Melville's passionate, obsessive, and clandestine affair with a married woman named Sarah Morewood, whose libertine impulses encouraged and sustained Melville's own. In his research, Shelden discovered unexplored documents suggesting that, in their shared resistance to the "iron rule" of social conformity, Sarah and Melville had forged an illicit and enduring romantic and intellectual bond. Emboldened by the thrill of courting Sarah in secret, the pleasure of falling in love, and the excitement of spending time with literary luminaries—like Dr. Oliver Wendell Holmes and Nathaniel Hawthorne—Melville found the courage to take the leap from light works of adventure to the hugely brilliant, utterly subversive Moby-Dick.
Filled with the rich detail and immense drama of Melville's secret life, Melville in Love tells the gripping story of how one of our greatest novelists found his muse.
Praise For Melville in Love: The Secret Life of Herman Melville and the Muse of Moby-Dick…
"A mesmerizing portrait… The hitherto hidden tale of these unconventional lovers is a deep and revelatory pleasure."
— Elle

"A proto-feminist woman of letters, impresario and poet in her own right, Morewood strikes us in Shelden's account as a person of imagination and courage straining against the socially imposed constrictions of her time."
— The Washington Post

"A masterpiece. . . . He visually escorts the reader into the mindset and emotional life of one of the most renowned literary giants. Without a doubt this biography is capable of captivating generations of readers and writers[and] inspir[ing] them to pursue their own creative endeavors."
— New York Journal of Books

"Riveting in its incandescent sense of discovery, intimacy, and velocity, Shelden's bound-to-be-controversial anatomy of a clandestine love transforms our perception of Melville and introduces "one of the great unsung figures in literary history."
— Booklist, Starred Review

"[Shelden] offers a provocative portrait of the canonical writer and his world."
— Kirkus

"Written with novelistic period detail and peopled with convincingly reanimated historical characters… The book is an engaging and creative recreation."
— Publishers Weekly

"Melville in Love is another masterwork by Shelden in the field of biography. Coupling diligent forensic scholarship with melodious narrative prose, he has discovered something new about an American author for whom the study of his life has turned into a minor industry of its own."
— Kenyon Review

"A scandalous surprise… Shelden carefully and convincingly presents his evidence regarding Morewood's influence and how she inspired Melville to a greatness recognized by few of his peers… This well-paced, enjoyable read is a must for Melville fans."
— Library Journal

"MELVILLE IN LOVE is a beautifully written, captivating story that may also be one of the most surprising literary revelations of our time."
— BookPage

"Outstanding."
— Bookreporter

"Michael Shelden delivers the goods. . . . Now we can understand better the daring and the originality, the stylistic and thematic boldness of Moby-Dick: its writing was fueled and sustained by Melville's passionate connection to a congenial sensibility."
— Sena Jeter Naslund, author of Ahab's Wife and Sherlock in Love

"Michael Shelden, with his skills as meticulous researcher, literary sleuth and inveterate storyteller surprises with a spellbinding, romantic tale of Melville and the Muse who aroused his passion and inspired his genius."
— Valerie Hemingway, author of Running with Bulls: My Life with the Hemingways

"Melville in Love is a masterful, riveting piece of literary and biographical detective work. Astute, compelling, and beautifully written, it gives us fascinating new insight into one of America's greatest writers and the alchemy of his enduring art."
— Shelley Fisher Fishkin, author of Was Huck Black?: Mark Twain and African American Voices

"Engrossing, original, fast paced, and beautifully written, this is a book that deserves a place on the shelves of anyone interested in Melville and the art of literature."
— Bruce Cole, former Chairman of the National Endowment for the Humanities

"It took the world decades to recognize Melvillle as a great writer. Thanks to Michael Shelden, we finally know Melville as a husband, father, son, friend, and lover. A brilliant and heart-breaking story."
— Eve LaPlante, author of Marmee & Louisa: The Untold Story of Louisa May Alcott and Her Mother
Ecco, 9780062419040, 288pp.
Publication Date: June 6, 2017
About the Author
Michael Shelden is the author of five biographies, including the Pulitzer Prize finalist Orwell: The Authorized Biography, which was also a New York Times Notable Book and has been translated into five languages. His Mark Twain: Man in White was a New York Times bestseller, and his Young Titan: The Making of Winston Churchill was widely praised on both sides of the Atlantic. He was a features writer for the London Daily Telegraph, served as a fiction critic for the Baltimore Sun, and has written for the Washington Post and the Times of London. He lives in Bloomington, Indiana.
or
Not Currently Available for Direct Purchase