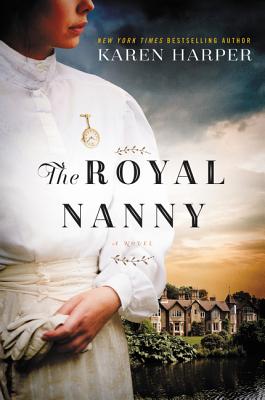 The Royal Nanny
A Novel
Paperback

* Individual store prices may vary.
Other Editions of This Title:
Digital Audiobook (6/22/2020)
Compact Disc (6/23/2020)
MP3 CD (6/23/2020)
Hardcover, Large Print (10/19/2016)
Prebound (6/21/2016)
Description
Based on a seldom-told true story, this novel is perfect for everyone who is fascinated by Britain's royal family—a behind the scenes look into the nurseries of little princes and the foibles of big princes.
April, 1897: A young nanny arrives at Sandringham, ancestral estate of the Duke and Duchess of York. She is excited, exhausted—and about to meet royalty. . . .
So begins the unforgettable story of Charlotte Bill, who would care for a generation of royals as their parents never could. Neither Charlotte—LaLa, as her charges dub her—nor anyone else can predict that eldest sons David and Bertie will each one day be king. LaLa knows only that these children, and the four who swiftly follow, need her steadfast loyalty and unconditional affection.
But the greatest impact on Charlotte's life is made by a mere bud on the family tree: a misunderstood soul who will one day be known as the Lost Prince. Young Prince John needs all of Lala's love—the kind of love his parents won't…or can't…show him.
From Britain's old wealth to the glittering excesses of Tsarist Russia; from country cottages to royal yachts, and from nursery to ballroom, Charlotte Bill witnesses history. The Royal Nanny is a seamless blend of fact and fiction—an intensely intimate, yet epic tale spanning decades, continents, and divides that only love can cross.
Praise For The Royal Nanny: A Novel…
"From cozy firesides of country houses to glittering halls of ancestral estates, Karen Harper gives the reader unprecedented access to a world of monarchs. Told through the eyes of an endearing narrator, THE ROYAL NANNY is a gem, revealing that those forgotten in history are often the true treasures."
— Erika Robuck, national bestselling author of HEMINGWAY'S GIRL

"Peels back the decades and pulls aside a protective veil of secrecy, helping us understand the forebears of Queen Elizabeth II, including her father, King George VI, of The King's Speech fame. A compulsive, page-turning read that reveals both the gilt and the tarnish of the British Royal Crown."
— Sandra Byrd, author of Mist of Midnight

"Fans of Downton Abbey will devour this vivid tale of one nanny's unwavering love and sacrifices endured for the sake of the royal children in her care. Full of emotion and heart, Lala redefines the meaning of motherhood while Harper gives us a behind-the-scenes look into the Royals."
— Renée Rosen, author of While Collar Girl

"...Beautifully depicts the world of the royal family through the eyes of a kind, loving woman who devoted her life to her young charges...It is the loving manner in which she explores the relationship between Lala and the children...that sweeps readers away. Harper at her best."
— Kathe Robin, RT Book Reviews

"This is a beautifully told novel of a woman who was surrounded by all the glitz and glamour of royalty but remained unaffected...Readers will greatly admire the protagonist while learning about the quirks of the royal family and the events that shook the world in the early 20th century."
— Historical Novel Society
William Morrow Paperbacks, 9780062420633, 384pp.
Publication Date: June 21, 2016
About the Author
New York Times and USA Today bestselling author KAREN HARPER is a former Ohio State University instructor and high school English teacher. Published since 1982, she writes contemporary suspense and historical novels about real British women. Two of her recent Tudor-era books were bestsellers in the UK and Russia. Harper won the Mary Higgins Clark Award for Dark Angel, and her novel Shattered Secrets was judged one of the best books of the year by Suspense Magazine.
Do you think it is true that "The
hand that rocks the cradle rules
the world"? If so, why did the
upper-class ethic during the
Victorian and Edwardian eras
allow servant women to rear their
young children? And what sort of
people did this practice produce?
How has that thinking changed
over the years to now?
Really, what is the definition of
"motherhood"? Is it strictly
biological or is it more?
A study of the royal Yorks/
Windsors reveals a lot about
the relationships of fathers to
their children. It's obvious that
the dynamic between Prince Albert,
later King Edward VII, and his son
George, later King George V, was
dysfunctional. Can you read
between the lines to say why?
And how would you assess the
relationships of George, Duke of
York, to his six children?
Likewise, the royal marriages of
Edward/Alexandra and George/
May have unique arrangements. Is
this just because "the royals and very
rich are different," is it the result
of arranged marriages, or is it just a
product of a stricter, different time?
Have you seen modern marriages
with similar problems?
David, later king and Duke of
Windsor, is a fascinating study,
a man who gave up the throne for
"the woman he loved," a twicedivorced
American who pretty
much wore the pants in their
marriage. Do David's early years
with the strict and cruel nanny
really explain this, or is his family
to blame also for his later lack of
duty?
Many of us saw the movie The King's
Speech. Does this book throw more
light on why Bertie stuttered and had
a bad digestive system? Yet where did
he find the strength to rule and take
the British nation through the trials
of World War II?
Perhaps the Yorks/Windsors coped
with Johnnie as best they could for
that era—or did they? Autism was
not known, and epilepsy was feared.
Did they handle their youngest child
well? Did Lala?
As a reader, what do you think
of historical novels that are what
Alex Hailey, author of Roots, dubbed
"faction"—that is, well-researched
books that have fictional scenes
and dialogue and some invented
characters? Does faction work
in a way a straight history book
would not?
Is it "better to have loved and lost,
than never to have loved at all"? Lala loses much in this story, but is
she better for having known, loved,
and helped those who have died?
Would you become a British royal
of these eras (or Russian royalty)
if you had the choice? (And for
the Russians, if you didn't know the
revolution was coming?) Or would
you like to be part of the British
royal family today? What are the
pros and cons of such a life?
Charlotte Bill and other nurses and
nannies like her were some of the
first "career women" who gave up
their own romantic and domestic
futures for their duty. Are they
caught between the past and the
future during this early "suffragette"
movement? Are they to be admired
or pitied?
There has recently been much
worldwide upheaval over big-game
hunting and the overhunting of
species in general. How do you feel
about the massive number of game
birds killed by the upper class of this
era? Why do you think this sport
was such a passion?
As dreadful as World War I was for
the British (and others), did any
good social movements come from
so many men being lost? How so?
Those of us who have enjoyed such
BBC series as Upstairs, Downstairs or Downton Abbey have had a
peek into understanding England's
servant class at this time. Were
there both joys and sorrows,
triumphs as well as tragedies
in this lifestyle?