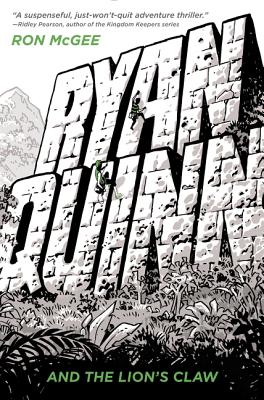 Ryan Quinn and the Lion's Claw
Hardcover

* Individual store prices may vary.
Description
"A suspenseful, just-won't-quit adventure thriller." —Ridley Pearson, author of the Kingdom Keepers series
Ryan Quinn and the Lion's Claw is the much-awaited sequel in the thrilling series about Ryan Quinn, a New York City teenager who would give James Bond and Jason Bourne a run for their money.
Ryan Quinn has never been a normal kid, and after everything that happened in Andakar, he's about as far away from normal as could be. His parents want him to forget all about his death-defying escape, his role in the Emergency Rescue Committee, and the fact that they've been keeping secrets from him his whole life. But forgetting just isn't an option for Ryan—not when there's a traitor in the ERC who's looking to ruin Ryan's parents and expose the whole organization.
Unsure where to turn or who to trust, Ryan and his friends Danny and Kasey soon find themselves on another adventure, across the world, to help a musician whose words have started a revolution. It's a globe-trotting mission more treacherous than Ryan could have ever imagined. And just when he feels like he's cracked the final clue, Ryan stumbles across the biggest secret of all—and it's about him.
Fans of Alex Rider and Spy School will be completely enthralled by the second book in Ron McGee's high-stakes Ryan Quinn series.
Praise For Ryan Quinn and the Lion's Claw…
"solid characters, snappy dialogue, and tons of action keep pages flipping. Hits the spot for adventure junkies. " — Kirkus Reviews
"McGee effortlessly tosses readers right back into Ryan's world. The characters are lovable, and even though the kids are thrown into implausible situations, the action keeps readers on their toes. ... An excellent thriller." — Booklist
HarperCollins, 9780062421692, 352pp.
Publication Date: October 24, 2017
About the Author
Ron McGee i
s a winner of the 2013 Children's Long Form or Special Television Writers Guild of America Award for his work on Disney Channel's Halloween hit
Girl vs. Monster
. A writer and producer of TV series, he has written for the crime drama
Rizzoli & Isles
and the action-adventure
The Nine Lives of Chloe King
. Ron has penned numerous movies for television, covering everything from the story of the boy band the Monkees to epic disasters to behind-the-scenes dramas of sitcom favorites
Saved by the Bell
and
Full House
. His debut novel was
Ryan Quinn and the Rebel's Escape
. Ron lives with his family in California. You can find out more about what he's up to at www.ronmcgee.com.