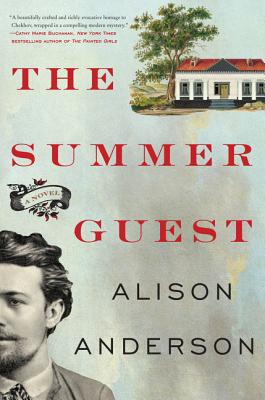 The Summer Guest
A Novel
Hardcover

* Individual store prices may vary.
Other Editions of This Title:
Digital Audiobook (5/23/2016)
Paperback (5/23/2017)
MP3 CD (5/24/2016)
Compact Disc (5/24/2016)
Compact Disc (5/24/2016)
Description
What if Anton Chekhov, undisputed master of the short story, actually wrote a novel—and the manuscript  still existed? This tantalizing possibility drives The Summer Guest, a spellbinding narrative that draws together, across two centuries, the lives of three women through the discovery of a diary.
During the long, hot summer of 1888, an extraordinary friendship blossoms between Anton Chekhov and Zinaida Lintvaryova, a young doctor. Recently blinded by illness, Zinaida has retreated to her family's estate in the lush countryside of Eastern Ukraine, where she is keeping a diary to record her memories of her earlier life. But when the Chekhov family arrives to spend the summer at a dacha on the estate, and she meets the middle son Anton Pavlovich, her quiet existence is transformed by the connection they share. What begins as a journal kept simply to pass the time becomes an intimate, introspective narrative of Zinaida's singular relationship with this doctor and writer of growing fame.
More than a century later, in 2014, the unexpected discovery of this diary represents Katya Kendall's last chance to save her struggling London publishing house. Zinaida's description of a gifted young man still coming to terms with his talent offers profound insight into a literary legend, but it also raises a tantalizing question: Did Chekhov, known only as a short story writer and playwright, write a novel over the course of their friendship that has since disappeared? The answer could change history, and finding it proves an irresistible challenge for Ana Harding, the translator Katya hires. Increasingly drawn into Zinaida and Chekhov's world, Ana is consumed by her desire to find the "lost" book. As she delves deeper into the moving account of two lives changed by a meeting on a warm May night, she discovers that the manuscript is not the only mystery contained within the diary's pages.
Inspired by the real friendship between Chekhov and the Lintvaryov family, landowners in the Ukraine, The Summer Guest is a masterful and utterly compelling literary novel that breathes life into a vanished world, while exploring the transformative power of art and the complexity of love and friendship.
Praise For The Summer Guest: A Novel…
"In an enchanting era-spanning novel, Anderson crafts a literary mystery that goes beyond the limits of time."
— Entertaiment Weekly, "Must List"

"Luminous…. Intriguing…. Many facts of Chekhov's life…are deftly folded into The Summer Guest. Moreover, Anderson cannily evokes the charm, witty skepticism and compassion that underpins his writing.… The bittersweet tone and elegantly entwined portraits of three remarkable women that make The Summer Guest so transporting."
— Seattle Times

"The book blurs the line between firsthand experience and imagining worlds one cannot know, either because of blindness or the removals of time and geography, and renders authentic and memorable portraits of its three heroines."
— New York Times Book Review

"I find myself gravitating towards books about women, looking for role models of survival and strength, resilience, and power, [like] The Summer Guest…in which women from different times strive to understand the unique power of words, the power to record and reflect and inspire."
— Nina Sankovitch, Huffington Post

"The blind doctor, Zinaida Lintvaryova, stays in my heart long after I close Alison Anderson's beautifully written book. The young Chekhov himself cannot outshine Zinaida as she urgently explores life, science, art, family, and love, her passion defying death."
— Helen Simonson, New York Times bestselling author of Major Pettigrew's Last Stand

"The Summer Guest gives us all of the pleasures of a superb mystery novel, but most of all it is a profound meditation on the power, and necessity, of the imagination. What a deeply moving novel."
— Ron Rash, New York Times bestselling author of Serena and Above the Waterfall

"An ineffable Russian atmosphere leaves ample room for the delights of the imagination, with that little extra touch of soul."
— Muriel Barbery, New York Times bestselling author of The Elegance of the Hedgehog and The Life of Elves

"A richly researched and subtly nuanced mystery that explores the intimate relationships of one of Russia's best loved writers and poses intriguing questions about the fine line between art and deception."
— Kathleen Tessaro, New York Times bestselling author of The Perfume Collector

"With lush prose and a painter's eye, Alison Anderson explores the delicate beauty of melancholy in the lives of three spiritual 'sisters'…. The Summer Guest finds rays of hope in the deepest loss and reminds us that our unfinished stories may be the most meaningful."
— Charlie Lovett, New York Times bestselling author of The Bookman's Tale

"The height of elegance…. A gorgeous elegy to a great Russian writer.… But Chekhov forms only one facet of this remarkable novel…. An exceptional novel about the transcendent possibilities of literature, friendship, and contemplation."
— Kirkus Reviews (starred review)

"Multi-layered…. Captures a classic Russian theme—the beauty of sadness—with a portrait of friendship between a relatively lighthearted Anton Chekhov and a young woman doctor…. A metafictional paean to literature's capacity to seduce us and make us see the world differently."
— Heller McAlpin, www.LitHub.com

"Subtle and haunting.... Ardent Chekhov fans will appreciate a brief immersion in the world he must have known…while readers of any stamp can enjoy the melancholy beauty of a vanished world and the surprise twist that, at the end, offers what all three characters have been searching for."
— Publishers Weekly

"Elegant.… This alluring and deceptively ingenuous novel demands close consideration from its readers, contains an internal mystery, and packs a heartbreakingly lovely emotional punch."
— Booklist (starred review)

"The interplay between past and present…draws readers into the novel and enables them to believe they have actually met the great playwright.… Illuminating.… Anderson, a noted translator…has a sure touch in dealing with her material. An impressive work, highly recommended to lovers of literary fiction."
— Library Journal

"Inspired by a real friendship between Chekhov and a Ukranian family, you will fall in love with this gorgeously written historical fiction novel."
— Serendipity Magazine
Harper, 9780062423368, 400pp.
Publication Date: May 24, 2016
About the Author
ALISON ANDERSON, a native Californian, works as a literary translator in the Swiss Alps. Her many translations include the Europa edition of Muriel Barbery's The Elegance of the Hedgehog, Ingrid Betancourt's memoir, and the work of JMG De Clezio. She has also written two previous novels and is the recipient of a National Endowment for the Arts Literary Translation Fellowship, as well as fellowships at the prestigious MacDowell Colony and the Hawthornden Retreat for Writers.
www.alison-anderson.com