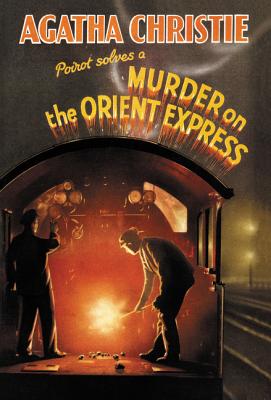 Murder on the Orient Express Facsimile Edition (Hardcover)
William Morrow, 9780062424754, 256pp.
Publication Date: October 6, 2015
Other Editions of This Title:
Digital Audiobook (7/2/2012)
Paperback (1/18/2011)
Mass Market (3/29/2011)
Hardcover (10/24/2017)
Paperback, Large Print (3/29/2011)
Paperback (1/1/2018)
Mass Market Paperback (8/31/2004)
Paperback (2/1/2000)
Mass Market Paperback (1/1/2000)
Hardcover (9/1/2006)
Compact Disc (7/1/2007)
Compact Disc (7/19/2004)
Compact Disc (3/1/2006)
Mass Market Paperback (11/1/1982)
Paperback (10/16/2014)
Paperback (10/1/2007)
Compact Disc (5/1/2014)
Paperback, Spanish (9/1/2005)
* Individual store prices may vary.
Description
A stunning facsimile edition of the original Agatha Christie hardcover—the legendary author's most famous book, and Hercule Poirot's most famous case.
Just after midnight, a snowdrift stopped the Orient Express in its tracks. The luxurious train was surprisingly full for the time of the year. But by the morning there was one passenger fewer. An American lay dead in his compartment, stabbed a dozen times, his door locked from the inside.
With tension mounting, detective Hercule Poirot comes up with not one, but two solutions to the crime.
Reproducing the original typesetting and format of the first edition from the Christie family's archive, Murder on the Orient Express Facsimile Edition also features the first hardcover edition's actual cover art, which has been painstakingly restored to its original beauty.
About the Author
Agatha Christie is the most widely published author of all time, outsold only by the Bible and Shakespeare. Her books have sold more than a billion copies in English and another billion in a hundred foreign languages. She died in 1976, after a prolific career spanning six decades.
Praise For Murder on the Orient Express Facsimile Edition…
"A brilliantly ingenious story."
— Dorothy L. Sayers, Daily Herald (UK)

"It's tempting to say that Agatha Christie is a genius and let it go at that, but the world's had plenty of geniuses. Agatha Christie is something special."
— Lawrence Block, New York Times bestselling author

"[Moves] smoothly and entertainingly to its surprise conclusion."
— Chicago Daily Tribune

"Nothing short of swell. [Christie] is probably the best suspicion scatterer and diverter in the business."
— New York Herald Tribune

"Need it be said—the little grey cells solve once more the seemingly insoluble. Mrs Christie makes an improbable tale very real, and keeps her readers enthralled and guessing to the end."
— Times Literary Supplement (London)

"What more…can a mystery addict desire?"
— New York Times

"Agatha Christie's books are both wonderful crime novels and studies in contrast and duality, and I adore them still. Underestimate them at your peril."
— Louise Penny, #1 New York Times-bestselling author of the Inspector Gamache novels

"Reading a perfectly plotted Agatha Christie is like crunching into a perfect apple: that pure, crisp, absolute satisfaction."
— Tana French, New York Times-bestselling author of the Dublin Murder Squad novels

"Agatha Christie taught me many important lessons about the inner workings of the mystery novel before it ever occurred to me that I might one day be writing mysteries myself."
— Sue Grafton, #1 New York Times-bestselling author of the Kinsey Millhone novels

"Any mystery writer who wants to learn how to plot should spend a few days reading Agatha Christie. She'll show you everything you want to know."
— Donna Leon, New York Times-bestselling author of the Commissario Brunetti novels

"I always wanted to be Agatha Christie when I grew up. I still do."
— J. A. Jance, New York Times-bestselling author of the Joanna Brady and J. P. Beaumont novels

"Agatha Christie's indelibly etched characters have entertained millions across the years and a love of her work has brough together generations of readers—a singular achievement for any author and an inspiration to writers across the literary landscape."
— Jacqueline Winspear, New York Times-bestselling author of the Maisie Dobbs novels