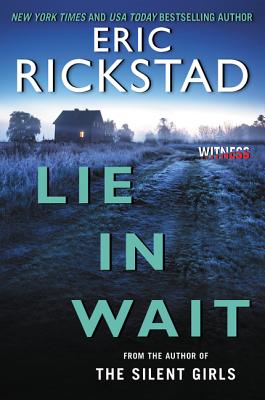 Lie In Wait (Canaan Crime Novels)
Paperback

* Individual store prices may vary.
Other Editions of This Title:
Digital Audiobook (8/31/2015)
Description
From the New York Times and USA Today bestselling author of The Silent Girls comes another unforgettable thriller set in Vermont's Northeast Kingdom, featuring Detective Sonja Test
Even in a quiet Vermont town, unspeakable acts of the past can destroy the peace of the present.
In the remote pastoral hamlet of Canaan, Vermont, a high-profile legal case shatters the town's sense of peace and community. Anger simmers. Fear and prejudice awaken. Old friends turn on each other. Violence threatens.
So when a young teenage girl is savagely murdered while babysitting at the house of the lead attorney in the case, Detective Sonja Test believes the girl's murder and the divisive case must be linked.
However, as the young detective digs deeper into her first murder case, she discovers sordid acts hidden for decades, and learns that behind the town's idyllic façade of pristine snow lurks a capacity in some for great darkness and the betrayal of innocents. And Sonja Test, a mother of two, will do anything to protect the innocent.
"Gripping, topical, and wrenching—everything you want in a top-flight mystery."—Meg Gardiner, Edgar® Award-winning Author 
Praise For Lie In Wait (Canaan Crime Novels)…
"Gripping, topical, and wrenching- everything you want in a top-flight mystery. I didn't see the gut punch ending coming, even as it tumbled into place. Great stuff." — Meg Gardiner, Edgar Award-winning author
"A brilliantly crafted crime novel. Lie in Wait's whiplash pacing and disturbing psychological profiles will grip readers until its startling conclusion." — Lisa Turner, Edgar-nominated author of The Gone Dead Train
"Another gem. Rickstad invented his own genre with The Silent Girls and Lie In Wait ups the game. Gripping. Deft. Unexpected. Surprising. Readers will be glad he took them on this ride." — Drew Yanno, author of In the Matter of Michael Vogel
"A flawless mystery, brilliantly told, with a twisted, spiraling plot that gets under your skin and sends your nerves into overdrive." — Classic Book Reader
"Every bit as excellent as The Silent Girls. Engrossing, riveting, and re-readable. Don't miss out — Mallory Heart Reviews, 5-star review
"Sure to be another bestseller. Eric Rickstad is back in force...clearly on his way to becoming a classic, master storyteller." — Pop Mythology
Praise for Eric Rickstad's — New York Times bestseller The Silent Girls:
"The Silent Girls is Vermont's own True Detective...Three-dimensional characters, a moody rural-noir vibe, and a compulsively readable story make this a stunner of a crime novel!" — Steve Ulfelder, Edgar-finalist author of Wolverine Bros. Freight & Storage
"Eric Rickstad's The Silent Girls is a bone-chilling mystery...This well-crafted book will have you staying up late, turning pages and afraid to turn off the light. " — Paul Doiron, author of The Poacher's Son
"Finely drawn characters, a narrative that beguiles and surprises and stark, poetic writing make for a novel as dark and brooding as its rural Vermont setting. The Silent Girls is both an exceptional detective story and a terrifying meditation on good and evil." — Roger Smith, international betselling author of Wake Up Dead
"The Silent Girls is a thrilling ride to very dark places. I kept turning pages, scared of what I'd find but compelled to look. It'll keep you reading all the way up to its shattering conclusion." — Jake Hinkson, author of Hell on Church Street and The Big Ugly
From the very first, a feeling of dread crept over me and stayed with me until the end, and remains with me days later. The Silent Girls is love and terror, a mix of intense feelings that seeps into your heart and does not go away. — Stephen Foreman, author of Watching Gideon and Toe Hold
Witness, 9780062424778, 464pp.
Publication Date: February 2, 2016
About the Author
Eric Rickstad is the New York Times, USA Today, and international bestselling author of The Silent Girls, Lie in Wait, and Reap, novels heralded as intelligent and profound, dark, disturbing, and heartbreaking. He lives in his home state of Vermont with his wife, daughter, and son.