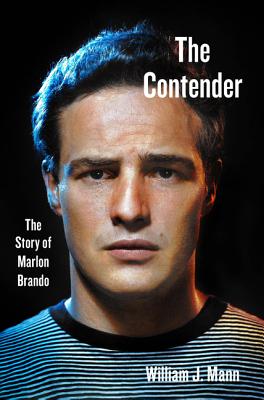 The Contender
The Story of Marlon Brando
Hardcover

* Individual store prices may vary.
Other Editions of This Title:
Digital Audiobook (10/14/2019)
Paperback (10/20/2020)
Compact Disc (10/15/2019)
MP3 CD (10/15/2019)
Compact Disc (10/15/2019)
Description
Entertainment Weekly's BIG FALL BOOKS PREVIEW Selection
Best Book of 2019 -- Publisher's Weekly
Based on new and revelatory material from Brando's own private archives, an award-winning film biographer presents a deeply-textured, ambitious, and definitive portrait of the greatest movie actor of the twentieth century, the elusive Marlon Brando, bringing his extraordinarily complex life into view as never before.
The most influential movie actor of his era, Marlon Brando changed the way other actors perceived their craft. His approach was natural, honest, and deeply personal, resulting in performances—most notably in A Streetcar Named Desire and On the Waterfront—that are without parallel. Brando was heralded as the American Hamlet—the Yank who surpassed British stage royalty Laurence Olivier, John Gielgud, and Ralph Richardson as the standard of greatness in the mid-twentieth century.
Brando's impact on American culture matches his professional significance; he both challenged and codified our ideas of masculinity and sexuality. Brando was also one of the first stars to use his fame as a platform to address social, political, and moral issues, courageously calling out America's deeply rooted racism.
William Mann's brilliant biography of the Hollywood legend illuminates this culture icon for a new age. Mann astutely argues that Brando was not only a great actor but also a cultural soothsayer, a Cassandra warning us about the challenges to come. Brando's admonitions against the monetization of nearly every aspect of the culture were prescient. His public protests against racial segregation and discrimination at the height of the Civil Rights movement—getting himself arrested at least once—were criticized as being needlessly provocative. Yet those actions of fifty years ago have become a model many actors follow today.
Psychologically astute and masterfully researched, based on new and revelatory material, The Contender explores the star and the man in full, including the childhood traumas that reverberated through his professional and personal life. It is a dazzling biography of our nation's greatest actor that is sure to become an instant classic.
The Contender includes sixteen pages of photographs.
Praise For The Contender: The Story of Marlon Brando…
"Marlon Brando reigned over Hollywood in an era before it was possible to know every little thing about an actor's life — but this biography [changes] that. Mann went through Brando's personal archives to craft a story that covers not only his behind-the-scenes persona but the way in which he led the charge for a merging of Hollywood and protest culture." — Entertainment Weekly, Big Books of Fall Preview
" Big, sprawling, meticulously researched…Tells us everything we ever wanted to know about the man and then some." — Washington Post
"An insightful and well-researched portrait of Marlon Brando. Taking a cinematic approach, Mann swoops in on pivotal moments in Brando's life. Though sympathetic to Brando, Mann doesn't shy away from his flaws, such as his often callous treatment of women. The result is a thoughtfully considered study of a supremely talented, observant, and imaginative man who became a reluctant cultural icon." — Publishers Weekly (starred review)
"Structuring his biography like a film, Mann jumps from one key moment in Brando's life to another—the dysfunctional family life, the great movie roles, the tempestuous and often callous relationships with lovers, the tragedies that befell his children—and, while the book brings something new and often revelatory to all of these familiar aspects of the Brando saga, Mann is at his best when he digs into Brando's tortured relationship with acting itself… A compelling biography, rich in complexity and irony." — Booklist (starred review)
"Remarkably ambitious … Mann's book is continuously fascinating, vivid, and full of new information; for anyone interested in Brando, it is indispensable." — Air Mail
"[THE CONTENDER] is a humanizing portrait that doesn't shy away from the complexity of one of Hollywood's greatest stars."  — AARP Magazine
" Deeply engaging and perceptive from page one…A thoroughly enjoyable, illuminating read." — Library Journal (starred review)
" William J. Mann masterfully captures Brando's allure, his psychological complexity and the epic arc of his career…From Mann, Brando receives a biography every bit as compelling and powerful as his own stage presence." — BookPage
"Mann uses painstaking years of research, conversations with those who knew Brando best, and his own knack for delving into the lives of Hollywood luminaries to offer fans up a staggeringly comprehensive tale of Brando's life." — Entertainment Weekly
"William J. Mann sets out in The Contender: The Story of Marlon Brando to give the actor the dominant voice in his own story, serving as the advocate Brando is often denied in articles and books… Mann's book presents a necessary re-examination of Brando and his tumultuous life…The Contender is a standout biography, providing an empathetic look at Brando's struggle with himself." — Associated Press
"Mann is a dogged investigator who is fixed on establishing truths. Over and over again in his long book he dispels fantastic stories, unstitches embroidered truths and pins Brando down. Mann is an experienced writer about Tinseltown….His research is exhaustive. His tone is agreeably respectful. As Hollywood biographies go, this is as nice and as intelligent as can be." — The Times (UK)
Harper, 9780062427649, 736pp.
Publication Date: October 15, 2019
About the Author
William J. Mann is the New York Times bestselling author of Kate: The Woman Who Was Hepburn; How to Be a Movie Star: Elizabeth Taylor in Hollywood; Hello, Gorgeous: Becoming Barbra Streisand; and Wisecracker: The Life and Times of William Haines, winner of the Lambda Literary Award. He divides his time between Connecticut and Cape Cod.