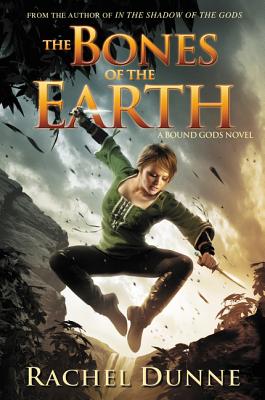 The Bones of the Earth (Bound Gods #2)
Paperback

* Individual store prices may vary.
Description
A mismatched band of mortals and their violent, secretive leader must stand against a pair of resentful gods to save their world in this second volume in Rachel Dunne's breathtaking dark epic fantasy trilogy, The Bound Gods, which began with In the Shadow of the Gods.
To win the coming battle for control of the world and the mortals who dwell in it, the cunning priest Joros secretly assembled a team of powerful fighters—Scal, a lost and damaged swordsman from the North; Vatri, a scarred priestess who claims to see the future in her fires; Anddyr, a drug-addled mage wandering between sanity and madness; and Rora and Aro, a pair of twins who have secretly survived beyond the reach of the law.
But the war is only beginning for these disparate warriors and victory is far from certain when the enemy is a pair of vengeful gods. As the bound Twins strengthen in force against their parents—the Divine Mother and Almighty Father—who exiled them, a shadow begins to spread across the land, threatening to engulf all in its wake.
As deadly magic takes hold, the tenuous bonds tying these uneasy allies begins to unravel. If they cannot find a way to keep their band together, each of their lives—and the entire world—will be lost to the darkness, leaving nothing but the bones of the earth. . . .
Harper Voyager, 9780062428165, 480pp.
Publication Date: June 27, 2017
About the Author
Living in the cold reaches of the upper Midwest with her beast of a dog, Rachel Dunne has developed a great fondness for indoor activities. Her first novel, In the Shadow of the Gods, was a semifinalist for the 2014 Amazon Breakthrough Novel Award before being picked up for publishing. For as long as snow continues falling in Wisconsin, Rachel promises to keep writing.