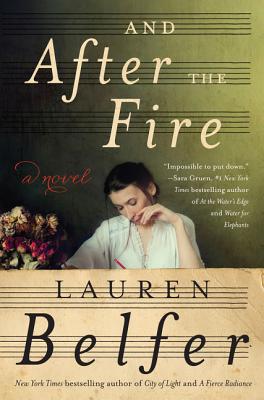 And After the Fire
A Novel
Hardcover

* Individual store prices may vary.
Other Editions of This Title:
Digital Audiobook (5/2/2016)
Paperback (5/2/2017)
Compact Disc (5/3/2016)
Compact Disc (5/3/2016)
MP3 CD (5/3/2016)
Hardcover, Large Print (9/7/2016)
Description
National Jewish Book Award Winner!
The New York Times-bestselling author of A Fierce Radiance and City of Light returns with a new powerful and passionate novel—inspired by historical events—about two women, one European and one American, and the mysterious choral masterpiece by Johann Sebastian Bach that changes both their lives.
In the ruins of Germany in 1945, at the end of World War II, American soldier Henry Sachs takes a souvenir, an old music manuscript, from a seemingly deserted mansion and mistakenly kills the girl who tries to stop him.
In America in 2010, Henry's niece, Susanna Kessler, struggles to rebuild her life after she experiences a devastating act of violence on the streets of New York City. When Henry dies soon after, she uncovers the long-hidden music manuscript. She becomes determined to discover what it is and to return it to its rightful owner, a journey that will challenge her preconceptions about herself and her family's history—and also offer her an opportunity to finally make peace with the past.
In Berlin, Germany, in 1783, amid the city's glittering salons where aristocrats and commoners, Christians and Jews, mingle freely despite simmering anti-Semitism, Sara Itzig Levy, a renowned musician, conceals the manuscript of an anti-Jewish cantata by Johann Sebastian Bach, an unsettling gift to her from Bach's son, her teacher. This work and its disturbing message will haunt Sara and her family for generations to come.
Interweaving the stories of Susanna and Sara, and their families, And After the Fire traverses over two hundred years of history, from the eighteenth century through the Holocaust and into today, seamlessly melding past and present, real and imagined. Lauren Belfer's deeply researched, evocative, and compelling narrative resonates with emotion and immediacy.
Praise For And After the Fire: A Novel…
"[Belfer's] virtuoso novel…epitomizes Faulkner's epigram that the past is never dead—or even past. . . . The novel swells with life's great themes—love and death, family and faith —and the insistent, dark music of loss." — USA Today, ****
"In Belfer's hands, fictitious characters blend uncannily with historical ones." — The New Yorker
"Finely written historical fiction layered with richly detailed characters and moral complexity." — Jane Ciabattari, BBC
"[A] compelling blend of fact and fiction.… Based on impressive research, this remarkable novel spans centuries and continents, touching finally on the Holocaust and serving as a paean to Bach's music." — Booklist (starred review)
"A different species of suspense tale…. Evocative, deeply researched…. Manage[s] to dazzle while delving into dark places." — Maureen Corrigan, NPR's Fresh Air
"An intellectual thriller and a beautiful love story. What if you came into possession of an historical artifact with the power to alter history and change the world? Sure to establish Belfer as a fearless, provocative writer. Impossible to put down." — Sara Gruen, #1 New York Times bestselling author of Water for Elephants
"A bold and hugely ambitious novel with the transfixing appeal of a best-seller…by a native daughter of the city whose talent is now even beyond the admiration of those of us so impressed by City of Light.…Extraordinary." — Buffalo News
"A fascinating historical novel and poignant love story that will open the eyes and ears of music lovers and please those who enjoy a graceful, spellbinding tale pondering important questions." — Library Journal (starred review)
"Brilliant and mesmerizing…. Since reading And After the Fire, I've been trumpeting it as the best novel I've had the pleasure of reading in years." — Elinor Lipman, New York Times bestselling author of Then She Found Me
"A remarkably suspenseful story, a literary thriller in the tradition of A.S. Byatt's Possession." — Kirkus Reviews
"Engrossing. . . . A needy musicologist and his kid, a worldly woman haunted by trauma, the promise of the fabulous discovery of a lost and un-performable work by Johann Sebastian Bach—mix in greed and the drama that is modern New York—and you have the basis of a strong novel. Add to this generations of great names in music and culture, and you get a page-turner to love, even if you're tone deaf. . . . a compelling and entertaining novel that will send you back to music." — WOSU Radio
"Compelling…. An immersive, page-turning story emboldened by historical fact and a rich imagination." — Publishers Weekly
"Highly readable…. Will delight readers of historical fiction, especially if they are music aficionados who like a good love story thrown into the works…. Belfer proves herself to be that skilled weaver of tales in this intellectual thriller." — New York Journal of Books
"Music pulses through this rich tale of love, morality, and a lost cantata…. Filled with history, gorgeous descriptions of music, and people both real and imagined." — Washington Independent Review of Books
"This latest novel from Belfer…is her most compelling yet…. Told with lyrical beauty (in a tender love scene, the past exists with the present), the novel is like the lost cantata itself, revealing our capacity for darkness, redeemed by the power of unconditional love. A dazzling, transformative novel. Highly recommended." — Historical Novel Review
"Belfer is adept at revealing the complex politics and sentiments, including the religious biases, of 18th-century Europe. The important questions Belfer poses regarding the ethical complexities of art are engrossing." — BookPage
"Blending the gorgeousness of Bach and the horror of anti-Semitism over several centuries should make for unsettling contemplation, and readers of Belfer's…know that the author will be meticulous with both fact and fiction." — Library Journal, "Editors' Spring Picks"
"One of the four best novels published to date in 2016.… The research and writing are… splendidly accomplished…. Brilliant." — AEQAI
"Marvelous…. Meticulously structured…. Eloquently and elegantly written. The themes are important and engaging. It is not a novel one will put down easily or forget at its conclusion." — Jewish Book Council
"On as grand a scale as any Bach masterpiece, Belfer's novel explores the composer's religious music and its effect on two women living 300 years apart…. Powerfully and emotionally written…. A fascinating, compelling read." — RT Reviews
"An outstanding historical novel…. Compelling." — BookLoons.com
Harper, 9780062428516, 464pp.
Publication Date: May 3, 2016
About the Author
Lauren Belfer's novel A Fierce Radiance was named a Washington Post Best Novel; an NPR Best Mystery; and a New York Times Editors' Choice. Her debut novel, City of Light, was a New York Times bestseller as well as a number one Book Sense pick; a New York Times Notable Book; a Library Journal Best Book; and a Main Selection of the Book-of-the-Month Club. She lives in New York City.
or
Not Currently Available for Direct Purchase