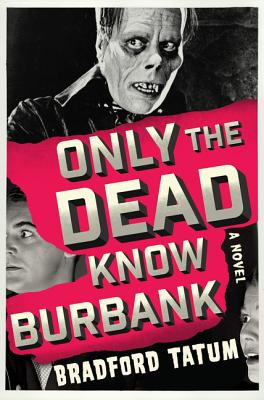 Only the Dead Know Burbank
A Novel
Paperback

* Individual store prices may vary.
Description
"Classic horror buffs will race through this novel that blends historical fiction with uncanny elements of the gothic. A perfect read for Halloween." —BookPage
With Lon Cheney and Boris Karloff among its characters, this sweeping and stylish love letter to the golden age of horror cinema tells the wonderful, tragic story of Maddy Ulm. It takes readers through her rise from the complicated shadows of Berlin's first experiments with expressionist cinema to the glamorous deserts of Hollywood. For Maddy has a secret. A secret that has given her incredible insight into the soul of horror. A secret that has a terrible price as well.
A young girl awakens in a hastily dug grave—vague memories of blood and fever, her mother performing a mysterious ceremony before the world went away. Germany has lost the first great war and Europe has lost millions more to the Spanish Flu epidemic. But Maddy has not only survived, she has changed. No longer does she eat, sleep, or age. No longer can she die. After taking up with a pair of street performers, she shocks and fascinates the crowds with her ability to survive outrageous traumas. But at a studio in Berlin, Maddy discovers her true calling: film.
With her intimate knowledge of fear, death, and realms beyond the living, she practically invents the modern horror genre on the spot. Before long, she travels to California and insinuates herself in Hollywood as the genius secretly behind The Phantom of the Opera, Dracula, and Frankenstein. And yet she must remain in the shadows—a chilling apparition suspended eternally between worlds.
Clever, tragic, and thoroughly entertaining, Only the Dead Know Burbank introduces readers to one of the most unique, unforgettable characters in fiction.
Praise For Only the Dead Know Burbank: A Novel…
"A dreamy, mysterious waltz with the famous monsters of filmland. Tatum brings an insider's knowledge of the movie biz, and his love letter to America's great national obsession with the horror movie is caustic, hilarious and terrifying. This glittering new novel is a must-read for the modern monster." — Nick Seeley, author of Cambodia Noir
"This bitingly witty and darkly vibrant concoction features an irresistible heroine, and the gorgeous, lush writing easily conjures the grit and glamour of golden age Hollywood. Maddy's story is crass, lyrical, and even tragic." — Publishers Weekly (starred review)
"[T]horoughly entertaining, assisted hugely by Tatum's erudite first-person prose and fierce commitment to his ambitious, outlandish premise." — Booklist
"Classic horror buffs will race through this novel that blends historical fiction with uncanny elements of the gothic. A perfect read for Halloween, Tatum's debut is a surprisingly poetic, witty love note to a bygone age of cinema." — BookPage
Harper Perennial, 9780062428752, 400pp.
Publication Date: October 18, 2016
About the Author
Bradford Tatum has worked as a writer and actor in both film and television. He lives in Los Angeles with his wife and daughter. Only the Dead Know Burbank is his first novel.
or
Not Currently Available for Direct Purchase