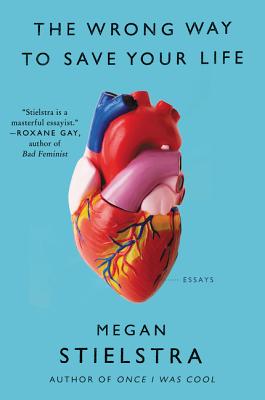 The Wrong Way to Save Your Life
Essays
Paperback

* Individual store prices may vary.
Other Editions of This Title:
Digital Audiobook (7/31/2017)
Compact Disc (8/1/2017)
MP3 CD (8/1/2017)
Compact Disc (8/1/2017)
Description
"Stielstra is a masterful essayist." —Roxane Gay, author of Bad Feminist and Hunger
From an important new writer comes this powerful collection of personal essays on fear, creativity, art, faith, academia, the Internet, and justice.
In this poignant and inciting collection of literary essays, Megan Stielstra tells stories to ward off fears both personal and universal as she grapples toward a better way to live. In her titular piece "The Wrong Way To Save Your Life," she answers the question of what has value in our lives—a question no longer rhetorical when the apartment above her family's goes up in flames. "Here is My Heart" sheds light on Megan's close relationship with her father, whose continued insistence on climbing mountains despite a series of heart attacks leads the author to dissect deer hearts in a poetic attempt to interrogate her own feelings about mortality. 
Whether she's imagining the implications of open-carry laws on college campuses, recounting the story of going underwater on the mortgage of her first home, or revealing the unexpected pains and joys of marriage and motherhood, Stielstra's work informs, impels, enlightens, and embraces us all. The result is something beautiful—this story, her courage, and, potentially, our own.
Intellectually fierce and viscerally intimate, Megan Stielstra's voice is witty, wise, warm, and above all, achingly human.
Praise For The Wrong Way to Save Your Life: Essays…
"The essay collection that I still think about the most, for its wit and its wisdom, is Megan Stielstra's masterpiece." — Maris Kreizman
"I'm fascinated with the way kindness cancels out fear (and fear cancels out kindness), and Stielstra's essays wrestle with both." — Chicago Tribune
"It's opened up my thinking about the personal essay. She has a knack for taking her personal, intimate stories and broadening them outward to consider how she fits in this larger project of humanity we're all engaged in. The book is genius." — Amanda Fortini, Nevada Public Radio
"Warm, funny and occasionally furious. . . Megan Stielstra maps essential questions about art and the self: questions about memory, assumption, love and fear. . . .Stielstra is an evangelist for story's power to transform lives. . . . Her sentences hum with the humor and asides of oral storytelling." — Minneapolis Star-Tribune
"A star of the Chicago story-telling scene, Stielstra internalizes her engagement with the live audience and translates it to the page with a voice that is personal and candid, yet neither nostalgic nor self-referential.  In the four parts of this collection, each devoted to a decade of her life, Stielstra segues between quotidian concerns and harrowing ones, like what objects to grab as she and her son narrowly escape their burning apartment building." — National Book Review
"The author of the beloved Once I Was Cool returns this summer with a fresh book of essays on fear, and it couldn't be more timely. Stielstra's essays read like the conversations you want to be having with friends, family, neighbors, co-workers, and strangers, but maybe—like me—you've been a little afraid to initiate. Like a good friend, Stielstra doesn't hold back on her love, wit, wisdom, and truth. . . . What I loved most about this book was how deeply I felt Stielstra's own heart thumping on every page. She taught me that the opposite of fear isn't courage. It's kindness." — Ploughshares    
"It's Stielstra at her best: wryly funny and brutally honest." — Chicago Magazine
"These essays—all centered on the subject of fear—are powerful, beautiful, relevant, raw, and important. In deeply intimate and personal stories, she invites readers on a journey through multiple neighborhoods, homes, writing programs, jobs, and beaches; through concert venues and dog parks; through offices and classrooms. Chicago is alive on the page—not just as a backdrop, but as an active agent on the choices and events in Stielstra's life. Her life has clearly been marked by the city, and she grapples every day with how to mark Chicago in turn—to make it better. This isn't her first collection, and how lucky we will be if it isn't her last." — Chicago Review of Books
"A life-enriching collection of essays by a conscientious writer and teacher who knows that asking the right questions is more important than having all the answers. . . . The author sounds like a marvelous teacher, and her collection offers plenty of teaching moments. In a style that is literary but never pedantic, Stielstra has crafted a collection that has such a sense of continuity that it could pass as a memoir."   — Kirkus (starred review)
"She has a flair for nostalgia and for cultural criticism that is never pretentious. Moreover, her take on going from her hapless 20s to her more sophisticated 40s is funny and smart. It is easy to connect with her experiences as she unabashedly relates embarrassing or discomfiting moments, whether it is digging through the trash for her retainer at Wendy's as a teenager or sleeping with a guy during her 30s 'who made me keep my socks on. He was afraid of feet.'"   — Publishers Weekly
"For its wisdom and compassion, honesty and courage, Stielstra's stellar essay collection is a lifeline and a microscope, a means of examining the dread of whatever one finds daunting and a manner of exorcising demons through the sheer power of commitment and desire."
— Booklist (starred review)
"Reading this book is like listening to stories from a wise, compassionate, and irrepressibly funny friend—one who allows her empathy to fill every unflinching tale about how fear both plagues and saves us. Whether she's writing about gun laws, a bear attack, or post-partum depression, Stielstra's clear voice calls for us to stay awake, and to pay attention." — Esmé Weijun Wang
"In The Wrong Way to Save Your Life, Megan Stielstra takes a core sample of her life, like a core sample of a glacier, and subjects it to her great punk-rock sensibility. What happens? It melts beautifully! There are fires and guns and knives in these terrific essays, and heavy metal and bloody hearts on cutting boards, and Stielstra handles it all with humor and expert humanity."   — Eula Biss, author of On Immunity
Harper Perennial, 9780062429209, 304pp.
Publication Date: August 1, 2017
About the Author
Megan Stielstra is the author of Once I Was Cool and Everyone Remain Calm. Her work has appeared in The Best American Essays, the New York Times, Chicago Tribune, Guernica, BuzzFeed, The Rumpus, and elsewhere. She teaches creative nonfiction at Northwestern University.