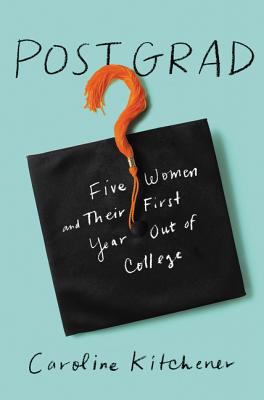 Post Grad
Five Women and Their First Year Out of College
Hardcover

* Individual store prices may vary.
Other Editions of This Title:
Digital Audiobook (4/10/2017)
Paperback (4/17/2018)
MP3 CD (4/11/2017)
Compact Disc (4/11/2017)
Compact Disc (4/11/2017)
Description
What really happens in the first year out of college? When Caroline Kitchener graduated from Princeton, she began shadowing four of her female classmates, interviewing them as they started to navigate the murky waters of post-collegiate life. Weaving together her own experience as a writer with the experiences of these other women—a documentarian, a singer, a programmer, and an aspiring doctor—Kitchener delves deeply into the personal and professional opportunities offered to female college graduates, and how the world perceives them.
The five women in this diverse group confront challenges, such as parental estrangement, mental illness, financial anxiety, and heartbreak, all the while tackling their nascent careers and forging their own paths forward. Relationships with their parents warp and strain as they cross into adulthood and negotiate their newfound independence. Romantically, the women cast off in a number of directions, with some exploring nontraditional relationships and others latching onto a single partner for stability in an uncertain world.
Kitchener writes with the fervor of a journalist, the rigor of a sociologist, and the nuance and empathy of a skilled memoirist, and she has crafted a brilliant work of reportage, replete with human characters. Both a broad and an intensely individual exploration, Post Grad is an account of the generation people can't stop talking about, from one of its own.
Praise For Post Grad: Five Women and Their First Year Out of College…
"Kitchener, herself a recent Princeton graduate, wants to be a writer — and she has done it. In Post Grad, along with detailing her own struggles, she burrows deep into the lives and psyches of four classmates. Her nonfiction narrative is intimate, compulsively readable and even occasionally shocking."
— Chicago Tribune

"Kitchener's book...offer[s] n absorbing and introspective look at the challenges facing young women today as they attempt to find their footing on their own individual paths."
— Booklist

"And she is, without question, a talented writer. I read Post Grad in a single sitting . . . An engaging book."
— New York Review of Books

"These women [in Post Grad] defiantly contradict stereotypes, and Caroline does not reduce them to tokens. Post Grad reveals the complicated, painful, funny, messy, sometimes shocking, and entirely human journeys of young women with extraordinary educations."
— Elle

"Carefully reported, empathetic."
— Time

"With a strong command of narrative...Kitchener excels at sprinkling the multiple story lines with statistics to add clarity and insight to a truly challenging stage of life. Her book is highly recommended for recent grads stumbling through their newfound independence."
— Publishers Weekly

"With candor, the author discusses how she and her high-achieving, competitive cohorts adapted to life after the Ivy League, from navigating changing familial bonds to forging new romantic relationships to considering-and reconsidering-career options. As a Millennial...I found it engrossing and (at times a bit too) relatable."
— Library Journal

"Caroline Kitchener's Post Grad is a book I wish had been published when I graduated from college and was floundering my way through my first year in the 'real world.'"
— Bustle

"A must-read book for April."
— Flavorpill

"Kitchener has the unique ability of being able to verbalize my every thought, feeling, and emotion regarding the experience of joining the 'real world.'"
— The Bi-College News

"Caroline Kitchener and her Ivy League classmates may not be exactly typical of their generation, but they are certainly entertaining. Post-Grad will challenge many young college graduates to consider a much more diverse range of career paths."
— Anne-Marie Slaughter, President and CEO, New America

"Writing about a group of young women as they really are--and not as they are imagined by their parents, the media, or themselves--is an enormous challenge... Fascinating, at times disturbing, often moving, and always achingly honest."
— Evan Thomas, author of Being Nixon and Ike's Bluff

"There's no prep course for how to cultivate one's independent identity or how to simultaneously parse parental expectations, personal dreams, and reality's limitations. Sincere, eloquent, and thorough, Kitchener's debut is a must read."
— Angela Palm, author of Riverine

"The creativity and courage at the foundation of these stories is worth a thousand hours of counseling in any college career office. I will be giving this book as a gift to all of my graduating senior advisees."
— Melissa Harris-Perry, author of Sister Citizen

"Caroline Kitchener's Post Grad is sharply written and incredibly timely. Now more than ever we need women's stories to lead the way, and Kitchener does it marvelously."
— Jessica Valenti, author of Sex Object and The Purity Myth

"Courageous...Strong, honest writing...An enlightening journey."
— PopMatters
Ecco, 9780062429490, 320pp.
Publication Date: April 11, 2017
About the Author
Caroline Kitchener graduated from Princeton in 2014 with a degree in History and Gender Studies. Her work has appeared on The Atlantic and The Guardian. She currently lives in Washington, D.C. with her partner.