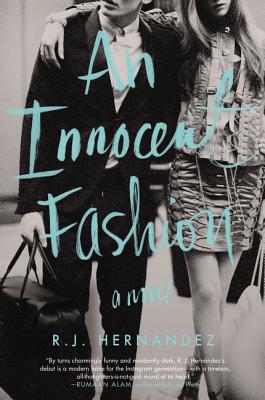 An Innocent Fashion
A Novel
Paperback

* Individual store prices may vary.
Description
"Writing in a fervently literary style that flirts openly with the traditions of Salinger, Plath, and Fitzgerald, Hernández is a diamond-sharp satirist and a bracingly fresh chronicler of the heartbreak of trying to grow up. Honest and absurd, funny and tragic, wild and lovely, this novel describes modern coming-of-age with poetic precision."*

The Devil Wears Prada meets The Bell Jar in this story of a wide-eyed Ivy League grad who discovers that his dream of "making it" at leading New York City fashion magazine Régine may well be his undoing.
Elián San Jamar knew from childhood that he was destined for a better life than the one his working-class multiracial parents share in Texas—a life inspired by Régine's pages. A full ride to Yale opens the door to a more glamorous world, and he quickly befriends Madeline and Dorian, both scions of incredible wealth and privilege. With their help, he reinvents himself, and after four decadent years he graduates as Ethan St. James. But reality hits hard when Ethan arrives at Régine and is relegated to the lowest rung of the ladder.
Mordantly funny and emotionally ruthless, An Innocent Fashion is the saga of a true millennial—naïve, idealistic, struggling with his identity and sexuality—trying to survive in an industry, and in a city, notorious for attracting new graduates only to chew them up and spit them out. Oscillating between melodrama and whip-smart sarcasm, pretentiousness and heartbreaking vulnerability, increasingly disillusioned with Régine and Madeline and Dorian, Ethan begins to unravel.
As the narratives of his conflicted childhood, cloistered collegiate experience, and existential crisis braid together, this deeply moving coming-of-age novel for the twenty-first century spirals toward a devastating realization: You can follow your dreams, but what happens if your dreams are just not enough?
*Kirkus Reviews (starred)
Praise For An Innocent Fashion: A Novel…
"Wry…literary…. His characters are vivid enough to stand alone….Victims of their affected apathy and subject, beneath their veneer of disinterested sophistication, to the same immemorial terrors and heartbreaks, Madeline, Dorian and Ethan are eminently believable."
— Washington Post

"Writing in a fervently literary style that flirts openly with the traditions of Salinger, Plath, and Fitzgerald, Hernández is a diamond-sharp satirist…. Honest and absurd, funny and tragic, wild and lovely, this novel describes modern coming-of-age with poetic precision."
— Kirkus Reviews (starred)

"Hernández's writing is beautiful, and the story offers a searing take on privilege, glamour, and the socialite scene. Charming and very astute."
— Travel + Leisure

"By turns mordantly dark and charmingly funny, R. J. Hernández's debut is a modern fable with a timeless heart."
— Rumaan Alam, author of Rich and Pretty

"Hernández's coming-of-age story…[an] unapologetic view into the underbelly of fashion media, chronicles its protagonist's experience trying to fit into a world where a person's social background is scrutinized just as much as his skills and intellect."
— People Magazine online

"Delivers a mixture of satire, fashion, postcollege depression and confusion, all delicately rolled into a turquoise binding with lyrically gifted accents."
— TimeOut New York, "The best and most erotic LGBT books to read this summer"

"Lose yourself in the world of a fictional fashion magazine . . . . Hernández creates a hybrid coming-of-age story mixed with a fashion industry tale that's fast-paced and full of drama."
— Elle.com, "19 Summer Books That Everyone Will Be Talking About"

"Like The Devil Wears Prada, but better. The new novel takes on the fashion magazine world with fresh perspective."
— Racked.com

"The Devil Wears Prada for millenials…. Explores the magazine industry through a different lens than past insider tomes….With a sure hand, Hernández leads his readers into an overlapping world of Ivy-League pedigree and corporate hustle."
— VanityFair.com

"Compelling…. Entertaining…. Hernández's dark view of innocence makes him a novelist to watch."
— Telegraph

"A tussle of identity politics set against a background of fashion."
— Guardian

"A story about dreams, and how the one that saves you today can just as easily crush you tomorrow."
— Rookie

"Triumphant…. A gripping journey through the halls of high fashion told through a voice seldom used on today's shelves: that of great American Classics."
— Out Magazine online

"Hernandez's debut ambitiously combines the socialites of The Great Gatsby, an Oscar Wildean sexual fluidity, and cutthroat fashionistas reminiscent of The Devil Wears Prada.… Vivid and relatable."
— Booklist

"Approaches a typical portrayal of the high-brow worlds of academia and fashion only to break them open, exposing the racist and classist stigmas that govern them.… Darkly entertaining, emotionally exhausting, and overall, well worth reading."
— Edge Media Network

"Using the fast-paced, flamboyant fashion industry as a backdrop to highlight personal and social struggles, Hernandez's darkly humorous novel outlines the familiar millennial conflict of sacrificing our values for success…. Incredible."
— Bullett Magazine

"An Innocent Fashion is reflective of our contemporary New York City—rollicking, indulgent and full of beauty one minute, and despairing, haunting, and full of grit the next. And above all—one of a kind, and the best of its kind."
— Christine Reilly, Sunday's on the Phone to Monday

"Just when you think you've read enough about the rising American generation, the smartest debut comes along and proves you wrong. Hernandez slow-cooks Ivy League privilege, high fashion orthodoxy, ambition, and the agony of not belonging, teasing you between hysteria and resignation. A feast."
— Ioannis Pappos, author of Hotel Living (finalist for Lambda Literary and Edward White Debut Fiction awards)

"Full of flashy fiascos and dark humour, An Innocent Fashion was one of the sharpest and most fascinating books I've read in a while."
— The Daily Star
Harper Perennial, 9780062429544, 384pp.
Publication Date: July 5, 2016
About the Author
R.J. HERNÁNDEZ is a writer living in New York City. He was raised in Miami by Cuban-American parents and graduated from Yale University in 2011. This is his first novel.
or
Not Currently Available for Direct Purchase