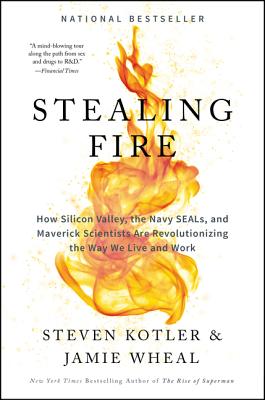 Stealing Fire
How Silicon Valley, the Navy SEALs, and Maverick Scientists Are Revolutionizing the Way We Live and Work
Hardcover

* Individual store prices may vary.
Other Editions of This Title:
Digital Audiobook (2/20/2017)
Paperback (5/8/2018)
MP3 CD (2/21/2017)
Compact Disc (2/21/2017)
Compact Disc (2/21/2017)
Description
National Bestseller
CNBC and Strategy + Business Best Business Book of the Year
It's the biggest revolution you've never heard of, and it's hiding in plain sight. Over the past decade, Silicon Valley executives like Eric Schmidt and Elon Musk, Special Operators like the Navy SEALs and the Green Berets, and maverick scientists like Sasha Shulgin and Amy Cuddy have turned everything we thought we knew about high performance upside down. Instead of grit, better habits, or 10,000 hours, these trailblazers have found a surprising short cut. They're harnessing rare and controversial states of consciousness to solve critical challenges and outperform the competition.
New York Times bestselling author Steven Kotler and high performance expert Jamie Wheal spent four years investigating the leading edges of this revolution—from the home of SEAL Team Six to the Googleplex, the Burning Man festival, Richard Branson's Necker Island, Red Bull's training center, Nike's innovation team, and the United Nations' Headquarters. And what they learned was stunning: In their own ways, with differing languages, techniques, and applications, every one of these groups has been quietly seeking the same thing: the boost in information and inspiration that altered states provide.
Today, this revolution is spreading to the mainstream, fueling a trillion dollar underground economy and forcing us to rethink how we can all lead richer, more productive, more satisfying lives. Driven by four accelerating forces—psychology, neurobiology, technology and pharmacology—we are gaining access to and insights about some of the most contested and misunderstood terrain in history. Stealing Fire is a provocative examination of what's actually possible; a guidebook for anyone who wants to radically upgrade their life.
Praise For Stealing Fire: How Silicon Valley, the Navy SEALs, and Maverick Scientists Are Revolutionizing the Way We Live and Work…
"Reading Stealing Fire, Mr. Lang-Willar said, he became convinced that nothing less than a 'cultural awakening' was underway." — The New York Times
"A mind-blowing tour along the path from sex and drugs to R&D." — Financial Times
"Stealing Fire is a beautifully written, must-read for anyone interested in living up to their full potential. Kotler and Wheal have produced a user-manual for your hacking your brain to drive high performance." — Peter Diamandis, founder of the X Prize, co-chairman of Singularity University, bestselling author
"Stealing Fire cracks the secret code of peak performance so that ordinary people can achieve extraordinary results." — Cdr. Mark Divine (USN Ret.), New York Times best selling author, founder SEALFIT and Unbeatable Mind
"Meticulously researched and innovatively conceptualized, Stealing Fire is not just a bible for the second psychedelic revolution (drugs not required), but a manual to getting more: out of your body, your mind, and your happiness." — Neil Strauss, New York Times best-selling author of The Game
"An electrifying, fast-paced journey into the deep potential of the human brain." — David Eagleman, Stanford University neuroscientist, bestselling author, presenter of PBS's The Brain
"Our linear lives and brains need to be thrown a curve on occasion and this is a masterpiece literary curveball." — Chip Conley, bestselling author of Peak and Emotional Equations and former Head of Strategy for AirBnB
"Captures the unspoken essence of what men and women on the frontier of human experience, think and do to excel in creativity and performance." — Michael Gervais, High Performance Psychologist to Super Bowl Champion Seattle Seahawks
"Stealing Fire lays out exactly how to hack the brain...Kotler and Wheal have taken a major bite out of the unknown. If you're at all interested in knowing how your mind works, this is imperative reading!" — Salim Ismail, founding executive director of Singularity University and bestselling author of Exponential Organizations
"Stealing Fire is a fantastic book about the future of humanity and everything that we can become. Based on incredible stories and cutting edge data, it reveals how our brain and body can be optimized to its greatest potential." — Andrew Newberg, MD., director of research Myrna Brind Center for Integrative Medicine and author of How Enlightenment Changes Your Brain
"The North Star we've been waiting for--finally a distillation of the upper reaches of the human experience unveiled! I am so excited for this book to reach the world!" — Jason Silva, artist, futurist, host of National Geographic's Brain Games
"[Stealing Fire is] well-written, well-documented, and significant work." — Library Journal
Dey Street Books, 9780062429650, 304pp.
Publication Date: February 21, 2017
About the Author
Steven Kotler is a New York Times bestselling author, an award-winning journalist, and the Executive Director of the Flow Research Collective. He is one of the world's leading experts on human performance. He is the author of nine bestsellers (out of thirteen books total), including The Art of Impossible, The Future Is Faster Than You Think, Stealing Fire, The Rise of Superman, Bold and Abundance. His work has been nominated for two Pulitzer Prizes, translated into over 40 languages, and appeared in over 100 publications, including the New York Times Magazine, Wired, Atlantic Monthly, TIME and the Harvard Business Review. Steven is also the cohost of Flow Research Collective Radio, a top ten iTunes science podcast. Along with his wife, author Joy Nicholson, he is the cofounder of the Rancho de Chihuahua, a hospice and special needs dog sanctuary. 
Jamie Wheal is the author of the global bestseller Stealing Fire: How Silicon Valley, Navy SEALs and Maverick Scientists are Revolutionizing the Way We Live and Work. Wheal is an expert in peak performance and leadership, specializing in neuroanthropology––the intersection of culture, biology and psychology and the founder of the Flow Genome Project, an international organization dedicated to the research and training of ultimate human performance. Wheal is a mountaineer who's guided the North Face of Mount Everest, trained Navy Seals, Olympians and RedBull extreme athletes and advised everyone from the U.S. Naval War College and Special Operations Command to the executives of major corporations including Google, Goldman Sachs and Cisco, among others. His work and ideas have been covered in The New York Times, Financial Times, Wired, Entrepreneur, Harvard Business Review, Forbes, INC, and TEDx. Wheal lives in Austin, TX.
or
Not Currently Available for Direct Purchase