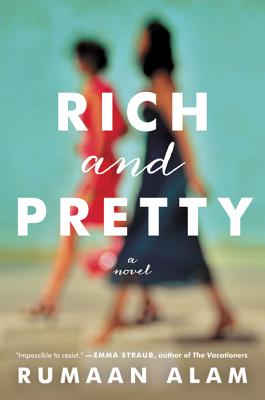 Rich and Pretty (Hardcover)
A Novel
Ecco, 9780062429933, 304pp.
Publication Date: June 7, 2016
Other Editions of This Title:
Digital Audiobook (6/6/2016)
Paperback (6/6/2017)
Compact Disc (6/7/2016)
MP3 CD (6/7/2016)
Compact Disc (6/7/2016)
* Individual store prices may vary.
Description
Named a Best Book of 2016 by Esquire, Refinery29, and Nylon
One of Bustle's 17 Of 2016's Most Anticipated Books To Put On Your Wishlist Immediately
One of the Wall Street Journal's Ten Titles to Watch in Summer Fiction
An Amazon Editors' Beach Reads pick
One of Newsday's Best Summer Books 2016
One of PopSugar's 31 Books You MUST Put in your Beach Bag
A Miami Herald summer reads pick
This irresistible debut, set in contemporary New York, provides a sharp, insightful look into how the relationship between two best friends changes when they are no longer coming of age but learning how to live adult lives.
As close as sisters for twenty years, Sarah and Lauren have been together through high school and college, first jobs and first loves, the uncertainties of their twenties and the realities of their thirties.
Sarah, the only child of a prominent intellectual and a socialite, works at a charity and is methodically planning her wedding. Lauren—beautiful, independent, and unpredictable—is single and working in publishing, deflecting her parents' worries and questions about her life and future by trying not to think about it herself. Each woman envies—and is horrified by—particular aspects of the other's life, topics of conversation they avoid with masterful linguistic pirouettes.
Once, Sarah and Lauren were inseparable; for a long a time now, they've been apart. Can two women who rarely see one other, selectively share secrets, and lead different lives still call themselves best friends? Is it their abiding connection—or just force of habit—that keeps them together?
With impeccable style, biting humor, and a keen sense of detail, Rumaan Alam deftly explores how the attachments we form in childhood shift as we adapt to our adult lives—and how the bonds of friendship endure, even when our paths diverge.
About the Author
Rumaan Alam is the author of Rich and Pretty. His writing has appeared in The New York Times, Elle, New York Magazine, The Los Angeles Review of Books, The Wall Street Journal, The Rumpus, Buzzfeed, and elsewhere. He studied at Oberlin College, and lives in Brooklyn, New York.
Praise For Rich and Pretty: A Novel…
"Smart, sharp, and beautifully made, Rumaan Alam's portrait of two childhood best friends transitioning into their adult lives is vividly rendered, set against a tantalizing background of moneyed New York City that is impossible to resist."
— Emma Straub, author of The Vacationers

Deceptively easy to read, Rich and Pretty is a complex testimony to the resilience of female friendship. With clarity and heart, Rumaan Alam brings to life the fraught, bewildering and beautiful nuances that keep us reaching for each other over decades.
— Mira Jacob, author of The Sleepwalker's Guide to Dancing

"Engrossing, funny, and wise, Rich and Pretty by Rumaan Alam is the story of two young women growing up and growing out of their past selves, even as that past still, profoundly, matters. Its cleverness is surpassed only by its compassion. A marvelous debut."
— Edan Lepucki, author of California

"Sharply observed and incredibly entertaining, Rich and Pretty tells the story of childhood friends struggling to hold onto their relationship as they grow up and grow apart. Rumaan Alam's debut is one of the most honest portrayals of the complicated world of female friendship."
— Jennifer Close, author of Girls in White Dresses

"Rich and Pretty is a beautifully written novel, a lushly detailed portrait of the mores and manners of contemporary Manhattan and a penetrating look into the heart of the generation now facing their thirties... wickedly witty, keenly insightful, and deeply, compassionately wise.
— Dan Chaon, author of Await Your Reply

"[G]orgeous prose, by turns hilariously funny and painfully perceptive... With careful attention to the ways social class and mores shape relationships, Alam gives us insight into both his characters and ourselves."
— J. Courtney Sullivan, author of Maine

"This novel astutely and honestly captures all of those feelings we all have but can't quite articulate during our twenties and thirties, especially with regard to our friends."
— Bustle

"A sweet yet cutting exploration of the bonds of friendship... With astute descriptions of how values, tastes, desires, and ambitions change over two decades, Alam's tale of a divergent friendship smartly reflects the trial and error nature of finding a mate and deciding how to grow up."
— Publishers Weekly

"[Alam] displays a robust understanding of and affection for the nuances of female friendships as they evolve over time... captures something truthful and essential about the push-pull of friendship."
— Kirkus Reviews

"Alternating between the women's points of view, Alam provides intimate insight into each one's thoughts, feelings, and memories… Perfectly capturing a changing yet resilient friendship, this debut novel full of warmth and humor will appeal to anyone who has experienced a similar bond."
— Library Journal

"Rich and Pretty...feels fresh and true in a way that few other books on the topic have managed."
— Lenny Letter

"[A] smart, enticing novel"
— Miami Herald

"Rumaan Alam transforms a whimsical beach read into compelling literary prose…Rich and Pretty is a realistic look at female friendship."
— Lisa Ko, author of The Leavers

"[A]n honest and funny look at female friendships, set against the background of Manhattan's elite aristocracy (think Gossip Girl 15 years later)."
— PureWow

"Written with humor and an impeccable ear for girlfriendly conversation--by a man, no less!--Rich and Pretty is a sparkling debut."
— People

"the perfect summer read... pitch perfect and wise"
— Elle

"Female friendships are complicated. But somehow Rumaan Alam--a man--nails the tension, envy and intense love in this irresistible debut."
— Metro, The buzziest books of summer

This one's "Gossip Girl" with a grown up twist. About two NYC women who've been this-close all their lives, but are moving in different directions. You'll get all the feels. And then text your BFF.
— The Skimm

"Rumaan Alam beautifully frames the nuances of female friendship: that complex alchemy of expectations and envy, and how they chafe with a lingering deep affection for each other."
— Elle

"Big issues get enormous due in New York writer Rumaan Alam's accomplished and moving second novel — the nature of family, race and class relations, adoption's complexities.... Yet thankfully for us, it's a well-told story about people, not issues."
— Minneapolis Star Tribune

"Rumaan Alam creates characters who are grappling with their adult identities while securing their childhood bond."
— Wall Street Journal
Coverage from NPR