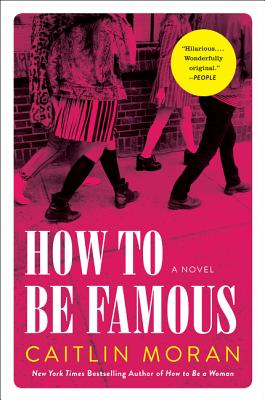 How to Be Famous
A Novel
Paperback

* Individual store prices may vary.
Other Editions of This Title:
Digital Audiobook (7/2/2018)
Digital Audiobook (7/2/2018)
Hardcover (7/3/2018)
MP3 CD (7/3/2018)
Compact Disc (7/3/2018)
Compact Disc (7/3/2018)
Description
A Library Journal Best Book of 2018
Johanna Morrigan (aka Dolly Wilde) has it all: she is nineteen, lives in her own flat in London, and writes for the coolest music magazine in Britain. Her star is rising, just not quickly enough for her liking.
Then John Kite, Johanna's unrequited love, has an album go to number one. Suddenly John exists on another plane of reality: that of the Famouses, a world of rabid fans and VIP access. Johanna lacks the traditional trappings of fame (famous parents, mind-scorching hotness, exotic scandals, etc.), so she does the only thing a self-respecting Lady Sex Adventurer can do. She starts a magazine column critiquing the lives and follies of the Famouses around her. But as Johanna skyrockets to fame herself, she begins to realize that with celebrity comes sacrifice, and hers may mean giving up the one person she was determined to keep.
For anyone who has been a girl or known one, who has admired fame or judged it, How to Be Famous is a big-hearted, hilarious tale of fame and fortune—and all that they entail.
Praise For How to Be Famous: A Novel…
"Wonderfully original…Hilarious summer fare with a feminist twist."
— People

"A joyous, yelping novel about learning to love things without apology or irony... Moran reminds us that playing it cool is a waste of time."
— NPR

"Hilarious."
— Esquire

"Who better than Caitlin Moran to bring fame down to earth with a bump?"
— Helen Fielding

"Moran's rollicking second novel characteristically combines nonstop witticisms with razor-sharp, pointed, and timely cultural critique.... Her characters are madcap and lovable but nuanced enough to feel real."
— Publishers Weekly, starred review

"Moran's semiautobiographical tale of a young writer finding her way in the mid-90s London rock scene pops and fizzes with the energy of those cool Britannia times—but her smart, nervy take on female selfhood and sexuality feels bracingly of now."
— Entertainment Weekly

"High-spirited and hilarious .... Half feminist comedy, half romance novel—a genre whose time has come."
— Kirkus

"Moran's funny, female-centric writing is a treasure ... this feels just right for 2018."
— Booklist

"A rollicking fantasy...How to be Famous rewrites a familiar near-past heroically, dispensing justice and leaving a rosy, satisfied afterglow."
— The Guardian

"Glorious and life-enhancing... Funny, philosophical, and poignant in equal measure."
— Nina Stibbe

"How to Be Famous bursts open the coming-of-age drama and leaves, in its wake, a hilarious, utterly original, unabashedly feminist comedy. Just read it."
— Refinery29

"Laugh-out-loud funny, sweetly romantic and fiercly angry. Often all at once."
— London Times

"A subversive celebration of strong, smart young women."
— The Seattle Times

"Sparkly and joyous…Moran writes with a fierce and tender protectiveness of teenage girls like Johanna, who are chewed up and spat out by the glamorous adult worlds they are trying to make their way into."
— Vox

"Buckle up for the magical mystery tour that is life with Dolly Wilde…Stylewise, Ms. Moran is a breath of fresh air in the often stuffy, overly serious world of women's fiction. Her sentences cackle with sass but also reveal the vulnerability that lies beneath many a modern woman's confident exterior…. The heart of Ms. Moran's feminist fairy tale, however is its celebration of woman as they are, and not how society would have them be."
— Pittsburgh Post-Gazette

"Funny, warm, insightful… Moran has always been a gloriously acute and funny writer, and the combination of memoir and make-believe here gives her plenty of scope to exercise her considerable ability to entertain."
— Financial Times
Harper Perennial, 9780062433787, 368pp.
Publication Date: July 2, 2019
About the Author
Caitlin Moran's debut book, How to Be a Woman, was an instant New York Times bestseller. Her first novel, How to Build a Girl, received widespread acclaim. She lives in London. You can follow Caitlin on Twitter: @caitlinmoran