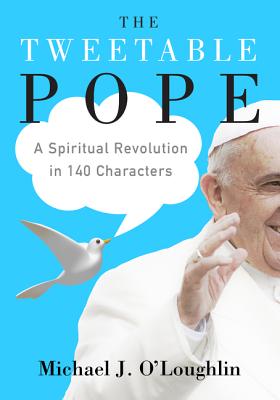 The Tweetable Pope
A Spiritual Revolution in 140 Characters
Hardcover

* Individual store prices may vary.
Description
Boston Globe journalist and Catholic commentator Michael O'Loughlin opens a wonderful window into the heart and revolutionary mission of Pope Francis by examining his extensive and revelatory use of social media—published to coincide with the pontiff's visit to the United States in September 2015.
Michael O'Loughlin uses Pope Francis's almost daily "tweets" to his 21 million followers to explain why this pope has captured the world's imagination and to explore his strategy and vision for the Catholic Church. Grouped by the Pope's most pressing concerns—forgiveness, mercy, injustice, poverty, war, joy, the environment, and more—The Tweetable Pope uses Francis' pithy 140-character (or fewer) missives as a prism to view the biographical, historical, and spiritual context of his messages and how each is part of a larger vision.
O'Loughlin contends that these seemingly simple communications provide a direct line to the Pope's heart, illuminating a peaceful, loving, and courageous visionary committed to restoring the church to the original Christian tenets of its founder, Jesus Christ—love, mercy, grace, and compassion—and reshaping it as a force for change to help the most needy. A thoughtful and enlightening examination of how the pope is using this exciting and fascinating new medium to communicate directly to his flock, The Tweetable Pope is an inspiring and moving testimony of how we, too, can be more centered on what matters most to God.
Praise For The Tweetable Pope: A Spiritual Revolution in 140 Characters…
"O'Loughlin is one of the most talented young Catholic writers today. His theological training and journalistic skills make him an astute observer of the church. His new book, examining Pope Francis's daily Tweets from a spiritual standpoint, is sure to be a valuable addition to reflections on this extraordinary pope."
— James Martin, New York Times bestselling author of The Jesuit Guide to (Almost) Everything and Jesus: A Pilgrimage

"An insightful, comprehensive, and timely book that engages the genius of Pope Francis through his tweets. A must read: The #TweetablePope!"
— Miguel H. Diaz PhD, US Ambassador to the Holy See, Ret., John Courtney Murray University Chair in Public Service, Loyola University Chicago

"The Tweetable Pope is full of fresh and fun insight into the modern mission of Pope Francis. A must-read for anyone-Twitter user or not-who wants the scoop on how the first Pope from the Global South is making history."
— Elizabeth Dias, TIME correspondent and editor of What Did Jesus Ask?

"To say that Pope Francis is reaching millions with his tweets is a statistic. To explain why he is reaching millions is authentic education and new evangelization. O'Loughlin masterfully offers the background, context and foreground of Pontifex's brilliant method of communicating with the world."
— Fr. Thomas Rosica, CSB, CEO of Salt and Light Catholic Media Foundation
HarperOne, 9780062434999, 256pp.
Publication Date: September 8, 2015
About the Author
Praised by the National Catholic Reporter for having "a keen eye and an adroit pen," Michael J. O'Loughlin is the national reporter for Crux, The Boston Globe's publication covering "all things Catholic." O'Loughlin writes regularly about contem- porary Catholic issues, including religion and politics, Catholic young adults, the role of the Church in the public square, and much more at Cruxnow.com. O'Loughlin has also written for Foreign Policy, America, and The Advocate, and he has been interviewed by a number of media outlets, including NPR, FOX News, and MSNBC. Originally from Massachusetts, O'Loughlin lives in Chicago and reports occasionally from Rome. He is a graduate of Saint Anselm College and Yale Divinity School.
or
Not Currently Available for Direct Purchase