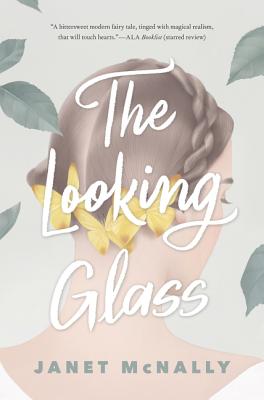 The Looking Glass
Hardcover

* Individual store prices may vary.
Description
Perfect for fans of Emily Henry and Sarah Dessen, Janet McNally's imaginative story of sisterhood shows that the fiercest of loves are often the ones that exist outside of happily-ever-afters.
GIRLS IN TROUBLE. That's what Sylvie Blake's older sister Julia renamed their favorite fairy tale book, way back when they were just girls themselves. Now Julia has disappeared—and no one knows for sure if she wants to be away, or if she's the one in trouble.
Then a copy of their old storybook arrives with a mysterious list inside, and Sylvie begins to see signs of her sister, and their favorite fairy tales, everywhere she goes.
With the help of her best friend's enigmatic brother and his beat-up car, Sylvie sets out to follow the strange signs right to Julia and return to New York with her in tow. But trouble comes in lots of forms—and Sylvie soon learns that the damsel in distress is often the only one who can save herself.
Praise For The Looking Glass…
"McNally's vivid imagery and exquisite, poetic language—with an ever so slightly sinister undercurrent—weave shimmering, slow-building tension throughout. This ode to sisterhood and strength leads up to an unexpected and thoroughly satisfying conclusion."
— Kirkus Reviews (starred review)

"Similar in concept, though softer in tone, to Melissa Albert's The Hazel Wood... A bittersweet modern fairy tale, tinged with magical realism, that will touch hearts."
— Booklist (starred review)

"With a deft hand, McNally traces the physical and emotional journey of a distressed 16-year-old trying to find answers... compelling and slightly surreal."
— Publishers Weekly

"Janet McNally's The Looking Glass is gossamer woven with gold and glass: a fairytale of a novel rooted in the heart of real life. An absolute beauty of a read."
— Kathleen Glasgow, New York Times bestselling author of Girl in Pieces

"A poignant, beautifully-woven story, THE LOOKING GLASS explores all the complexities of love, loss, family, and healing, as we follow one girl on a powerful journey of self-discovery."
— Amber Smith, New York Times bestselling author of The Way I Used to Be

"Reading this book feels like standing in a sunbeam and watching the dust glitter. McNally transforms the mundane into the extraordinary, expertly pairs life's bitter with its sweet, and coaxes her readers into a world they won't soon want to leave. The Looking Glass is pure delight."
— Emily Henry, author of The Love That Split the World

"Janet McNally's writing glows like your best memory, sensuous and alive with moonlight and the smell of flowers."
— Jeff Zentner, author of The Serpent King and Goodbye Days

"A lyrical and heartfelt tale of love, family, and self-discovery that will sweep you up in its magic right from the very first page."
— Caleb Roehrig, author of Last Seen Leaving

"Much like her ballerina heroine, Janet McNally makes her effervescent writing seem effortless. But there's grit beneath the glitter of this charming road-trip fairytale. Stock up on highlighters: you'll want to underline every perfect sentence."
— Harriet Reuter Hapgood, author of The Square Root of Summer

PRAISE FOR GIRLS IN THE MOON: "McNally is a polished storyteller, her prose alive with vivid descriptions, the excitement of romance, and an artist's yearning to create."
— Publishers Weekly

"Girls in the Moon is a beautiful, heartfelt novel about following your own path and finding your voice. Janet McNally's stunning debut is a lush, lyrical paean to mothers, daughters, sisters, and the music that weaves them together."
— Kathleen Glasgow, author of Girl in Pieces

"In her luminous prose, Janet McNally renders the moments—quiet and loud, in the spotlight and in the dark—that shape us and wound us and make us fully human."
— Nina LaCour, award-winning author of Everything Leads to You

"A powerful story of secrets, sisters, mothers and daughters-of a family fractured and pieced back together across time, with love, pain, passion, and music. GIRLS IN THE MOON will stay with you like a song you can't get out of your mind."
— Amber Smith, New York Times bestselling author of The Way I Used to Be

"With lush, lyrical prose and nuanced storytelling, Girls in the Moon is a gorgeous coming-of-age story that sings of sisterhood, secrets, and the ties that both bind and bond us."
— Jessi Kirby, author of Things We Know by Heart

"Laced through with drumbeats and heartbeats, GIRLS IN THE MOON is pure indie rock and even purer poetry. A luminous story of love, art, yearning, and connection."
— Jeff Zentner, author of The Serpent King

"Sophisticated, dreamy, and gorgeously written, Girls in the Moon is like spending a summer night reminiscing with old friends."
— Heidi Heilig, author of The Girl From Everywhere
HarperTeen, 9780062436276, 336pp.
Publication Date: August 14, 2018
About the Author
Janet McNally is the author of the novels The Looking Glass and Girls in the Moon, as well as a prizewinning collection of poems, Some Girls. She has an MFA from the University of Notre Dame, and her stories and poems have been published widely in magazines. She has twice been a fiction fellow with the New York Foundation for the Arts. Janet lives in Buffalo, New York, with her husband and three little girls, in a house full of records and books, and teaches creative writing at Canisius College. You can visit her online at www.janetmmcnally.com.
or
Not Currently Available for Direct Purchase