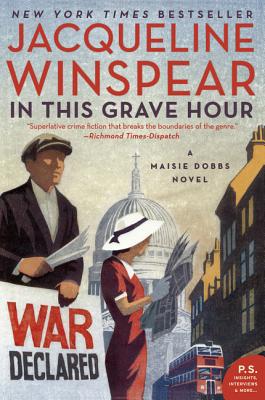 In This Grave Hour
A Maisie Dobbs Novel
Paperback

* Individual store prices may vary.
Other Editions of This Title:
Digital Audiobook (3/13/2017)
Digital Audiobook (4/5/2017)
Paperback, Large Print (3/14/2017)
Hardcover (3/14/2017)
Description
"A female investigator every bit as brainy and battle-hardened as Lisbeth Salander." — Maureen Corrigan, NPR's Fresh Air, on Maisie Dobbs
Sunday September 3rd 1939.  At the moment Prime Minister Neville Chamberlain broadcasts to the nation Britain's declaration of war with Germany, a senior Secret Service agent breaks into Maisie Dobbs' flat to await her return. Dr. Francesca Thomas has an urgent assignment for Maisie: to find the killer of a man who escaped occupied Belgium as a boy, some twenty-three years earlier during the Great War.
In a London shadowed by barrage balloons, bomb shelters and the threat of invasion, within days another former Belgian refugee is found murdered.  And as Maisie delves deeper into the killings of the dispossessed from the "last war," a new kind of refugee — an evacuee from London — appears in Maisie's life. The little girl billeted at Maisie's home in Kent does not, or cannot, speak, and the authorities do not know who the child belongs to or who might have put her on the "Operation Pied Piper" evacuee train.  They know only that her name is Anna.
As Maisie's search for the killer escalates, the country braces for what is to come.  Britain is approaching its gravest hour — and Maisie could be nearing a crossroads of her own.
Praise For In This Grave Hour: A Maisie Dobbs Novel…
"While Winspear maintains her focus on the volunteers and charitable organizations involved in their rescue and relocation, her portraits of individual evacuees like Anna, a homeless waif so traumatized she has stopped speaking, are enough to break your heart." — Marilyn Stasio, New York Times
"Maisie Dobbs might be classified as a secret weapon judging by her courage and fierce determination as she plunges into wars…. Winspear has created a vivid niche." — Muriel Dobbin, Washington Times
"Winspear conveys compassion and grief so well that it's hard for readers to not relate to the characters and what they're experiencing, even if they've not shared the exact circumstances…. Readers who like straightforward whodunits can also expect satisfaction. Ditto anyone who enjoys the rich character development and exploration of important life issues." — Carolyn Haley, New York Journal of Books
"With authority and compassion, Winspear excels at captivating plotting, authentic casting and refined prose. Superlative crime fiction that breaks the boundaries of the genre, In This Grave Hour portrays a past that reverberates in the present." — Jay Strafford, Richmond Times-Dispatch
"Winspear's compelling series entry feels very timely in light of our current political climate over issues of refugees and immigration. Fans will line up to get this installment, but it also serves as a good introduction for new readers." — Library Journal, starred review
"A fine novel, written with Winspear's sure hand and ability to meld historical events into an engaging crime narrative. Fans will savor this one as they anticipate what Maisie will do in WWII." — David Pitt, Booklist
"Although In This Grave Hour is a well-realized historical novel… many of the issues it raises continue to hold currency today…. And, of course, Maisie, with her quiet competence and unfailing compassion, continues to be one of the most interesting and resilient characters in mystery fiction." — Norah Piehl, Bookreporter
"A female investigator every bit as brainy and battle-hardened as Lisbeth Salander." — Maureen Corrigan, NPR's Fresh Air
"A series that seems to get better with every entry." — Tom Nolan, Wall Street Journal
"With clarity and economy, Winspear lays the historical groundwork…. The setting matters, but what may matter more is the lovely, sometimes poetic way Winspear pushes her heroine forward…. May she shine on the literary scene for many books to come." — Robin Bianco, USA Today, 3.5 out of 4 stars
Harper Perennial, 9780062436627, 368pp.
Publication Date: February 27, 2018
About the Author
Jacqueline Winspear is the author of the New York Times bestsellers The Consequences of Fear, The American Agent, and To Die but Once, as well as thirteen other bestselling Maisie Dobbs novels and The Care and Management of Lies, a Dayton Literary Peace Prize finalist. Jacqueline has also published two nonfiction books, What Would Maisie Do? and a memoir, This Time Next Year We'll Be Laughing. Originally from the United Kingdom, she divides her time between California and the Pacific Northwest.