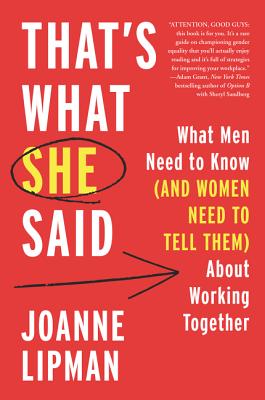 That's What She Said
What Men Need to Know (and Women Need to Tell Them) About Working Together
Hardcover

* Individual store prices may vary.
Other Editions of This Title:
Digital Audiobook (1/29/2018)
Paperback (2/26/2019)
Compact Disc (1/30/2018)
MP3 CD (1/30/2018)
Compact Disc (1/30/2018)
Description
#1 Washington Post Bestseller
First things first: There will be no man shaming in That's What She Said. A recent Harvard study found that corporate "diversity training" has actually made the gender gap worse—in part because it makes men feel demonized. Women, meanwhile, have been told closing the gender gap is up to them: they need to speak up, to be more confident, to demand to be paid what they're worth. They discuss these issues amongst themselves all the time.  What they don't do is talk to men about it. 
It's time to end that disconnect. More people in leadership roles are genuinely trying to transform the way we work together, because there's abundant evidence that companies with more women in senior leadership perform better by virtually every measure. Yet despite good intentions, men often lack the tools they need, leading to fumbles, missteps, frustration and misunderstanding that continue to inflict real and lasting damage on women's careers.
That's What She Said solves for that dilemma.  Filled with illuminating anecdotes, data from the most recent studies, and stories from Joanne Lipman's own journey to the top of a male-dominated industry, it shows how we can win by reaching across the gender divide. What can the Enron scandal teach us about the way men and women communicate professionally? How does brain chemistry help explain men's fear of women's emotions at work? Why did Kimberly Clark have an all-male team of executives in charge of their Kotex tampon line? What can we learn from Iceland's campaign to "feminize" an entire nation? That's What She Said shows why empowering women as true equals is an essential goal for women and men—and offers a roadmap for getting there.
That's What She Said solves for:
·         The respect gap
·         Unconscious bias
·         Interruptions
·         The pay and promotion gap
·         Being heard
·         The motherhood penalty
·         "Bropropriation" and "mansplaining"
·         And more….
Praise For That's What She Said: What Men Need to Know (and Women Need to Tell Them) About Working Together…
"It's great we are talking the talk but Joanne Lipman's cutting edge research and razor sharp advice will help men and women alike start walking the walk (toward a more equitable workplace)."
— Katie Couric

"At last! That's What She Said is so timely—and so needed. It's the ultimate guide for women (and men) who are determined to close the gender gap. Lively and readable, it's a game-changer in how we understand gender relations--and how we can break down barriers, right now."
— Sallie Krawcheck, CEO, Ellevest

"Insightful and timely. The points Joanne Lipman makes in That's What She Said are right on target for today's new workplace. It will resonate whether you're male or female, young or old, manager or managed, a long-term employee or just starting your career."
— Andrew H. Tisch, Co-Chairman of the Board, and Chairman of the Executive Committee, Loews Corporation  

"Attention, good guys: if you want to advocate for women but don't want to be villainized, this book is for you. It's a rare guide on championing gender equality that you'll actually enjoy reading—and it's full of strategies for improving your workplace."
— Adam Grant, New York Times bestselling author of Give and Take, Originals, and Option B with Sheryl Sandberg

"Joanne Lipman leaves her soapbox at home, rolls up her sleeves, and provides real solutions to complex problems. Her valuable insights are a tool kit for men and women to not only work alongside each other but to bring out each other's best."
— Glen Mazzara, Executive producer, The Shield and The Walking Dead

"That's What She Said  is an instant classic. It's a must-read for two groups of people: men and women."
— Roger McNamee, venture capitalist

"Lipman, editor-in-chief of USA Today, makes a bold statement with this important book examining biases favoring men in business….This book goes a step further than Sheryl Sandberg's best-selling Lean In and challenges both men and women to examine their own prejudices and actively reshape work cultures to be more welcoming to women."
— Publishers Weekly (starred review)
William Morrow, 9780062437211, 320pp.
Publication Date: January 30, 2018
About the Author
Joanne Lipman is the Editor in Chief of the USA TODAY Network. She began her career at the Wall Street Journal, where she was the first woman to become Deputy Managing Editor and supervised coverage that won three Pulitzer Prizes. She was also the founding editor-in-chief of Condé Nast Portfolio magazine and portfolio.com. She lives in New York City.
or
Not Currently Available for Direct Purchase