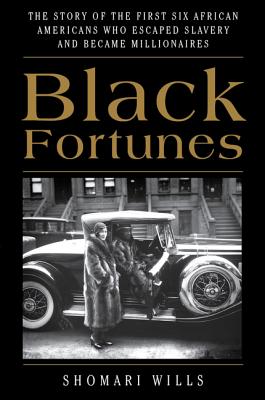 Black Fortunes
The Story of the First Six African Americans Who Escaped Slavery and Became Millionaires
Hardcover

* Individual store prices may vary.
Other Editions of This Title:
Digital Audiobook (1/29/2018)
Paperback (1/29/2019)
Compact Disc (1/30/2018)
MP3 CD (1/30/2018)
Compact Disc (1/30/2018)
Description
One of Ebony Magazine's True Read picks of 2018
"By telling the little-known stories of six pioneering African American entrepreneurs, Black Fortunes makes a worthy contribution to black history, to business history, and to American history."—Margot Lee Shetterly, Author of the New York Times Bestseller Hidden Figures
The astonishing untold history of America's first black millionaires—former slaves who endured incredible challenges to amass and maintain their wealth for a century, from the Jacksonian period to the Roaring Twenties—self-made entrepreneurs whose unknown success mirrored that of American business heroes such as Henry Ford, John D. Rockefeller, and Thomas Edison.
While Oprah Winfrey, Jay-Z, Beyoncé, Michael Jordan, and Will Smith are among the estimated 35,000 black millionaires in the nation today, these famous celebrities were not the first blacks to reach the storied one percent. Between the years of 1830 and 1927, as the last generation of blacks born into slavery was reaching maturity, a small group of smart, tenacious, and daring men and women broke new ground to attain the highest levels of financial success.
Black Fortunes is an intriguing look at these remarkable individuals, including Napoleon Bonaparte Drew—author Shomari Wills' great-great-great-grandfather—the first black man in Powhatan County (contemporary Richmond) to own property in post-Civil War Virginia. His achievements were matched by five other unknown black entrepreneurs including:
Mary Ellen Pleasant, who used her Gold Rush wealth to further the cause of abolitionist John Brown;
Robert Reed Church, who became the largest landowner in Tennessee;
Hannah Elias, the mistress of a New York City millionaire, who used the land her lover gave her to build an empire in Harlem;
Orphan and self-taught chemist Annie Turnbo-Malone, who developed the first national brand of hair care products;
Madam C. J Walker, Turnbo-Malone's employee who would earn the nickname America's "first female black millionaire;"
Mississippi school teacher O. W. Gurley, who developed a piece of Tulsa, Oklahoma, into a "town" for wealthy black professionals and craftsmen" that would become known as "the Black Wall Street."
A fresh, little-known chapter in the nation's story—A blend of Hidden Figures, Titan, and The Tycoons—Black Fortunes illuminates the birth of the black business titan and the emergence of the black marketplace in America as never before.
Praise For Black Fortunes: The Story of the First Six African Americans Who Escaped Slavery and Became Millionaires…
"By telling the little-known stories of six pioneering African American entrepreneurs, Black Fortunes makes a worthy contribution to black history, to business history, and to American history."
— Margot Lee Shetterly, New York Times Bestselling author of Hidden Figures

"Shomari Wills captures six African Americans who did the improbable, who somehow escaped slavery, someway evaded racist traps, and by some means arrived and remained at wealth. Black Fortunes is as astonishing and rich as the lives of the first Black millionaires it chronicles."

— Ibram X. Kendi, National Book Award-winning Author of Stamped from the Beginning

"[An] engaging profile of the first African Americans to become millionaires… Black Fortunes provides necessary context to [their] achievements and as such is a significant addition to our ever-evolving understanding of collective history."
— Washington Post

"[A] history-rich book."
— Ebony

"The history mined in Black Fortunes will come as a revelation to many who will be shocked to learn that there was a black wealth class immediately after slavery….a classic story of black resilience and the determination to upend a racist social order in the most meaningful, quantifiable way, but it's also a cautionary tale about the unique challenges African Americas face in trying to build and sustain wealth."
— Black Enterprise

"Incredible stories of six self-made African-American millionaires…This highly readable group biography illustrates the ways those early millionaires 'survived assassination attempts, lynchings, frivolous lawsuits, and criminal cases' and, in doing so, paved the way for Oprah, Beyoncé, and Jay-Z."
— Publishers Weekly

"Written in a straightforward style…it will appeal to general readers."
— Library Journal

"Fascinating… Wills' storytelling is infectious, his subjects are irresistible, and his broad coverage invites readers to venture further into the events and historical context he so vividly introduces."
— Booklist

"The stories of black success against all odds will motivate entrepreneurs for generations to come."
— Tallahassee Democrat

"Imagine the irony of having been born enslaved, and elevated to millionaire status. These millionaires made their fortunes through hard work, guile, luck, and uncanny entrepreneurial acumen. They accumulated wealth against all odds, clearing the hurdles of custom, law, and racial hostility. Wills shares little-known details about these rich and absorbing lives, and gives these millionaires a dimensionality that some history ignores. A really good read!"
— Julianne Malveaux, Economist and Author of Surviving and Thriving: 365 Facts in Black Economic History

"Shomari Wills has written an amazingly informing account of how the nation's First Six African Americans who came up from slavery became millionaires. Black Fortunes recounts an invaluable aspect of American history that speaks poignantly of the remarkable success of black entrepreneurship against insuperable odds in the last half of the nineteenth century. By providing extensive research into the lives of these astute business men and women of color, Wills gives an insightful view into a salient aspect of American history that is often overlooked."
— David C. Driskell, Director of  David C. Driskell Center for the Study of the African Diaspora at the University of Maryland
Amistad, 9780062437594, 320pp.
Publication Date: January 30, 2018
About the Author
Shomari Wills is a journalist. He has worked for CNN and Good Morning America, and has contributed to New York Carib News and Columbia Journalism Review. He received an undergraduate degree from Morehouse College and a graduate degree from Columbia University, where he was named a Lynton Book Writing Fellow. He lives in Brooklyn, New York.
or
Not Currently Available for Direct Purchase