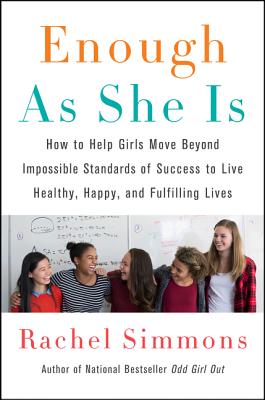 Enough As She Is
How to Help Girls Move Beyond Impossible Standards of Success to Live Healthy, Happy, and Fulfilling Lives
Hardcover

* Individual store prices may vary.
Other Editions of This Title:
Digital Audiobook (2/26/2018)
Paperback (2/26/2019)
Description
"Is it wrong that I wanted to underline every single word in this book? Simmons brilliantly crystallizes contemporary girls' dilemma: the way old expectations and new imperatives collide; how a narrow, virtually unattainable vision of 'success' comes at the expense of self-worth and well-being. Enough As She is a must-read." —Peggy Orenstein, author of Girls & Sex
From the New York Times bestselling author of Odd Girl Out, a deeply urgent book that gives adults the tools to help girls in high school and college reject "supergirl" pressure, overcome a toxic stress culture, and become resilient adults with healthy, happy, and fulfilling lives.
For many girls today, the drive to achieve is fueled by brutal self-criticism and an acute fear of failure. Though young women have never been more "successful"–outpacing boys in GPAs and college enrollment–they have also never struggled more. On the surface, girls may seem exceptional, but in reality, they are anxious and overwhelmed, feeling that, no matter how hard they try, they will never be smart enough, successful enough, pretty enough, thin enough, popular enough, or sexy enough.
Rachel Simmons has been researching young women for two decades, and her research plainly shows that girl competence does not equal girl confidence—nor does it equal happiness, resilience, or self-worth. Backed by vivid case studies, Simmons warns that we have raised a generation of young women so focused on achieving that they avoid healthy risks, overthink setbacks, and suffer from imposter syndrome, believing they are frauds. As they spend more time projecting an image of effortless perfection on social media, these girls are prone to withdraw from the essential relationships that offer solace and support and bolster self-esteem.
Deeply empathetic and meticulously researched, Enough As She Is offers a clear understanding of this devastating problem and provides practical parenting advice—including teaching girls self-compassion as an alternative to self-criticism, how to manage overthinking, resist the constant urge to compare themselves to peers, take healthy risks, navigate toxic elements of social media, prioritize self-care, and seek support when they need it. Enough As She Is sounds an alarm to parents and educators, arguing that young women can do more than survive adolescence. They can thrive. Enough As She Is shows us how.
Praise For Enough As She Is: How to Help Girls Move Beyond Impossible Standards of Success to Live Healthy, Happy, and Fulfilling Lives…
"Rachel Simmons is the expert on helping girls become leaders. In a world that too often tells our girls to be quiet, not assertive; deferential, not opinionated; meek, not bold; and insecure, not confident, Rachel says otherwise – and she has the advice and research to back it up. This book is a must read for girls who want to lead – and for the parents, teachers, and coaches who want to help them get there."
— Sheryl Sandberg, COO of Facebook and founder of LeanIn.Org and OptionB.Org

"This is the book parents have been waiting for. With levels of stress, anxiety and depression soaring among children and teens, raising girls has never been more challenging. With Enough As She Is national girl expert Rachel Simmons gives families the tools they need to redefine success for their daughters so they can truly thrive."
— Arianna Huffington

"Is it wrong that I wanted to underline every single word in this book? Simmons brilliantly crystallizes contemporary girls' dilemma: the way old expectations and new imperatives collide; how a narrow, virtually unattainable vision of 'success' comes at the expense of self-worth and well-being. Enough As She Is a must-read, not only for its diagnosis of the issues but for its insightful, useful strategies on how to address them."
— Peggy Orenstein, author of Girls & Sex

"This book is a rare find for any parent or mentor of a girl child. It exposes the abject harm of today's perfect-at-any-price childhood, and illustrates how a girl's anxious, busy, self-deprecating performance strategy is entirely normal yet further harm-inducing. Packed with conversational specifics you can deploy with the teen girls in your life, this book is your chance to be who she needs you to be. Buy it. Read it. Live it. Help the girl you love realize the most important of all certainties: that she truly is enough as she is."
— Julie Lythcott-Haims, author of the New York Times bestseller How to Raise an Adult, and Real American: A Memoir

"Enough As She Is may save millions of women from the idea that 'having it all' means 'doing it all.' Women as well as men have the right to make choices that suit us uniquely, yet girls and women are more subject to external standards that we had nothing to do with creating. Rachel Simmons has given us the next step in our peaceful revolution: not only changing women to fit the world, but changing the world to fit women."
— Gloria Steinem

"This book is an essential resource for educators committed to building girls' resilience as learners."
— Carol Dweck, author of Mindset: The New Psychology of Success and Professor of Psychology, Stanford University

"A brilliant and passionate call to action that reveals how girls and young women are suffering in our toxic culture of constant comparison and competition.  This is the book parents need to change girls' lives and guide them to truly become happy, healthy, and powerful adults."
— Rosalind Wiseman, author of Queen Bees and Wannabees

"Enough as She Is is a true gift for parents, teachers, or anyone else in a position to shape and educate the women who will run the world very soon. My copy is filled with sticky notes, exclamation points, and underlined sentences, and I know for a fact that the advice contained in this book will help me be a more aware, supportive, and effective teacher to my female students."
— Jessica Lahey, New York Times bestselling author of The Gift of Failure

"Enough As She Is shows parents, educators and girls what it means to try to achieve at almost any cost — amplified by social media. That includes pressure to be admitted to just-the-right college — and in some cases just-the-right high school —  coupled with unrealistic body-shape expectations."
— USA Today

"Simmons tackles the "college application industrial complex," perfectionism, defensive pessimism, and other factors that undermine teenage girls' confidence and happiness... [Enough as She Is] persuasively demonstrates that girls can replace the toxic cultural imperative for "more" with their own vision of a fulfilled life."
— Publishers Weekly

"A fascinating read that provides ideas for combatting the "not enough" ideals that are devastating young girls."
— Library Journal

"Rachel Simmons' clear, insightful and practical new book, Enough As She Is, provides a lens through which to understand the phenomenon of self-criticism, perfectionism and body shaming that is feeding this crisis."
— bookclique
Harper, 9780062438393, 304pp.
Publication Date: February 27, 2018
About the Author
Rachel Simmons is the author of the New York Times bestsellers Odd Girl Out: The Hidden Culture of Aggression in Girls and The Curse of the Good Girl: Raising Authentic Girls with Courage and Confidence. Cofounder of Girls Leadership, a national nonprofit, she is a leadership development specialist at Smith College and is the Girls Research Scholar in Residence at The Hewitt School in New York. She lives in western Massachusetts with her daughter.