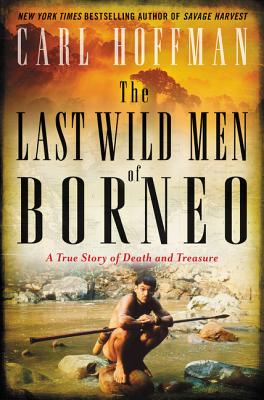 The Last Wild Men of Borneo (Hardcover)
A True Story of Death and Treasure
William Morrow, 9780062439024, 368pp.
Publication Date: March 6, 2018
Other Editions of This Title:
Digital Audiobook (3/5/2018)
Paperback (3/19/2019)
Paperback, Large Print (3/6/2018)
Compact Disc (3/6/2018)
MP3 CD (3/6/2018)
Compact Disc (3/6/2018)
* Individual store prices may vary.
Description
A 2019 EDGAR AWARDS NOMINEE (BEST FACT CRIME) • A BANFF MOUNTAIN BOOK AWARDS FINALIST
Two modern adventurers sought a treasure possessed by the legendary "Wild Men of Borneo." One found riches. The other vanished forever into an endless jungle. Had he shed civilization—or lost his mind? Global headlines suspected murder. Lured by these mysteries, New York Times bestselling author Carl Hoffman journeyed to find the truth, discovering that nothing is as it seems in the world's last Eden, where the lines between sinner and saint blur into one.
In 1984, Swiss traveler Bruno Manser joined an expedition to the Mulu caves on Borneo, the planet's third largest island. There he slipped into the forest interior to make contact with the Penan, an indigenous tribe of peace-loving nomads living among the Dayak people, the fabled "Headhunters of Borneo." Bruno lived for years with the Penan, gaining acceptance as a member of the tribe. However, when commercial logging began devouring the Penan's homeland, Bruno led the tribe against these outside forces, earning him status as an enemy of the state, but also worldwide fame as an environmental hero. He escaped captivity under gunfire twice, but the strain took a psychological toll. Then, in 2000, Bruno disappeared without a trace. Had he become a madman, a hermit, or a martyr?
American Michael Palmieri is, in many ways, Bruno's opposite. Evading the Vietnam War, the Californian wandered the world, finally settling in Bali in the 1970s. From there, he staged expeditions into the Bornean jungle to acquire astonishing art and artifacts from the Dayaks. He would become one of the world's most successful tribal-art field collectors, supplying sacred works to prestigious museums and wealthy private collectors. And yet suspicion shadowed this self-styled buccaneer who made his living extracting the treasure of the Dayak: Was he preserving or exploiting native culture?
As Carl Hoffman unravels the deepening riddle of Bruno's disappearance and seeks answers to the questions surrounding both men, it becomes clear saint and sinner are not so easily defined and Michael and Bruno are, in a sense, two parts of one whole: each spent his life in pursuit of the sacred fire of indigenous people. The Last Wild Men of Borneo is the product of Hoffman's extensive travels to the region, guided by Penan through jungle paths traveled by Bruno and by Palmieri himself up rivers to remote villages. Hoffman also draws on exclusive interviews with Manser's family and colleagues, and rare access to his letters and journals. Here is a peerless adventure propelled by the entwined lives of two singular, enigmatic men whose stories reveal both the grandeur and the precarious fate of the wildest place on earth.
About the Author
Carl Hoffman is the author of the New York Times bestseller Savage Harvest, hailed as a "masterpiece" by Outside and named a New York Times editors' choice and one of the Washington Post's 50 notable works of nonfiction for 2014, as well as The Lunatic Express. He is a former contributing editor to National Geographic Traveler and Wired, and has traveled on assignment to eighty countries.
Praise For The Last Wild Men of Borneo: A True Story of Death and Treasure…
"An expertly wrought tale of exploration, adventure and mischief. ... Hoffman does an excellent job entering the worlds and minds of two men who did not fit in and who carved out their own destinies. ... At once cautionary and inspiring; adventure travel at its best."
— Kirkus Reviews (starred review)

"The Last Wild Men of Borneo is the best book about the 'Western hunger for Eastern solace,' as Carl Hoffman neatly puts it, you'll probably ever read. ... Eloquent."
— William Finnegan, Pulitzer Prize winning author of Barbarian Days

"A marvelously told and important story: Carl Hoffman guides us on a compelling and disturbing journey in the footsteps of two Western adventurers who penetrated to the wildest heart of Borneo."
— Peter Stark, author of Astoria: John Jacob Astor and Thomas Jefferson's Lost Pacific Empire

"A work of remarkable empathy, not only with the two hard-charging Westerners but also with the indigenous people they cultivated. … Quite a story—exciting, funny and tragic—and Hoffman tells it extraordinarily well."
— Washington Post

"Compelling. … A first-rate adventure story. … Part of the magic of this book [is] that in the hazy equatorial air of a place peopled by such outsized characters, anything was possible."
— Outside magazine

"I finished The Last Wild Men of Borneo in one long delicious gulp. ... A shimmering cornucopia of adventure, biography, mystery, tragedy."
— Nicholas Shakespeare, author of Bruce Chatwin and In Tasmania

"A real-life adventure tale sure to delight fans of David Grann (The Lost City of Z) and Jon Krakauer (Into Thin Air, Into the Wild)."
— Christian Science Monitor

"Compelling and haunting, a story of lofty ideals and base desires, a deeply personal story written by a man who loves Borneo and who struggles to understand the forces that threaten to tear it apart."
— Booklist (starred review)

"Fascinating. … [Hoffman] knows how to tell a suspenseful story."
— Columbus Dispatch

"Carl Hoffman's thrilling The Last Wild Men of Borneo explores both the allure and dangers of the world's most untamed environment. A mesmerizing tale of two men who break their bonds with civilization in pursuit of deeper meaning - and the tragedy that befalls one of them."
— Joshua Hammer, author of The Bad-Ass Librarians of Timbuktu

"A true, jaw-dropping story that pulls you in with a shiver. ... Using great details in these parallel narratives and a perfectly-worked ending, Hoffman carefully preserves two mysteries: one with a contented life, and one in death."
—   QC Times

"[Hoffman] paints a vivid character portrait of the two adventurers while detailing the incredible splendor of the unique region. ... An exciting tale of Borneo's rich history and two modern-day treasure hunters who followed their dreams."
— BookPage

"A gifted, suspenseful storyteller. … Compelling."
— Minneapolis Star Tribune

"Compelling. … Hoffman has a journalist's nose for a good story and he writes with an assuredness that makes for a good read. This is a tale of high adventure, of exotic lands, risky escapades, narrow escapes, and rich rewards."
— Jakarta Post

"A deeply informative anthropological study disguised as an adventure tale."
— Publishers Weekly
Book Videos