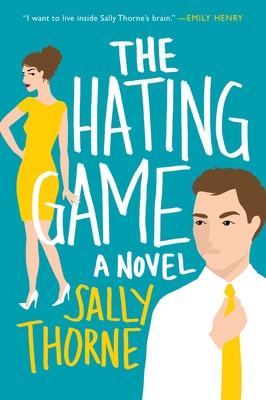 The Hating Game
A Novel
Paperback

* Individual store prices may vary.
Other Editions of This Title:
Digital Audiobook (8/8/2016)
Mass Market (3/30/2021)
Compact Disc (8/9/2016)
MP3 CD (8/9/2016)
Compact Disc (8/9/2016)
Description
Now a movie starring Lucy Hale and Austin Stowell, USA Today bestselling author Sally Thorne's hilarious and sexy workplace comedy all about that thin, fine line between hate and love.
Nemesis (n.) 1) An opponent or rival whom a person cannot best or overcome.
                     2) A person's undoing
                     3) Joshua Templeman
Lucy Hutton and Joshua Templeman hate each other. Not dislike. Not begrudgingly tolerate. Hate. And they have no problem displaying their feelings through a series of ritualistic passive aggressive maneuvers as they sit across from each other, executive assistants to co-CEOs of a publishing company. Lucy can't understand Joshua's joyless, uptight, meticulous approach to his job. Joshua is clearly baffled by Lucy's overly bright clothes, quirkiness, and Pollyanna attitude.
Now up for the same promotion, their battle of wills has come to a head and Lucy refuses to back down when their latest game could cost her her dream job…But the tension between Lucy and Joshua has also reached its boiling point, and Lucy is discovering that maybe she doesn't hate Joshua. And maybe, he doesn't hate her either. Or maybe this is just another game.
Praise For The Hating Game: A Novel…
"'Hating someone feels disturbingly similar to being in love,' says Lucy Hutton, who can't stand fellow executive assistant Joshua. There's only one place this could go…but it's good fun getting there." — People
"Sally Thorne satisfies hearts longing for laughter in their love stories….Their battle of wits is tremendously fun—acerbic and sexy and filled with tension. The result is a wicked, witty romance that will capture readers' hearts long before Joshua manages to capture Lucy's." — Sarah MacLean, Washington Post
"Five feet tall and a total oddball, [Lucy] carries the plot by being engagingly self-deprecating, quick-witted and funny. There's not even an infinitesimal flicker of doubt about where the story is headed, but along the way Thorne reveals an astute command of office politics and the often demeaning realities of workplace dynamics for women. The chemistry between Lucy and Joshua is also gratifying, with both seeming like fully conceived characters rather than passive stereotypes. If there's nothing new to discern here, it's at least a vibrant take on an old standard." — New York Times Book Review
"If you miss romantic comedies, the kind that were so funny, you would pay $15 to see them in the theater—plus the cost of popcorn and candy—this novel will make you very happy indeed...The rising tension and Thorne's biting dialogue will make you wish for the romantic comedies of days gone by—or just more books like this one." — NPR Books
"A breezy tale perfect for a day at the beach, this one's a real winner." — Kirkus Reviews (starred review)
"A brilliant, biting, hilarious new voice. THE HATING GAME will take the rom-com world by storm. One of the best I've read, ever." — Kristan Higgins, New York Times bestselling author
"Funny, smart, fresh, and thoroughly enjoyable from the first delicious page to the last. I highly recommend." — Susan Elizabeth Phillips, New York Times bestselling author
"Thorne is a strong writer and one to watch. Her debut will have readers rooting for both Lucy and Joshua in whatever games they play." — Library Journal
"An addictive, dazzling debut. The Hating Game is bursting at the seams with love (and hate) and heart." — Christina Lauren, New York Times bestselling author
"Deliciously fun and super sexy, Sally Thorne's The Hating Game stole my life for two days. I couldn't put it down until Lucy and Josh's all-consuming hateship changed into a tentative friendship and then a juicy, tender, adorable love." — Meghan McCain
"Be prepared to play the Charming Game with Sally Thorne. The irrepressible Lucy and her starchy, growly counterpart Joshua will win you over from the opening page." — Elizabeth Jane Howard, author of the Cazelet Chronicles
"Some of you might have traveled to the beach for the sole purpose of escaping the office, but we think this funny and romantic workplace comedy just might change your mind…. we know you'll find their story entertaining and sexy." — Bookish
"Romantic comedy is harder than it looks. …[The Hating Game's] sharp, sexy… candy-like in the best way…it's a very good quality romantic comedy." — NPR's Pop Culture Happy Hour
"If your reading catnip includes dialogue that crackles, cranky heroes with hidden depths, and vivid, self-assured heroines who take exactly zero crap from said hero, find yourself a copy of this book immediately." — Sarah Wendell, Smart Bitches, Trashy Books
William Morrow Paperbacks, 9780062439598, 384pp.
Publication Date: August 9, 2016
About the Author
Sally Thorne is the USA Today-bestselling author of The Hating Game. She spends her days climbing into fictional worlds of her own creation. She lives in Canberra, Australia with her husband in a house filled with vintage toys, too many cushions, a haunted dollhouse and the world's sweetest pug.