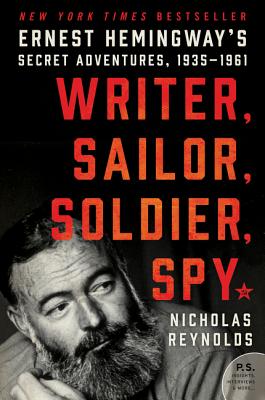 Writer, Sailor, Soldier, Spy
Ernest Hemingway's Secret Adventures, 1935-1961
Paperback

* Individual store prices may vary.
Other Editions of This Title:
Digital Audiobook (3/13/2017)
Hardcover (3/14/2017)
Description
The extraordinary untold story of Ernest Hemingway's dangerous secret life in espionage
A NEW YORK TIMES BESTSELLER • A finalist for the William E. Colby Military Writers' Award
"IMPORTANT" (Wall Street Journal) • "FASCINATING" (New York Review of Books) • "CAPTIVATING" (Missourian)
A riveting international cloak-and-dagger epic ranging from the Spanish Civil War to the liberation of Western Europe, wartime China, the Red Scare of Cold War America, and the Cuban Revolution, Writer, Sailor, Soldier, Spy reveals for the first time Ernest Hemingway's secret adventures in espionage and intelligence during the 1930s and 1940s (including his role as a Soviet agent code-named "Argo"), a hidden chapter that fueled both his art and his undoing.
While he was the historian at the esteemed CIA Museum, Nicholas Reynolds, a longtime American intelligence officer, former U.S. Marine colonel, and Oxford-trained historian, began to uncover clues suggesting Nobel Prize-winning novelist Ernest Hemingway was deeply involved in mid-twentieth-century spycraft -- a mysterious and shocking relationship that was far more complex, sustained, and fraught with risks than has ever been previously supposed. Now Reynolds's meticulously researched and captivating narrative "looks among the shadows and finds a Hemingway not seen before" (London Review of Books), revealing for the first time the whole story of this hidden side of Hemingway's life: his troubling recruitment by Soviet spies to work with the NKVD, the forerunner to the KGB, followed in short order by a complex set of secret relationships with American agencies.
Starting with Hemingway's sympathy to antifascist forces during the 1930s, Reynolds illuminates Hemingway's immersion in the life-and-death world of the revolutionary left, from his passionate commitment to the Spanish Republic; his successful pursuit by Soviet NKVD agents, who valued Hemingway's influence, access, and mobility; his wartime meeting in East Asia with communist leader Chou En-Lai, the future premier of the People's Republic of China; and finally to his undercover involvement with Cuban rebels in the late 1950s and his sympathy for Fidel Castro. Reynolds equally explores Hemingway's participation in various roles as an agent for the United States government, including hunting Nazi submarines with ONI-supplied munitions in the Caribbean on his boat, Pilar; his command of an informant ring in Cuba called the "Crook Factory" that reported to the American embassy in Havana; and his on-the-ground role in Europe, where he helped OSS gain key tactical intelligence for the liberation of Paris and fought alongside the U.S. infantry in the bloody endgame of World War II.
As he examines the links between Hemingway's work as an operative and as an author, Reynolds reveals how Hemingway's secret adventures influenced his literary output and contributed to the writer's block and mental decline (including paranoia) that plagued him during the postwar years -- a period marked by the Red Scare and McCarthy hearings. Reynolds also illuminates how those same experiences played a role in some of Hemingway's greatest works, including For Whom the Bell Tolls and The Old Man and the Sea, while also adding to the burden that he carried at the end of his life and perhaps contributing to his suicide.
A literary biography with the soul of an espionage thriller, Writer, Sailor, Soldier, Spy is an essential contribution to our understanding of the life, work, and fate of one of America's most legendary authors.
Praise For Writer, Sailor, Soldier, Spy: Ernest Hemingway's Secret Adventures, 1935-1961…
"Important.... Reynolds, a former curator at the CIA Museum, demonstrates that Hemingway was afraid the FBI might uncover a dirty little secret he had hidden for more than 20 years: In 1940 he had agreed to assist the NKVD, the Soviet Union's foreign intelligence agency." — Wall Street Journal
"Captivating. ... An important addition to the canon of one of America's foremost writers. Reynolds's unique biography reads like an espionage thriller." — The Missourian
"Nicholas Reynolds's fascinating new research in Writer, Sailor, Soldier, Spy shows that [Hemingway] was in fact working for both the Russians and the Americans." — New York Review of Books
"Reynolds looks among the shadows and finds a Hemingway not seen before." — London Review of Books
"An engrossing read for Hemingway buffs as well as casual readers, Writer, Sailor, Soldier, Spy adds more fascinating details to a life that remains continually fascinating." — Minneapolis Star Tribune
"Renowned American novelist Ernest Hemingway led a shocking secret life as a Soviet spy, according to claims in a new book. The startling revelations are detailed in Writer, Sailor, Soldier, Spy by former CIA officer Nicholas Reynolds."
— Daily Mail (UK)
"The riveting, brand-new story of how America's greatest writer was shaped by his secret adventures as a spy for both U.S. intelligence and the Soviet NKVD: Writer, Sailor, Soldier, Spy is compelling, vivid, and essential reading for all Hemingway and espionage fans." — William Doyle, author of PT 109: An American Epic of War, Survival, and the Destiny of John F. Kennedy
"A thorough, well researched, and highly readable account of Ernest Hemingway's engagement with espionage (American and Soviet), Communism, and military adventurism. ... In particular, Writer, Sailor, Soldier, Spy is the first book to put Hemingway's dalliance with the Soviet NKVD in the broader context of Hemingway's life." — John Earl Haynes, coauthor of Spies: The Rise and Fall of the KGB in America
"[An] engrossing story of Hemingway's disillusionment with American politics, his sympathy with communism, and his attraction to adventure and subversion." — Kirkus Reviews
"Drawing on his intelligence background, Reynolds uncovers a trove of documents that point to American novelist Ernest Hemingway's recruitment in 1940 by the NKVD. ... Reynolds ably researches Hemingway's World War II adventures. ... Intriguing. ... Recommended." — Library Journal
"[A] thoroughly researched exploration of Hemingway's military adventurism." — Publishers Weekly
"Nicholas Reynolds ably weaves Vassiliev's revelation, unavailable to previous biographers, into the tangled fabric of Hemingway's event-filled life. Hemingway's readers... will find it fascinating." — Times Literary Supplement (London)
"Colorful, fast-paced. ... [Don't] miss an opportunity to read this fascinating story." — The Journal of America's Military Past
"A must read for anyone who is a Hemingway fan." — American Sailing Journal
Mariner Books, 9780062440143, 400pp.
Publication Date: April 17, 2018
About the Author
Nicholas Reynolds has worked in the fields of modern military history and intelligence off and on for forty years, with some unusual detours. Freshly minted PhD from Oxford University in hand, he joined the United States Marine Corps in the 1970s, serving as an infantry officer and then as a historian. As a colonel in the reserves, he eventually became officer in charge of field history, deploying historians around the world to capture history as it was being made. When not on duty with the USMC, he served as a CIA officer at home and abroad, immersing himself in the very human business of espionage. Most recently, he was the historian for the CIA Museum, responsible for developing its strategic plan and helping to turn remarkable artifacts into compelling stories. He currently teaches as an adjunct professor for Johns Hopkins University and, with his wife, Becky, cares for rescue pugs.