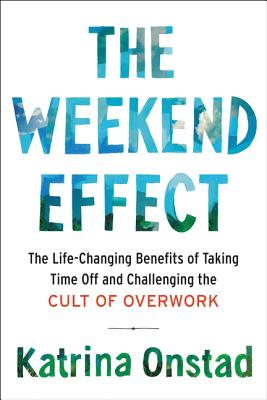 The Weekend Effect (Hardcover)
The Life-Changing Benefits of Taking Time Off and Challenging the Cult of Overwork
HarperOne, 9780062440181, 304pp.
Publication Date: May 2, 2017
* Individual store prices may vary.
Description
Encroaching work demands—coupled with domestic chores, overbooked schedules, and the incessant pinging of our devices—have taken a toll on what used to be our free time: the weekend. With no space to tune out and recharge, every aspect of our lives is suffering: our health is deteriorating, our social networks (the face-to-face kind) are dissolving, and our productivity is down. The notion of working less and living more, once considered an American virtue, has given way to the belief that you must be "on" 24/7.
Award-winning journalist Katrina Onstad, pushes back against this all-work, no-fun ethos. Tired of suffering from Sunday night letdown, she digs into the history, positive psychology, and cultural anthropology of the great missing weekend and how we can revive it.
Onstad follows the trail of people, companies, and countries who are vigilantly protecting their time off for joy, adventure, and most important, purpose. Filled with personal and professional inspiration, The Weekend Effect is a thoughtful, well-researched argument to take back those precious 48 hours, and ultimately, to save ourselves.
About the Author
KATRINA ONSTAD is a multiple award–winning journalist whose work has appeared in the Globe and Mail, Chatelaine, the New York Times Magazine, the Guardian and Elle. Her critically lauded novels include How Happy to Be and Everybody Has Everything, which was longlisted for the Scotiabank Giller Prize and shortlisted for the Toronto Book Award. Onstad lives in Toronto with her husband and two children.
Praise For The Weekend Effect: The Life-Changing Benefits of Taking Time Off and Challenging the Cult of Overwork…
"Often we race through the week, only to find our weekends packed with countless errands and never-ending to-do lists….In The Weekend Effect, Katrina Onstad offers a powerful argument, and practical advice, on the importance of reclaiming your leisure time to live a happier and more fulfilling life."
— Gretchen Rubin, New York Times bestselling author of The Happiness Project and Better Than Before

"Too often work and technology erode our ability to connect meaningfully face-to-face, intruding into the critical time we need to recharge ourselves. In Katrina Onstad's insightful and compelling book, The Weekend Effect, she offers an urgent call to arms on the essential need to take back our weekends."
— Dallas Hartwig, New York Times bestselling co-author of It Starts With Food and The Whole30

"Masterfully researched and beautifully written, The Weekend Effect urgently makes the case that our hard won free time is essential to our survival, and needs to be reclaimed. Pick up this book, and get ready to rekindle your love of the weekend! Your emails can wait until Monday."
— David Sax, author of The Revenge of Analog

"The Weekend Effect is a call to action-or even better-a call to inaction. It proves its case that by staking a claim to your weekend, your work and home life (and your health and wellbeing) benefit every day of the year."
— Kirstine Stewart, media and technology executive and author of Our Turn

"Katrina Onstad makes a compelling case in her terrific new book, The Weekend Effect, that true leisure-time for reflection, connection, play and joy-knits together the social fabric of community, soothes the weary soul and, at heart, is what makes life worth living."
— Brigid Schulte, award-winning journalist and New York Times bestselling author of Overwhelmed: Work, Love, and Play When No One Has the Time and director of The Better Life Lab at New America