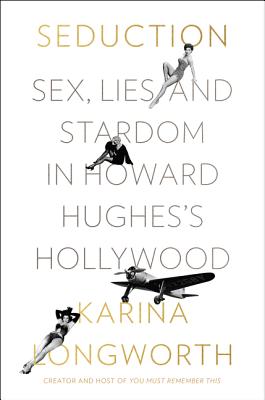 Seduction
Sex, Lies, and Stardom in Howard Hughes's Hollywood
Hardcover

* Individual store prices may vary.
Other Editions of This Title:
Digital Audiobook (11/12/2018)
Paperback (11/12/2019)
Compact Disc (11/13/2018)
Paperback, Large Print (11/13/2018)
Compact Disc (11/13/2018)
MP3 CD (11/13/2018)
Description
"A compelling and relevant must-read." –Entertainment Weekly
In this riveting popular history, the creator of You Must Remember This probes the inner workings of Hollywood's glamorous golden age through the stories of some of the dozens of actresses pursued by Howard Hughes, to reveal how the millionaire mogul's obsessions with sex, power and publicity trapped, abused, or benefitted women who dreamt of screen stardom.
In recent months, the media has reported on scores of entertainment figures who used their power and money in Hollywood to sexually harass and coerce some of the most talented women in cinema and television. But as Karina Longworth reminds us, long before the Harvey Weinsteins there was Howard Hughes—the Texas millionaire, pilot, and filmmaker whose reputation as a cinematic provocateur was matched only by that as a prolific womanizer.
His supposed conquests between his first divorce in the late 1920s and his marriage to actress Jean Peters in 1957 included many of Hollywood's most famous actresses, among them Billie Dove, Katharine Hepburn, Ava Gardner, and Lana Turner. From promoting bombshells like Jean Harlow and Jane Russell to his contentious battles with the censors, Hughes—perhaps more than any other filmmaker of his era—commoditized male desire as he objectified and sexualized women. Yet there were also numerous women pulled into Hughes's grasp who never made it to the screen, sometimes virtually imprisoned by an increasingly paranoid and disturbed Hughes, who retained multitudes of private investigators, security personnel, and informers to make certain these actresses would not escape his clutches.
Vivid, perceptive, timely, and ridiculously entertaining, Seduction is a landmark work that examines women, sex, and male power in Hollywood during its golden age—a legacy that endures nearly a century later.
Praise For Seduction: Sex, Lies, and Stardom in Howard Hughes's Hollywood…
"Guaranteed to engross anyone with any interest at all in Hollywood, in movies, in #MeToo and in the never-ending story of men with power and women without."
— New York Times Book Review

"The stories Longworth uncovers—about Katharine Hepburn and Jane Russell, yes, but also Ida Lupino and Faith Domergue and Anita Loos—are so rich, so compelling, that they urge you to question how much else in history has been lost within the swirling vortex of Great Men."
— Atlantic

"A compelling and relevant must-read."
— Entertainment Weekly

"A first-rate work of cultural curation, in which Longworth combs the countless stacks of Hollywood memoirs and biographies, with a focus on the pathological predations of Howard Hughes, Texas millionaire, starmaker and film producer."
— USA Today (four stars)

 "An astute and entertaining takedown of the movie industry, the press and the multimillionaire turned wannabe filmmaker Howard Hughes. Hardly anyone emerges from the pages of Seduction unblemished by selfishness and greed once they are touched by the movie business and its promise of wealth, power and fame."
— Associated Press

"From the force behind the You Must Remember This podcast comes a book exploring the glamour of classic Hollywood cinema through the lens of Texas business magnate, filmmaker (Hell's Angels, Scarface), and notorious womanizer Howard Hughes—think a Harvey Weinstein–esque character decades before #MeToo."
— Vanity Fair

"Longworth blasts through the seductive narratives propagated by men in the film business to uncover the dark stories underneath."
— The Cut

"Vibrant… A compulsive page-turner… Much of Seduction reads like a long overdue act of redress, repositioning women into the more central positions where they belong."
— Los Angeles Times

"Longworth pulls back the curtain on Hollywood's golden age to reveal, through the stories of some of the actresses pursued by legendary millionaire mogul Howard Hughes, its dark and lasting legacy of power inequity, harassment, and abuse."
— Bustle

"Seduction reads like a scandal sheet tempered with primary and secondary research."
— Los Angeles Review of Books

"A candid portrait of the multifaceted millionaire…As his romantic tastes shifts from known quantities — like Hepburn, Rogers and Gardner — to powerless unknowns, Seduction reveals the root of Hughes's interest in women: a desire to exert total control, rather than true affection."
— Washington Post

"Audacious and welcome."
— Sight and Sound

"Jam-packed with Hollywood scandal and history."
— Refinery 29

"Karina Longworth loves Hollywood the way it ought to be loved — mercilessly. She is a skeptic without cynicism, a feminist without apology, and in Seduction she has found the great subject that her essential podcast has long promised"
— James Kaplan, author of Sinatra

"An entertaining and timely tour of early Hollywood mores and manipulation. No matter how much you think you know about golden age Hollywood, Longworth serves up fascinatingly fresh perspective on the ways male desire and power shaped movie mythology."
— Joy Press, author of Stealing the Show

"Full of insight...illuminating and memorable."
— Booklist

"A history that shows clearly how powerful men exploited actresses long before the #MeToo movement began. Hollywood historian Longworth has mined memoirs, biographies, magazines, newspapers, and archives to create an entertaining, gossip-filled portrait of the film capital's golden age… A lively—and often sordid—Hollywood history."
— Kirkus Reviews

"Throughout this densely researched and lively book the siren song of the new medium of film is heard."
— Cineaste
Custom House, 9780062440518, 560pp.
Publication Date: November 13, 2018
About the Author
Karina Longworth is the creator, writer, and host of You Must Remember This, a podcast on the secret and forgotten history of twentieth-century Hollywood. A former film editor of LA Weekly and critic for the Village Voice, she is the author of four previous books, including Hollywood Frame by Frame and Meryl Streep: Anatomy of an Actor. She lives in Los Angeles.
Coverage from NPR
or
Not Currently Available for Direct Purchase