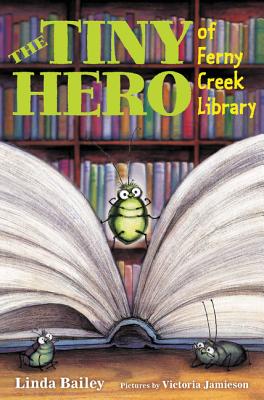 The Tiny Hero of Ferny Creek Library
Hardcover

* Individual store prices may vary.
Description
Eddie, a passionate reader and a shiny green bug, saves the school library in this funny, heartwarming tale that fans of Flora & Ulysses and Charlotte's Web will love. Includes black-and-white illustrations throughout from Newbery Honor Medalist and New York Times-bestselling author-artist Victoria Jamieson.
Eddie is a tiny green bug who loves to read and who lives behind the chalkboard in the fourth-grade classroom with his parents, his 53 brothers and sisters, and his aunt Min. But when Aunt Min goes to the school library to read a book and never returns, Eddie leaves the comfort of his home for the first time and makes the dangerous trek through Ferny Creek Elementary School to find her. After dodging running sneakers, falling books, and terrifying spiders, Eddie reaches the library, where he discovers Aunt Min stuck in a perilous situation! To top it all off, there's a substitute librarian who aims to close the library for good and get rid of all the books!
Encouraged by the brave deeds done by small creatures such as Stuart Little and Charlotte from Charlotte's Web, Eddie comes up with a plan to save the library—a plan that requires all the courage one little bug can muster.
A great read-aloud and read-alone, this action-packed short novel includes references to classic children's literature throughout and is perfect for fans of Chris Grabenstein's Escape from Mr. Lemoncello's Library and Lynne Rae Perkins's Nuts to You. Featuring extensive black-and-white art from Newbery Honor Medalist and New York Times-bestselling author-artist Victoria Jamieson.
Praise For The Tiny Hero of Ferny Creek Library…
"Rich with references to familiar tales and accompanied by realistic illustrations by Newbery honoree Jamieson, this effort will charm library lovers and would make a fine read-aloud as brave, endearing Eddie navigates one terrible peril after another. An excellent, engaging tale for a broad range of ages."
— Kirkus Reviews

"A bookish bug finds a way to save the school library . . . Bailey fills her narrative with references to classic works of the past and present, and has picked a theme (and outcome) that will be dear to the hearts of young readers as well as educators and librarians."
— Booklist (starred review)

"A warm, funny tribute to the power of books and stories, Eddie's adventure will have readers seeing anew the magic of libraries and ready to defend them from the Ms. Grisches of the world."
— Bulletin of the Center for Children's Books

"Eddie's humorously wide-eyed, bug-level perspective allows the book to celebrate education and reading without becoming didactic, and Jamieson's personality-rich illustrations match the book's tone perfectly."
— Horn Book Magazine

"Avid readers will enjoy the plethora of references to beloved children's tales, as well as the adventures of an unlikely champion who overcomes human-size obstacles. ...Eddie delivers an entertaining bug's-eyed perspective on the larger world, and Jamieson's b&w spot illustrations match the story's energy."
— Publishers Weekly
Greenwillow Books, 9780062440938, 336pp.
Publication Date: June 20, 2017