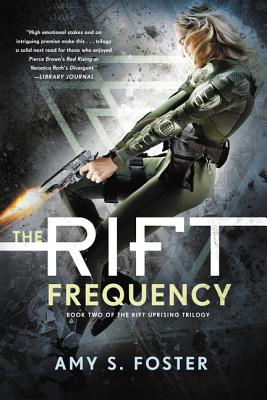 The Rift Frequency (The Rift Uprising Trilogy #2) (Hardcover)
Harper Voyager, 9780062443182, 368pp.
Publication Date: October 31, 2017
* Individual store prices may vary.
Description
To save her love and unlock the mystery of who she is, a brave young woman must travel between alternate realities in The Rift Frequency, the exciting second book in Amy S. Foster's The Rift Uprising Trilogy.
She didn't mean to, but...
Teenage super-solider Ryn Whittaker started an uprising.
For three years Ryn was stationed at The Battle Ground Rift site—one of the fourteen mysterious and unpredictable tears in the fabric of the universe that serve as doorways to alternate Earths—and then she met Ezra Massad.
Falling in love and becoming a rebel Citadel wasn't part of Ryn's life plan, but with Ezra there asking all the right questions, they began to decode what's really going on with the Allied Rift Coalition, and what they discovered was enough to start a civil war.
When the base explodes with infighting and Ezra gets caught in the fray, he is accidentally pushed through the Rift, taking a stolen laptop—and the answers it could give Ryn—with him.
Now all Ryn wants is to locate Ezra and get back to her Earth. But that's not easy when she's traveling the multiverse with Levi, the painfully guarded Citadel who shoved Ezra through in the first place. And Ryn is quickly learning that inside the multiverse there is no normal—it's adapt, or die—and the one weapon she really needs to win the war back home is the truth.
About the Author
Amy S. Foster is a celebrated songwriter, best known as Michael Bublé's writing partner, and has collaborated with Beyoncé, Diana Krall, Andrea Bocelli, Josh Groban, and a host of other artists. She is also the author of the novel When Autumn Leaves. When she's not in a studio in Nashville, she lives in the Pacific Northwest with her family.
Praise For The Rift Frequency (The Rift Uprising Trilogy #2)…
A "6 Badass YA Books to Read This Fall" pick (2017)
— Popsugar

"The second book in Foster's The Rift Uprising series is just as fun and fast-paced as the initial outing."
— RT Book Reviews

"A fast-paced, action packed, science fiction book that crosses young adult characters with military sci-fi."
— The Geekiverse

"Exciting with adventure waiting around every corner, or at least on every new Earth."
— Kurt's Frontier

"I absolutely loved The Rift Uprising. Its superbly written words kept me
riveted, never quite sure what twist or scare might come next. Most importantly, I fell in love with the characters, both good and bad. They felt completely real. Highly recommended, and I'll be anxiously awaiting the sequel."

— James Dashner, New York Times bestselling author of the Maze Runner series

"You loved The Hunger Games. You devoured Divergent. And now, you're definitely going to love The Rift Uprising."
— HelloGiggles.com

"This fun, fast-paced thriller will entertain readers looking for their next teens-save-the-world genre fix."
— Kirkus Reviews on The Rift Uprising

"High emotional stakes and an intriguing premise make this first entry in Foster's new trilogy a solid next read for those who enjoyed Pierce Brown's Red Rising or Veronica Roth's Divergent."
— Library Journal

"The first book in Foster's The Rift Uprising series is a fun, fast-paced outing that hits the ground running with brilliant worldbuilding and a fiercely protective heroine."
— RT Book Reviews (4 stars)